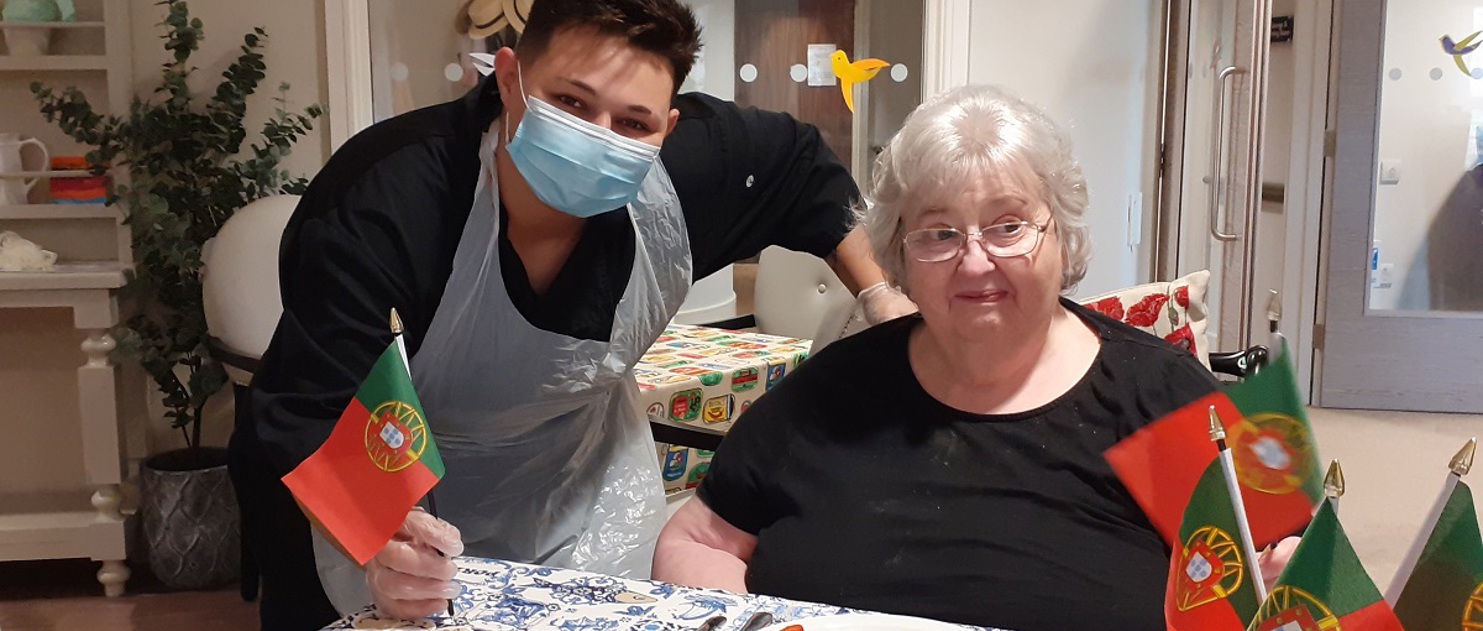 Chawley Grove Residents Take A Trip to Portugal Without Leaving Home
Portuguese staff and our Wellbeing & Lifestyle Coach at Chawley Grove care home have taken residents on a tour of the Iberian peninsula, without leaving Oxfordshire.
Chef Filipa Guerrerio at Chawley Grove, on Cumnor Hill, prepared a traditional Portuguese feast for the residents, presenting her favourite dishes from around the country.
The menu included Ensalata de Pulpo (octopus salad), Arroz de Pato (duck rice), Bacalhau com Natas (cod in cream) Arroz-doce (rice pudding) and Pastéis de Nata (Portuguese custard tarts).
Residents drank traditional Portuguese wines and beers with their lunch, then retired to the living room for an afternoon of virtual tourism.
Wellbeing & Lifestyle coach Megan Wilson led talks about Portugal and its heritage. She was joined by our Portuguese Homemakers Andreia Silva and Ana Guerrerio who spoke of their memories of growing up there and played traditional Fado music.
According to Filipa, it meant a lot to her and her colleagues to share a piece of home with the residents.
Filipa said: "It was wonderful to celebrate Portugal with our friends at Chawley Grove, they said the food was 'delicioso'.
"We took them on a tour of the country through their tastebuds and with our stories. We're all so proud of Portugal and our heritage.
"It was very moving to share recollections, childhood experiences and aspects of our culture with them."
The Portuguese theme continued all day and residents said they'd enjoyed having a 'virtual holiday' to the continent.
Chris White, 73, said: "It was lovely to learn more about Portugal and I really appreciated all the effort that went into creating an authentic Portuguese experience.
"The Pastéis de Natas and the rice pudding were amazing – I saw a few residents go for seconds. It was a real treat to go on 'holiday' for the day and have such terrific tour guides."