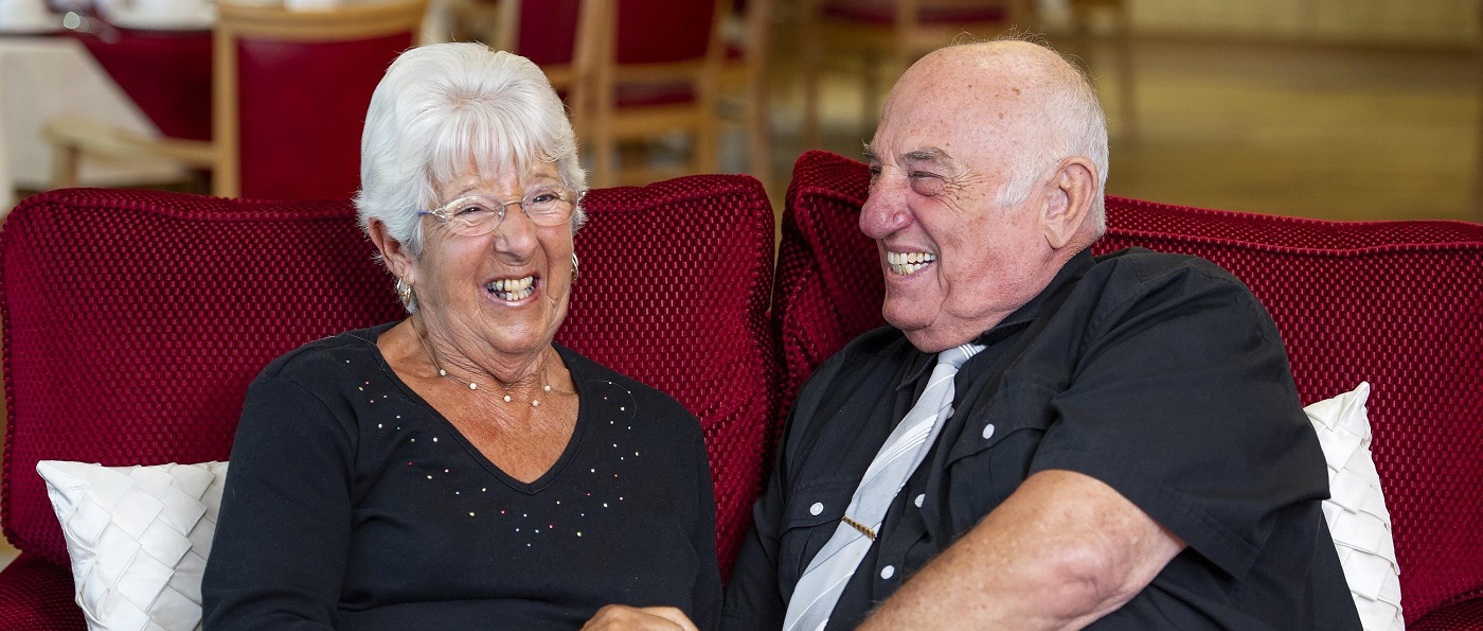 Dementia Care - The Hamberley Care Homes Approach
We strive to be the best dementia care provider in the UK. All of our homes are built specifically to allow people living with dementia to keep living lives full of satisfaction, the way they want to live them.
We understand how hard it can be to find the perfect home for a loved one. One that caters to their specific needs, and allows them to feel safe and comfortable. Emotions are high, changes are on the horizon, and everyone involved needs a lot of support.
At Hamberley, we take a different approach to dementia care. Our number one priority for residents living with dementia is to welcome, support and embrace their ever-changing needs.
Hamberley Care Homes – A Warm, Friendly Community For People Living With Dementia
Our dementia work revolves around our award-winning person centred care approach. We've replaced the outdated hierarchical model of care with an innovative, universal approach.
Instead of a traditional carer, we employ Homemakers – care professionals who are carers, housekeepers and companions, all in one.
Our Wellbeing & Lifestyle Coaches help residents to live whatever life they choose, while also facilitating existing hobbies and pastimes, as well as creating new ones.
Furthermore, our clinical team are always on hand to steer our Homemakers and help when our resident's care needs adapt. Clinical team and nurse support is available all day, every day.
See our available care homes here
Our care homes are places of solace where our residents can find comfort in socialising with other residents, loved ones, and people from the local community.
We regularly organise activities and events with people from the local community, which means our residents can remain an important part of the world outside of their home. There are many clubs and workshops available for people living with dementia – for example, our Dementia-Friendly Cinema Club.
Working alongside dementia and Alzheimer's charities in the local area means we can create meaningful social interactions for our residents and others who live with dementia.
Beautiful Luxury Care Homes Designed To Prioritise Dementia Care
Our innovative stance on following the most recent guidelines in dementia research means we have genuine spaces for residents living with dementia to live securely and contentedly.
We have considered every aspect of dementia care – our beautiful interior designs, state-of-the-art facilities and top-class recruitment of staff are all considered in-depth so we can meet the many needs of different residents who live with dementia.
Anyone who has cared for someone living with dementia will understand how important it is to stimulate their senses – alzheimers.net says that sensory stimulation therapy has been widely used across Europe and the USA since the 1960s to evoke positive feelings and inspire responses from dementia patients.
With this in mind, we made sure residents are able to find stimuli for hearing, sight, touch and smell all around Hamberley's Care Homes. We also make sure there are signs and other way-finding mediums to prevent our residents living with dementia to avoid becoming disorientated – all in line with the current expert recommendations.
See our available care homes here
There are plenty of quiet, peaceful rooms around our care homes, built for relaxation. These areas are guaranteed to obtain minimal unwelcome stimuli so residents living with dementia can remain safe and undisturbed during their tranquil moments.
Our care homes have adaptable lighting, enabling us to give support to residents when their visuospacial or visuoperceptual needs need adapting.
Hamberley's care homes are dementia-friendly, they enable residents to continue living satisfied lives, and they allow our team to give some of the best dementia care in the UK to our residents.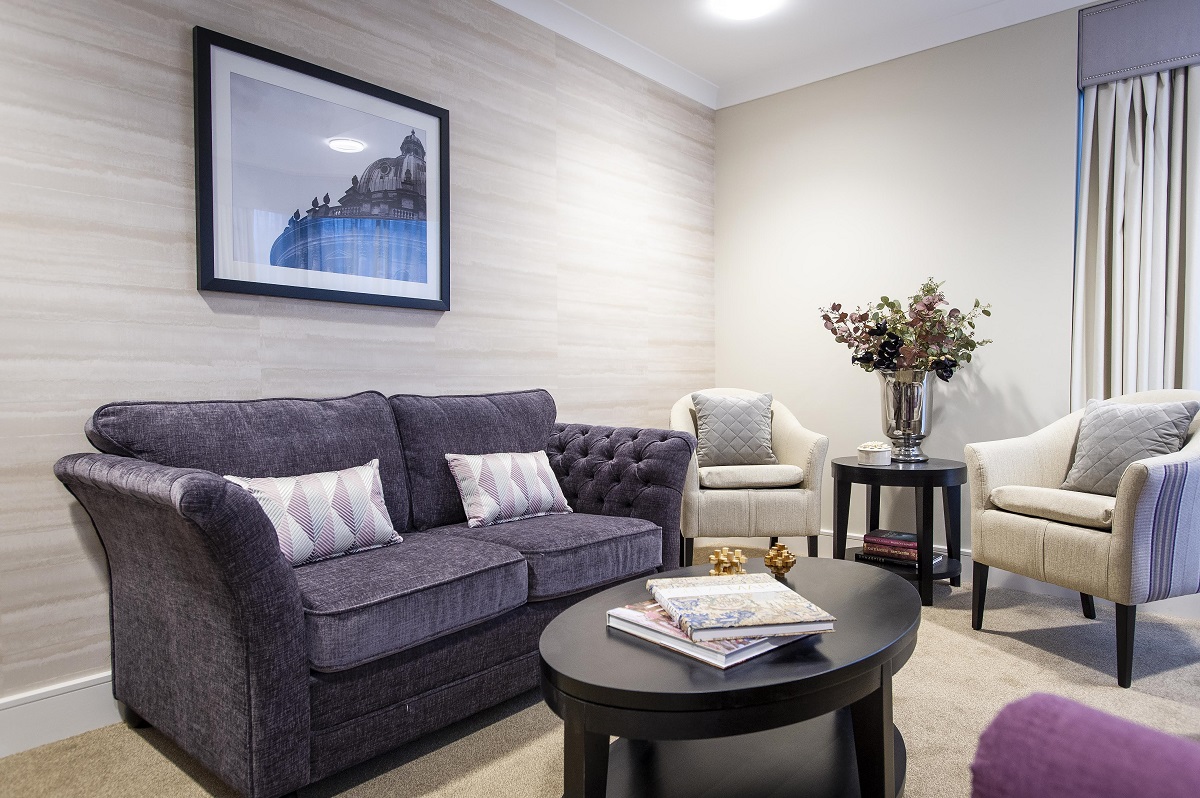 The Hamberley Homemakers – Offering Dementia Care Like No Other
We're very proud of our Homemakers at Hamberley. These expert care professionals strive to meet the care, companionship and housekeeping needs of our many residents.
Our person centred approach means we can guarantee a consistent care experience for people living with dementia.
Dementia can be extremely challenging, as well as unique to every person living with it. There will always be times where the symptoms of dementia can feel overwhelming and terrifying – thankfully, our Homemakers are trained to combat this, and having built up a credible and significant relationship with residents, they will be best suited to handle any situation.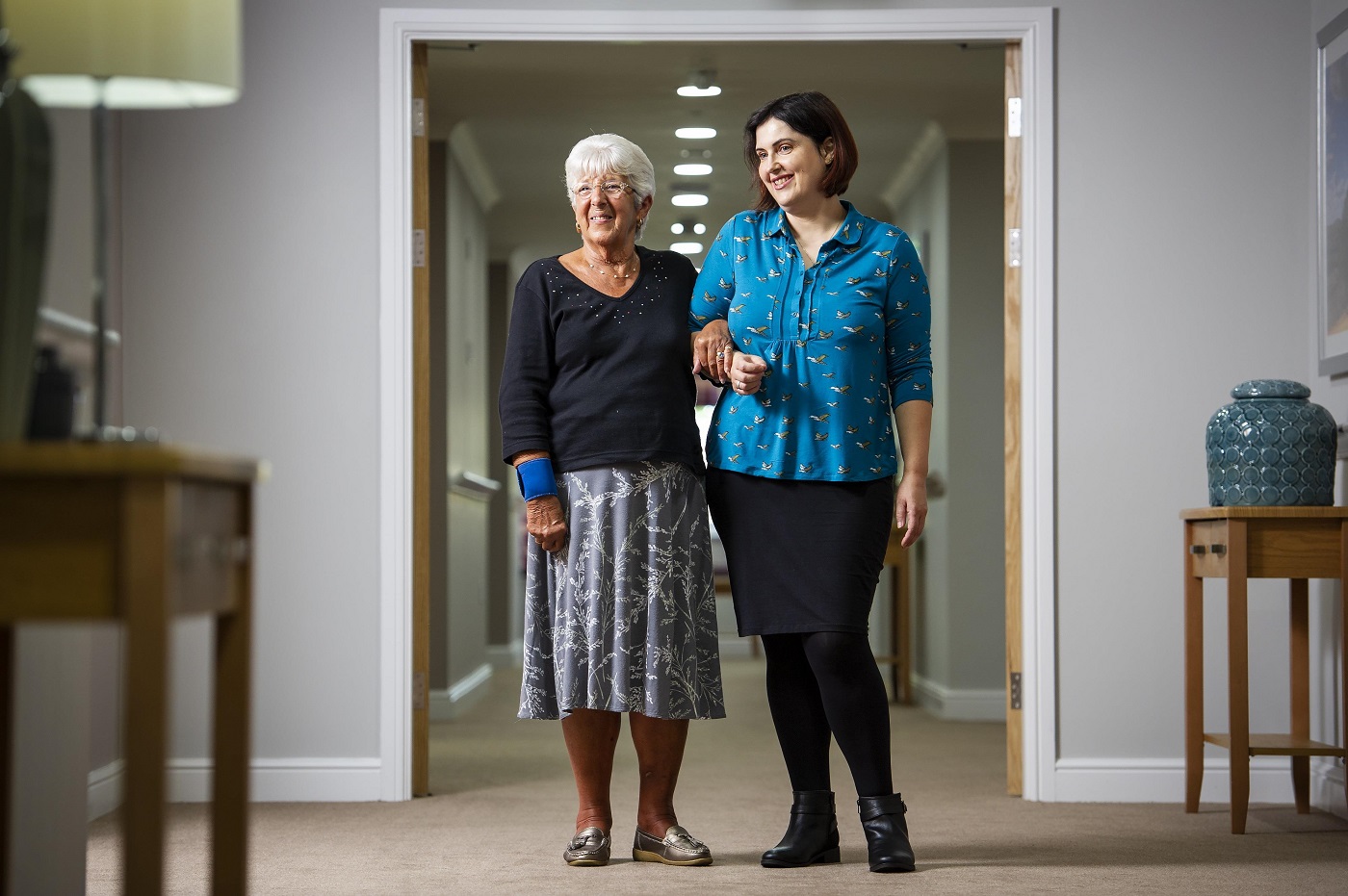 Our Homemakers don't just provide care – they provide companionship. Our person centred care approach revolves around acknowledging individuality, and listening to our residents' concerns.
Hamberley's Homemakers get to know each and every resident, so they understand precisely how to make their lives more content based on their unique wants and needs.
The training we give to our staff helps them understand what living with dementia is like, for residents and their relatives too. Our Homemakers are attentive and empathetic to relatives, and they stay aware of the constantly changing emotions that come with caring for a loved one who lives with dementia.
Hamberley's Wellbeing & Lifestyle Coaches – Facilitating Fulfilling Lifestyles For Residents
We're all different. Everyone has different interests and hobbies, different personalities, different backgrounds. We recognise the importance of this, and we celebrate what makes each resident special.
Each of our care homes have a dedicated Wellbeing & Lifestyle Coach, and part of their role is to spend time daily with each resident at their home. They'll learn what they like and don't like, what they did for work, who they are and their life stories.
They aim to identify ways to help residents get involved in activities that will enhance their happiness. These activities can be anything, from physical sports and games, personal hobbies, or therapeutic sessions.
With all of the information they obtain, Wellbeing & Lifestyle Coaches can create a Personalised Wellbeing Programme. These nifty plans are full of strategies to make sure that each resident has all the support they need to preserve a positive sense of wellbeing. This is the kind of person centred focus that sets us apart from the standard care home.
Our Wellbeing & Lifestyle Coaches do a lot of research into dementia, and they will create activities that help people living with it to benefit from and make the most out of life.
Our Personalised Wellbeing Programmes are reviewed each and every month, meaning that new and innovative ideas are adopted as quickly as possible.
A Variety of Activities For Dementia Care
There are daily opportunities for people living with dementia to get involved in activities created with a focus on dementia care.
Our teams have come up with plenty of activities to stimulate the senses. These range from art therapy and gentle exercise classes, to music, food-tasting and even pet therapy.
Arguably our most exciting development in dementia therapy is the 'Magic Table', a Mobii interactive projector containing all kinds of games and challenges that help people who need dementia care to be active, social, and entertained, simultaneously given sensory prompts to engage and interact with.
This pioneering piece of dementia care technology was designed by health tech organisation OMI. We are even able to customise the games suite to include music and pictures that mean something to each of our residents.
There are countless benefits from the Magic Table – it can help to increase the mobility of residents, it can help them attain better stability and balance, and it can vastly improve their confidence.
Although the daily use of the Magic Table is for our residents who live with dementia, we also try to give people from the local community the chance to use it, too. It's such an innovative piece of technology, we want to show as many people as possible that there are some really cool and different ways to stimulate people living with dementia.
This is just one of many different community events we host to improve the lives of people who live with dementia. Across the UK, our care homes hold their own unique events, based on feedback from residents, along with the links available in the local area.
Dementia Friendly Cinema Clubs, Magic Table gatherings, flower arranging, gentle exercise… These are just some of the activities we organise that allow residents to interact with people they wouldn't speak to otherwise.
Our dementia friendly events are an opportunity for residents to meet other people who live with dementia, swap stories and socialise, and most importantly they can remain comfortable knowing that their needs are recognised by our team and their peers.
Our Approach To Dementia Care - The Four Hallmarks Of Excellence
We endeavour to be one of the best dementia care providers in the UK. Our Clinical Director, Michelle Kudhail, oversees our homes as they strive to meet the high standards imposed on them.
We achieve this by having four hallmarks of excellence that refine and focus our approach to dementia care. Here's what we can offer:
1. We are a… Welcoming Community
"Our unique non-hierarchical model of care is deliberately designed to provide an authentic, homely experience for our residents and their loved ones," Michelle says.
"Our homes don't feel like traditional care homes. Instead, they are places where luxury living meets a joyful familial atmosphere."
This kind of attitude to dementia care puts us in a positive position where we can work hard to encourage our residents to engage in activities, socialise, and most importantly lead a fulfilled and meaningful life with us.
No matter what their personal struggles may be, we strive to create bespoke care programmes that help our residents living with dementia to integrate themselves into our care home communities.
2. We... Recognise Individuality
"Every person living with dementia has their own unique story and needs," explains Michelle.
"At Chawley Grove and our other homes, time and care are taken to discover who the resident is and what will help them specifically to enjoy a better quality of life.
"From our Home Managers to our Homemakers, everybody in a Hamberley Care Home strives to create experiences that are meaningful for each resident as an individual."
Dementia is an ever-changing condition, and it can be difficult for people to watch their loved ones live with it. Rather than let it overwhelm, though, our teams are on hand to give support and help everyone involved to steer through those changes.
We promote independent living as often as we can at Hamberley Care Homes.
3. We... Listen and Empower
Someone listening to their concerns, stories and joys can significantly improve the wellbeing of our residents.
Our staff across the UK are all given training to make sure that they can cater towards residents with any kind of wellbeing issues.
Whether that might be dementia, depression, anxiety or anything else, our Homemakers will be compassionate and give their special person centred care throughout to ensure that, if they have something they wish to share, we will be here to listen.
Michelle says, "Moving from your family home into a care home is a significant change and can be a difficult time for residents and their loved ones."
"Our Homemakers are in place as companions and confidantes so they can help everybody involved in that transition to express themselves and find ways to cope."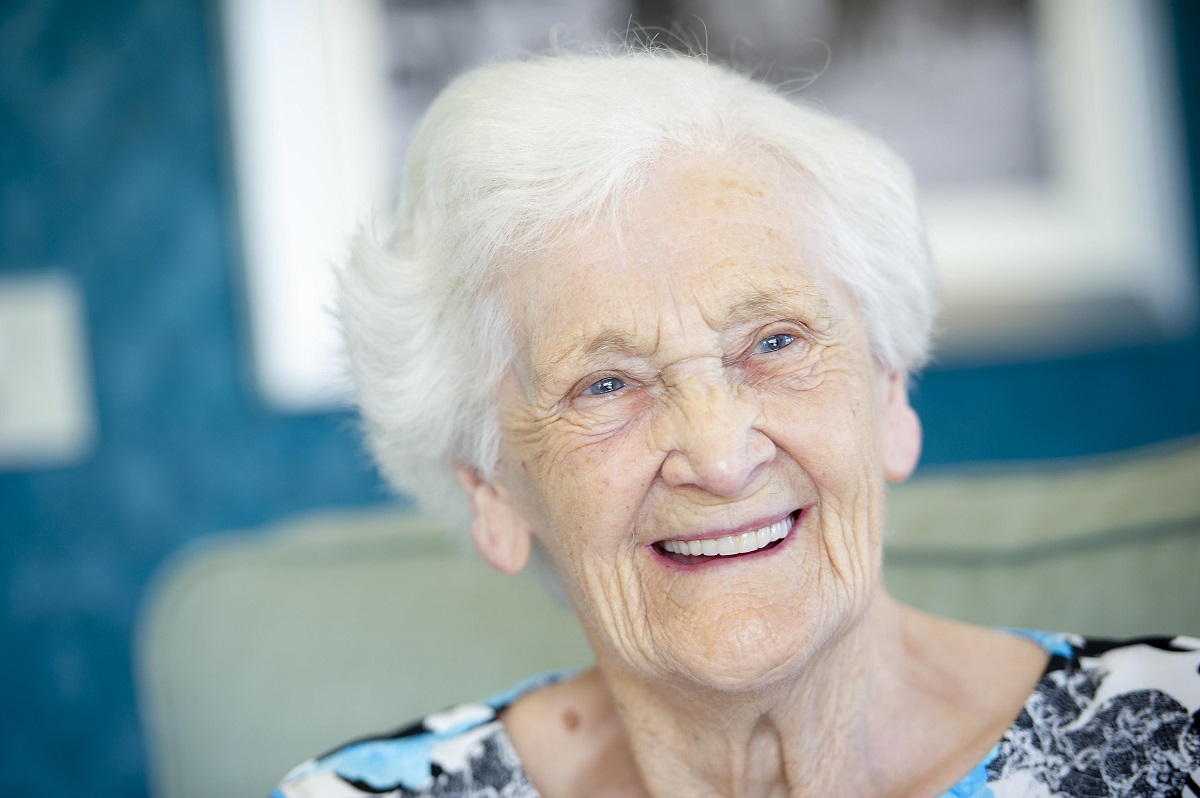 4. We... Make Moments Matter
"Everyone in Hamberley Care Homes is trained in our mission to have a positive engagement at every opportunity," shares our Clinical Director.
"We know that moments matter, no matter how brief they are. Non-verbal communication can be vital for people living with dementia to feel safe and reassured.
"So, our staff are encouraged to take every chance they have to have positive engagement with residents."
We'll take advantage of every encounter to create a positive engagement between residents and Homemakers.
Whether that's a conversation about the past, a laugh over a funny TV show, or even just a smile and a "hello" as they pass each other in the corridors, creating this kind of positive mood is crucial to maintaining our person centred care in a nurturing, homelike environment.
We Aim To Achieve Real Excellence In Our Dementia Care
All of the work we do is research-led, so Clinical Director Michelle Kudhail and each care home's clinical teams all strive to deliver exceptional care to our residents through being meticulous in their partnerships and their research.
This means we can always be sure that we are sharing the industries' best practices.
Consequently, we work with research bodies, support groups, consultants and experts as often as we can, so as to learn everything we need to be beyond doubt that every intervention we make is research- and evidence-based.
These advisors work fulltime to improve the condition and wellbeing of people who live with dementia. Industry leaders regularly share news about new research developments, which means we can prepare way in advance to adapt our approach to dementia care.
People who live with dementia have as much right as anyone else to live healthy, fulfilling lives. This remains at the forefront of our dementia care, and through our clinical excellence and collaboration we mean to offer the absolute best dementia care throughout all of our homes around the UK.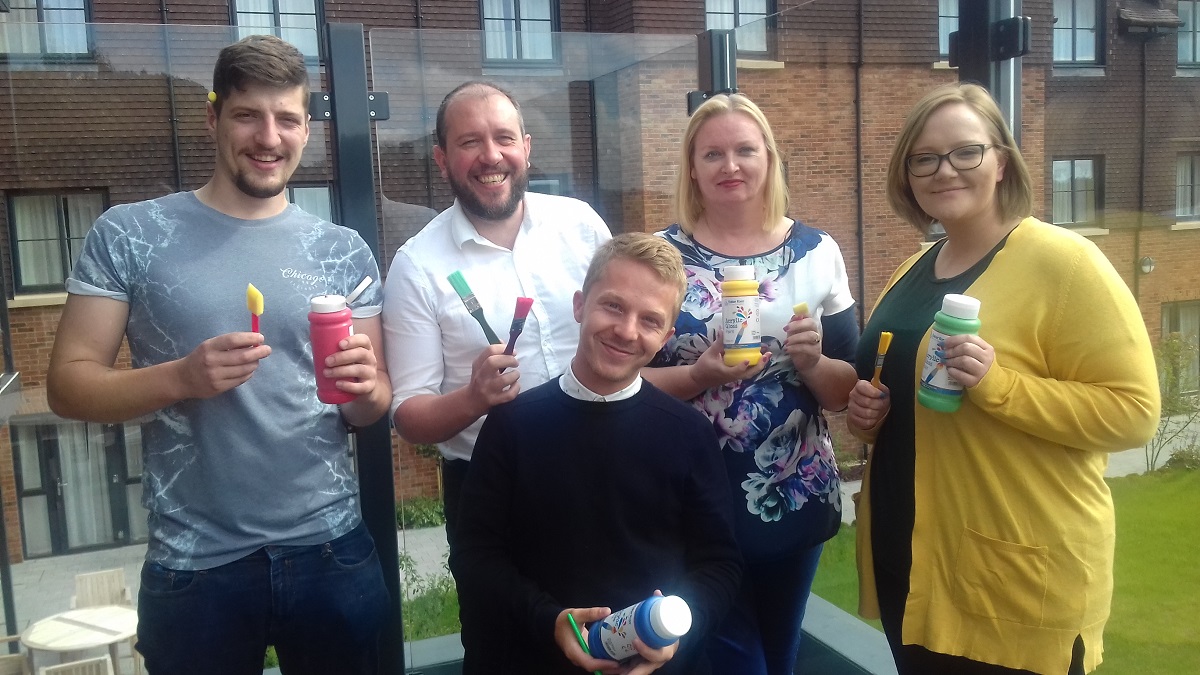 Staff Training For Dementia Care At Hamberley Care Homes
All of our staff receive training in dementia awareness over the course of different comprehensive learning sessions.
One of our priorities when it comes to dementia care is the professional development of our teams.
Each and every care home has a designated staff 'Champion'. These Champions receive additional advanced training that enables them to assist residents who have different needs. These aren't limited to dementia of course – our Champions are also trained to care for residents with cognitive or behavioural challenges.
Our team are constantly following current trends in dementia research and advances in the treatment of dementia. With all this, we hope to offer the best dementia care around the UK.
It's not all about the person that lives with dementia, however – at Hamberley Care Homes we also have a more intimate outlook towards supporting their entire family.
It is mandatory for our staff to learn and understand the journey of the loved ones of a resident who lives with dementia.
These training sessions all go towards helping our staff realise all of the sensitive emotional challenges that come with having one of your loved ones living with dementia, and how our home can help you get through it all.
We Wear Our 'Dementia Friends' Badge With Pride
At Hamberley Care Homes we fully support the Alzheimer's Society and their Dementia Friends initiative.
The Dementia Friends movement is all about changing the way society sees dementia. The initiative revolves around changing the nation's perspective and how we all think, talk or act about the condition.
As a luxury care home, we strive to give first-class dementia care to our residents, and we support anything that ultimately can help people who live with dementia.
Our homes have devoted Dementia Friends amongst their staff, and they often run workshops to raise awareness of the movement in the hope that others will get involved too.
In these workshops, our team give guidance and information on helping people living with dementia to navigate the symptoms and fully embrace a fulfilling lifestyle. These outreach events are always well-received – often inspiring empathy and understanding in the people who attend them.
At the forefront of our community activities is dementia awareness. It's really important to us at Hamberley that our homes are totally supportive towards those living with dementia.
We know how much dementia can affect the lives of people who live with it. We host different dementia-friendly events every week, inviting both residents and visitors from the local community so everyone can have a good time.
Living with dementia can be tough, but there's no reason there won't be pleasant, fulfilling life experiences throughout your journey.
Three Ways To Be More Dementia Friendly
It's really easy to become a Dementia Friend – for more information, please visit the Dementia Friends website.
In the meantime, here are three different techniques you can use in your own life to improve the wellbeing of people who live with dementia.
1. Just Smile
Presenting a warm and pleasant persona can really help to put relax people in distress. If you see somebody in public who is struggling and you think they might be living with dementia, just offer a great big smile. This should sooth and enable them to be responsive to any support they need.
2. Be Patient
Some people who live with dementia can take a little longer to do certain tasks. Try not to take over unless they absolutely need help – by being patient and respectful, you can reduce the chances of provoking any unnecessary stress for them. Giving them space and some time, people living with dementia can usually complete their tasks.
3. Use Social Platforms To Reduce Stigma
These days, most people get their news online. Social media is a huge way to spread awareness for all kinds of topics. Why not take a minute to share the Dementia Friends page on your profiles?
When people finally begin to understand the symptoms and repercussions of dementia, they will be able to properly help those who live with it.
QUESTIONS ABOUT CARE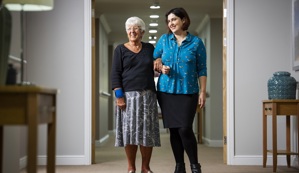 What training do your staff receive?
All members of our team are given the training and support needed to help them provide the highest standards of care. In addition to the statutory training that all care workers have to complete, we also ensure our staff receive bespoke Hamberley specific training in areas that we feel will help staff to provide an outstanding care experience.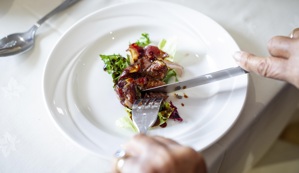 Do you cater for specific dietary needs?
Yes we do. We have a wide variety of dishes on our menus and we regularly do meal planning with residents so that we make sure we can cater for their likes and dislikes and all their nutritional needs.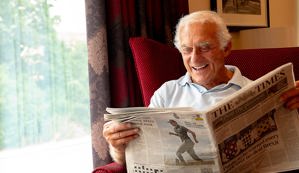 Can a resident bring their own furniture to use in the room?
Yes, we welcome personalisation of our homes and wherever possible residents are encouraged to bring with them their favourite items of furniture. All furniture is subject to suitability and risk assessment.