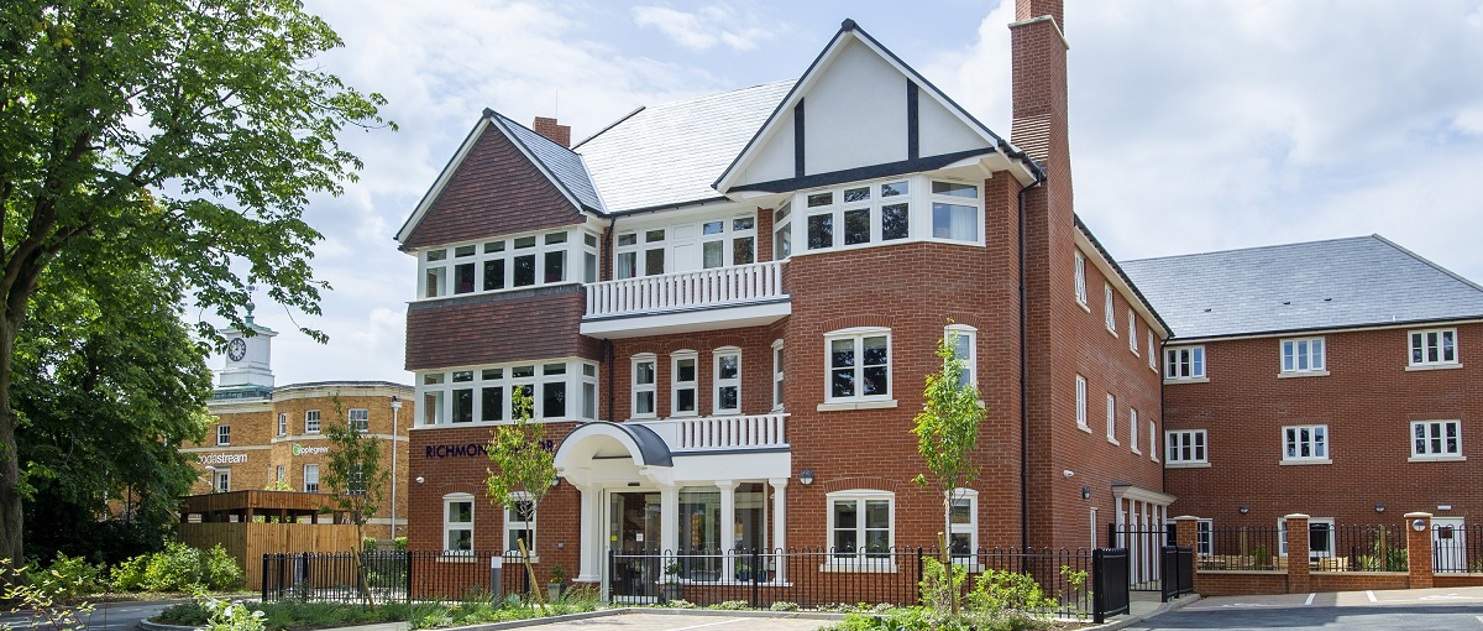 Richmond Manor Care Home, Ampthill, Bedfordshire
Richmond Manor Care Home in Ampthill provides residential, dementia and nursing care, as well as short breaks for older people, rated as Good in all areas by the CQC. The care home is a beautifully designed purpose built environment which is part of Hamberley Care Homes which was named Residential Care Provider of the Year in 2022.
---
14 Dunstable Street
Ampthill
Bedfordshire
MK45 2JT
Welcome to Richmond Manor
Our caring team, including our award-winning Homemakers, are here to offer state-of-the-art person centred care in Ampthill.
Richmond Manor is part of the Hamberley Care Home group, our stunning purpose-built care home in Bedfordshire is rated Good in All Areas by the CQC and offers older people luxury living and award-winning specialist care.
Take a tour of our luxury care home in Ampthill
Take a look around our stunning care home - watch our video above, or explore Richmond Manor for yourself through the virtual tour link below for a taster of what our stunning care home in Ampthill has to offer:

Luxury residential and nursing care in the heart of Bedfordshire
As you step through the threshold at Richmond Manor, you'll be met with the scent of warm cakes and coffee in our St. George's Café. The iconic stained-glass window is an eye-catching centrepiece of the café, taken from the original building that stood here, in honour of the local history behind it. You'll find an assortment of delicacies and beverages available whenever you fancy it. St. George's Café is open to our residents and their loved ones, as well as the local community. 
Within the entrance to our luxurious care home in Ampthill, you'll also spot our wellbeing and beauty salon, The Masquerade, created to give residents a luxurious space to relax whilst treating themselves to a pamper session. The salon is named after the 1970's picture book by local author Kit Williams, which famously sparked a national treasure hunt culminating in the discovery of a Golden Hare in Ampthill Park.
Get in Touch
Outside, in our beautifully landscaped gardens, our private bar is a space where residents can indulge with their friends or family, enjoy a nightcap or celebrate a special occasion.
Film lovers are encouraged to make the most of our deluxe cinema, where we can screen the latest releases or classic favourites. Adjacent to our cinema is a spacious lounge, with double glass doors leading to a private paved courtyard that plays host to a range of outdoor activities. Inside, the spacious and stylish lounge provides a luxurious area for socialising and relaxing. 
Three glass walled balconies offer a peaceful place to relax with friends, or simply enjoy the views across the grounds of Richmond Manor. 
At the end of a busy day, there's nothing like falling into your own warm and comfy bed. Richmond Manor's 69 generously sized bedrooms are all complete with the best en-suite facilities and walk-in showers. Our interior designed bedrooms are tastefully decorated with a luxury finish, and can also be personalised with the resident's own belongings and style, making it truly feel like home.
Get in Touch
Person Centred Care In Our Ampthill Care Home
All aspects of our resident's past, present and future are considered as we create our personalised care package. This will be continuously updated throughout their stay at Richmond Manor as we adapt to their ever-changing needs.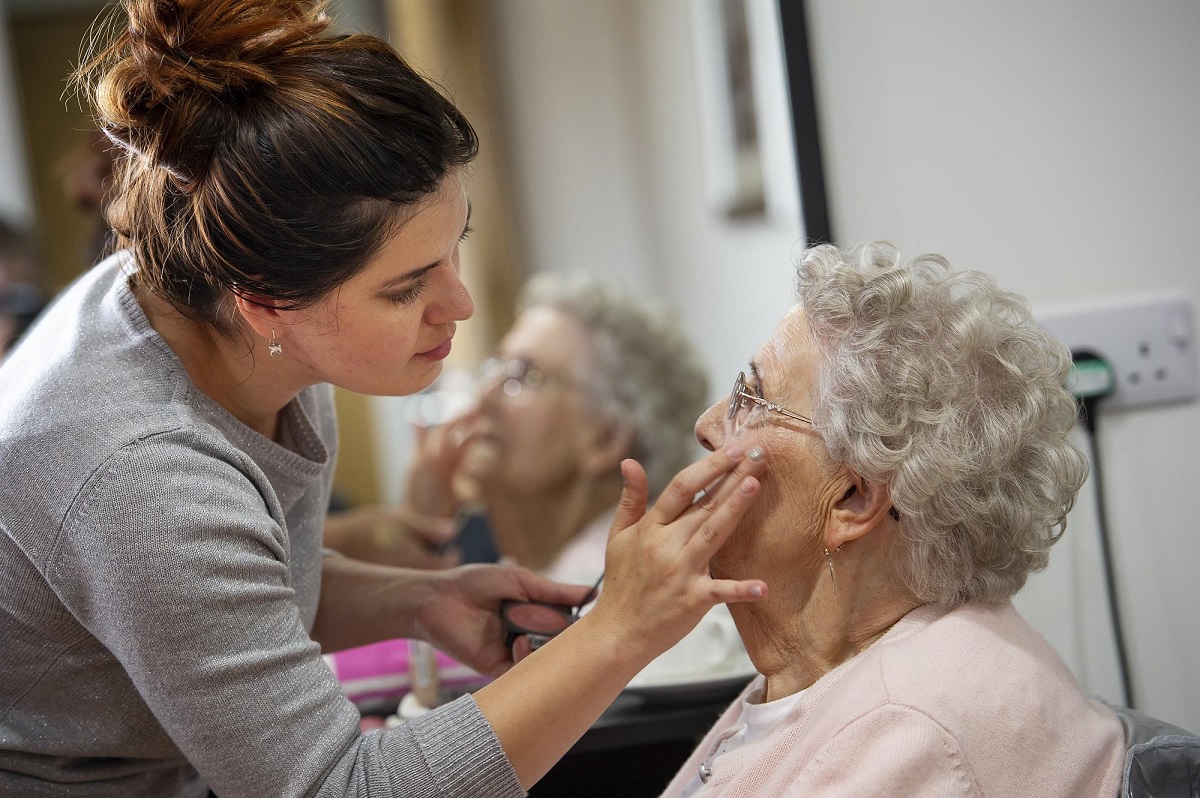 Person-centred care is a way of providing healthcare that puts the individual at the centre of their own care. It focuses on understanding and respecting people's needs, values, wishes, and preferences. At Richmond Manor, we ensure everyone we support is involved in all decisions about their health and wellbeing, from conversations about the type of care they need to how their room is decorated or where they spend their time.
Our Personalised Wellbeing Programme, created specifically for each individual, is built through understanding each of their likes and dislikes, their life stories, and the pastimes they have always been passionate about. These bespoke programmes occasionally require alteration over the course of their stay, and will adapt to support ever-changing needs.
It's about respecting an individual's past, supporting their existing strengths and ambitions, and honouring their personal identity as we create our personalised care package. Through this, we can ensure a comfortable and content future for everyone at our specialist care home. As our Homemakers get to know our residents, we can perfect our care package to provide truly unique care. It will be continuously updated throughout their stay at Richmond Manor as we adapt to their ever-changing needs.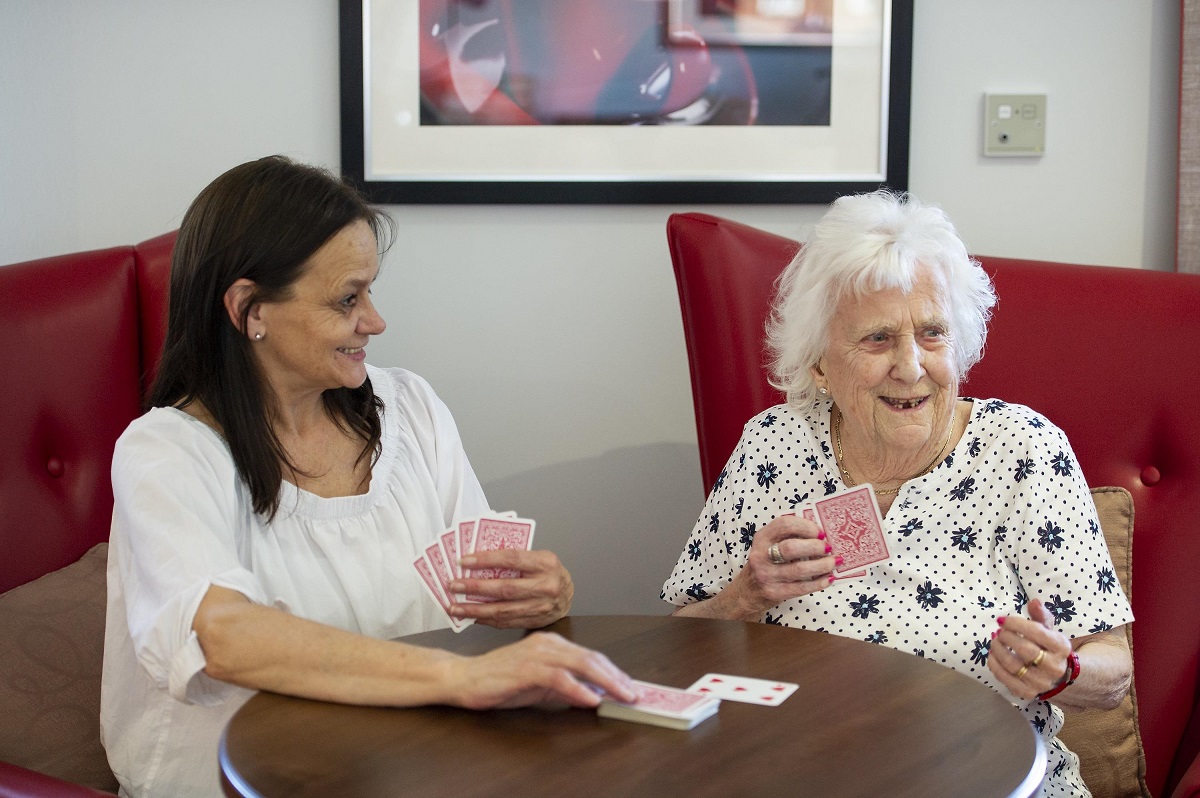 The Homemakers of Hamberley
Our award-winning 'Homemaker' role is a unique and holistic care approach that allows residents to feel more at home. 
You'll be hard-pressed to find another local care home that offers care like The Homemakers of Hamberley. Our carers aren't just carers - they're housekeepers, carers, and most importantly, they're companions.
"When I first visited I was struck by the beautiful setting, furnishings and facilities. However, it is the professionalism and warmth of the Homemakers and all the staff that has made my mother's stay so happy. The attitude of staff is exemplary" - Daughter of a Hamberley Care Home resident
Whether you need someone to make your bed, a cup of tea with a biscuit, or even just a sit down and have a game of chess, our Homemakers are on hand to support you. Find out more about the Homemakers of Hamberley - watch our video: 
Please note: this footage was taken before the COVID-19 pandemic began.
Get in Touch
Our Care
Residential care
When you visit Richmond Manor, you'll understand why we are the first choice for residential care homes in Bedfordshire - providing the highest quality residential care and and luxurious environment, inside and out. Whether you are looking for a vibrant retirement home for yourself or seeking the ideal place where your loved one can maintain their independence and interests, residential care at Richmond Manor is an unrivalled choice.
Live life on your own terms at Richmond Manor, rediscover the things you love, make new friends and hobbies, and simply enjoy being yourself in comfort and luxury. With both individuals and couples welcome in our care home in Bedfordshire, more and more people are choosing residential care to beat isolation and simply enjoy life with fewer complications - luxuriating in beautiful surroundings with new friends.
Nursing care
When you are looking for nursing homes in Bedfordshire, choose peace of mind with nursing care at Richmond Manor. Our nurses develop close relationships with our residents, taking time to understand the needs of the people they care for to provide the best nursing care, 24/7.
From personal care to medication management, our care needs assessment will ensure people living with us receive the assistance they need. Choose a nursing home in Bedfordshire with nurses experienced in caring for older people with complex health conditions.
Dementia care
Richmond Manor was developed specifically to allow people living with dementia to continue living full lives in the way they want to live them. We know that families and individuals are seeking a dementia care home in Bedfordshire that caters to their specific needs, and allows them to feel safe and comfortable.
According to the Alzheimer's Society, "dementia-friendly screenings of films help people to reconnect with memories and others." At Richmond Manor we endeavour to provide the best residential dementia care, and our cinema has been proven to provoke positive memories and emotions.
Respite care & short breaks
If you're looking for respite care in Bedfordshire or a short break to experience residential care or nursing care before you decide if living in care homes or nursing homes is right for you, Richmond Manor can arrange a minimum one week stay at our luxury care home.
End of Life Care
As a specialist nursing home, our nurses and carers are skilled in providing compassionate end of life care, with dignity, respect and support at the heart of our approach. When you're looking for end of life care in Bedfordshire, request a visit to Richmond Manor to get advice and support from our helpful team.
Our Wellbeing & Lifestyle Coaches
Like all Hamberley Care Homes, Ampthill's Richmond Manor has a devoted Wellbeing & Lifestyle Coach. These individuals are personally trained to improve each of our resident's wellbeing, through organising activities and creating a plan that guarantees residents can lead a meaningful and fulfilled lifestyle.
The Personalised Wellbeing Programme, created specifically for the individual resident, is built through understanding each of their likes and dislikes, their life stories, and the pastimes they have always been passionate about.
These bespoke programmes occasionally require alteration over the course of their stay in our Home, and will inevitably adapt to support resident's ever-changing needs.
"The team go above and beyond, and I'm supported far more than I could have ever expected or imagined. I know that I can talk to the Wellbeing & Lifestyle Coach about anything, whatever is on my mind. Sometimes you don't want to bother people, but I always feel able to open up to her." – Hamberley Care Home resident
Richmond's Wellbeing & Lifestyle Coach will ensure that each resident is mentally stimulated and embraces any opportunity to socialise or be more physically active.
Get in Touch
Part of the local community in Ampthill
The charming town of Ampthill, located between Bedford and Luton, is full of independent retailers and family owned businesses. It has an incredibly strong community feel with all kinds of public groups and clubs for the locals to attend.
With excellent transport links to the M1 and A6 and with convenient train links just five minutes away, our Ampthill care home is easily accessible no matter how you choose to get there. Richmond Manor welcomes residents from surrounding towns and villages including Maldon, Woburn, Marsdon Mortaine, Flitwick, Silsoe and Toddington. 
An active part of the local community, we regularly enjoy outings and visits as part of our activities and events programmes, as well hosting regular events in our homes, such as guest speakers, live music performances and themed nights.
There are all kinds of local attractions nearby. Woburn Safari Park is just a short drive away, and you'll find Woburn Abbey Deer Park close by too. Several residents attend activities at the Jigsaw Club in Flitwick to enjoy guest speakers and events. 
Every fortnight, we offer training sessions in partnership with the local gym, where residents can gently build strength and resistance, with personal guidance to cater to every resident's comfort and capability. Regularly, we welcome singer Martin Cook and a magician - both firm favourites with our residents. 
Our Facebook page is a great place to find out more about our regular events programme and meet our residents. 
At Richmond Manor Care Home, we have the perfect location, facilities and people to ensure you can live your life to its fullest potential.
Experience Richmond Manor and take the next step
We are delighted to welcome you and your family to visit Richmond Manor in Ampthill and see why it's the best care home in Bedfordshire. We understand that a transition into a care home can be challenging, so we do everything we can to cultivate a relaxing, warm environment and get to know each of our new residents. It's about supporting a person's future by learning all about their past.
Please contact our friendly team to book a personal tour and discuss any questions you may have about finding care homes in Bedfordshire.
Get in Touch
Richmond Manor Reviews
Regulated by the CQC, Richmond Manor is also reviewed by the people we care for and their friends and families. Many people looking for care homes and nursing homes find reading reviews and testimonials from current and former Inhabitants helpful when deciding where to go.
At Richmond Manor, we love to hear people's comments and take all feedback seriously, using it to further refine our care practices and make sure that we remain the best care home in Bedfordshire. Read some of our reviews below or contact us to request more information.
QUESTIONS ABOUT CARE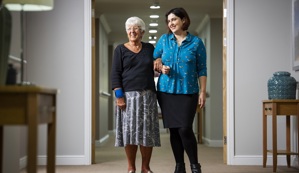 What training do your staff receive?
All members of our team are given the training and support needed to help them provide the highest standards of care. 
In addition to the statutory training that all care workers have to complete, we also ensure our staff receive bespoke Hamberley specific training in areas that we feel will help staff to provide an outstanding care experience.
Can I decorate my room?
This is your home and we want it to feel like just that, so you are free to personalise your ensuite bedroom or private suite. 
If you want to make significant alterations then we may ask for a retained fee to return the room back to its original state once vacated. This is something you can discuss with our Regional Community Relations Lead.