…warmth and laughter, family and community, homely and relaxing living space, and with the care you need to live your life.
Hamberley Care Homes provide high quality person-centred care in luxury surroundings across the UK.
Our dedicated and expertly trained Homemakers, Clinical Teams and Lifestyle & Wellbeing Coaches provide 24/7 onsite residential care, nursing care and dementia care.
We focus on the tiny details that make our residents unique and tailor our care to their individual needs.
If you need support choosing a home or finding the right level of care for you or your loved one, then our team are on hand to answer your questions. You're welcome to stop by your local Hamberley Care Home for a guided tour, perhaps enjoy a classic film in our Cinema Clubs or relax in one of our elegant cafés.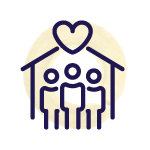 The Homemakers of Hamberley
We believe it's the people that make a loving home. That's why our carers are so much more – they are Homemakers.
Our Homemakers not only provide the highest quality of care but they focus on the tiny details that make each day special for every resident.
From always keeping things clean and tidy, to offering support with hobbies and interests, our Homemakers ensure that a Hamberley Care Home is a luxury home with a heart.