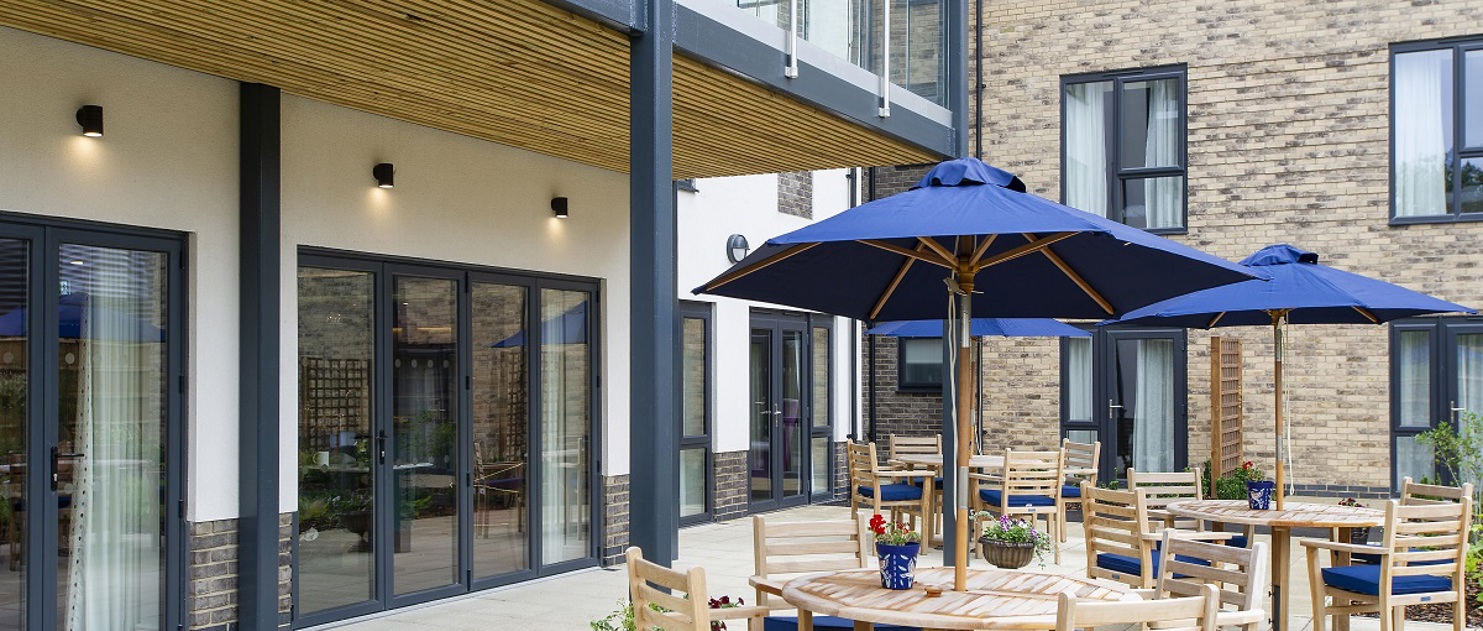 Elstow Manor Care Home, Wixams
The luxurious and purpose built Elstow Manor Care Home in Wixams, Bedford provides residential, dementia and nursing care and respite breaks for older people in tranquil surroundings.
---
Elstow Manor Care Home
Bedford Road, Wixams
Bedford
Bedfordshire
MK42 6FZ
Welcome to Elstow Manor
The stunning Elstow Manor Care Home in Wixams provides residential care, dementia care, nursing care and respite care for older people in Bedford. Our caring team offers luxury living and award-winning specialist care.
Take a tour of our luxury care home in Wixams
Take a look around our stunning care home - watch our video above, or explore Elstow Manor for yourself through the virtual tour link below for a taster of what our stunning care home in Wixams has to offer:

Luxury residential care in Bedford
Based in the new town of Wixams, just three miles south of Bedford, Elstow Manor is a luxury care home with a heart, where older people can enjoy life in a welcoming community.
As you enter our stunning Bedford care home, you'll be welcomed with a warm smile and offered a seat in the bright and spacious Brannigan's Bistro, where you can enjoy a delicious slice of homemade cake, or a chilled glass of wine with new friends from our well stocked bar. Open to residents, friends, families and visitors, you will immediately feel at home.
Across from the bistro is Reflections, our Wellbeing & Beauty Salon, where you'll find a sanctuary for pampering and relaxation. Named after Bedford's famous Silver Street sculpture, residents can indulge in a range of luxurious manicures, pedicures, and relaxation treatments.
In our dining suites, residents can enjoy delicious meals together, with menus tailored to individual tastes and preferences, and good food guaranteed.  If it's a special occasion, residents can host a private celebration in our luxurious private dining suite, The Elstonian. Our Head Chef and team will be on hand to create a bespoke menu of your choice to enjoy, and our award-winning Homemakers are always on hand to take care of any preparation.
Upstairs, you'll find bright and spacious bedrooms, decorated in a range of contemporary themes that can be personalised to your tastes, all complete with the best en-suite facilities, including a walk-in shower. We have an abundance of areas for socialising and relaxing, with large glassed walled balconies and luxury lounges - the perfect place to sit back and get lost in a book.
Get in Touch
Cinema loving residents will be keen to make the most of our deluxe cinema room. Whether you prefer something from Hollywood's Golden Era, or one of the latest releases, there is plenty to choose from.
Whatever you need to live the life that you want, you'll find it at Elstow Manor.
Person Centred Care In Our Wixams Care Home
Every resident's needs are as individual as they are, which is why our care is person centred. We aim to give each resident as much or as little support as they need to live the life that they want to live. 
It begins before moving in day, as our team take time and care to discover everything they need to know from new residents and their families. 
From there, we can ensure that we fully comprehend what support is required and ensure everything is ready for their arrival.
Exceptional and responsive care in Bedford 
Rated Good in Safe, Caring and Responsive by the CQC, residents and their families can rest assured that the Elstow Manor team is ready as care needs change, helping residents through any short or long term challenges. Our team is always engaged with residents so they can identify changing needs as and when they happen.
Residential care in Bedford
When you visit Elstow Manor, you'll understand why we are the first choice for residential care homes in Bedford - providing the highest quality residential care and a luxurious environment, inside and out. Whether you are looking for a vibrant retirement home for yourself or seeking the ideal place where your loved one can maintain their independence and interests, residential care at Elstow Manor is an unrivalled choice.
Nursing care in Bedford
When you are looking for nursing homes in Bedford, choose peace of mind with nursing care at Elstow Manor. Our nurses develop close relationships with our residents, taking time to understand the needs of the people they care for to provide the best nursing care, 24/7. 
From personal care to medication management, our care needs assessment will ensure people living with us receive the assistance they need. Choose a nursing home in Bedford with nurses experienced in caring for older people with complex health conditions.
Dementia care in Bedford
Elstow Manor was developed specifically to allow people living with dementia to continue living full lives in the way they want to live them. We know that families and individuals are seeking a dementia care home in Bedford that caters to their specific needs, and allows them to feel safe and comfortable.
[Link to Dementia Care Page]
Respite care & short breaks 
If you're looking for respite care in Bedford or a short stay care placement to decide if care home living is right for you, Elstow Manor can arrange a short stay at our luxury care home.
[Link to Respite Care Page
End of Life Care
As a specialist nursing home, our nurses and carers are skilled in providing compassionate end of life care, with dignity, respect and support at the heart of our approach. When you're looking for end of life care in Bedford, visit Elstow Manor to get advice and support from our helpful team.
Get in Touch
The award-winning Homemakers of Hamberley
At Hamberley Care Homes, we've reimagined the traditional role of a carer, so our residents will experience a holistic approach like no other. 
Our award-winning Homemakers are carers, housekeepers and companions, all in one person.
Our Homemakers work very closely with the Clinical Team, so they understand the specific needs of each of our residents, and can provide a continuity of care.
Homemakers are also companions - somebody to share a cup of tea with, you'll join for activities, or simply sit quietly with you.
Housekeeping is also an essential aspect of the Homemakers' role. They'll be there to ensure rooms are tidy and maintained, not just during scheduled cleans but all the time. 
Watch our video to find out more about the award-winning Homemakers of Hamberley:
Part of the local community in Wixams
At Elstow Manor, we have the perfect location, facilities and people to ensure you can live your life to its fullest potential.
Situated in the new town Wixams, just a few short miles south of Bedford, the parish boasts a thriving community spirit and is surrounded by green countryside, but with easy access to the charm of nearby Bedford.
At Elstow Manor, residents and visitors have plenty of choices on how they choose to spend their time. It's only a short drive to Woburn Safari Park, where you'll be able to see an incredible variety of exotic wild animals and learn about the natural wonders of the world. There's also a range of lovely villages to visit on day trips and opportunities to visit the beautiful Dunstable Downs to take in the stunning views and watch the hang-gliders. 
For those who prefer the hustle and bustle of a busy town centre over nature, Bedford's range of dining, shopping and culture won't disappoint. From walks along the riverbank in the heart of Bedford to dining in restaurants and pubs, there is always something to do in the local town.
Get in Touch
Elegant Dining in our Wixams Care Home
Food is one of life's greatest pleasures, and our residents enjoy exceptional dining at our Wixams care home.
Residents can choose from a delicious and varied menu. Our chefs use fresh, seasonal ingredients sourced from local producers to create their tasty dishes.
Each dish is carefully planned to be as nutritious and delicious as possible.
Get in Touch
Experience Elstow Manor and take the next step
We are delighted to welcome you and your family to visit Elstow Manor and see why it's the best care home in Bedford. We understand that a transition into a care home can be challenging, so we do everything we can to cultivate a relaxing, warm environment and get to know each of our new residents. It's about supporting a person's future by learning all about their past.
Please contact our friendly team to book a personal tour and discuss any questions you may have about finding care homes in Bedford.
Get in Touch
QUESTIONS ABOUT CARE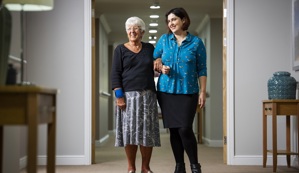 What training do your staff receive?
All members of our team are given the training and support needed to help them provide the highest standards of care. 
In addition to the statutory training that all care workers have to complete, we also ensure our staff receive bespoke Hamberley specific training in areas that we feel will help staff to provide an outstanding care experience.
Can I decorate my room?
This is your home and we want it to feel like just that, so you are free to personalise your ensuite bedroom or private suite. 
If you want to make significant alterations then we may ask for a retained fee to return the room back to its original state once vacated. This is something you can discuss with our Regional Community Relations Lead.