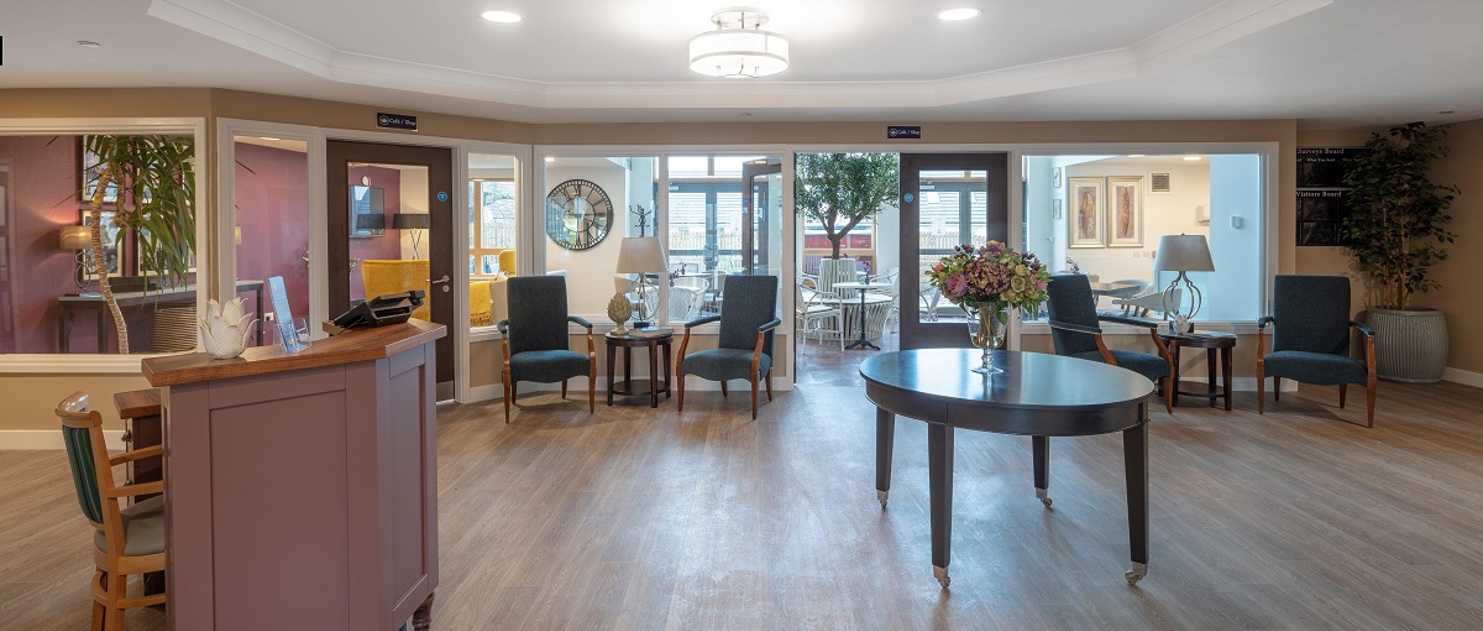 Newton House Care Home, East Renfrewshire
Newton House Care Home in Newton Mearns, Glasgow offers exceptional residential, nursing, dementia and respite care for the older community, within a luxury environment.
---
Newton House Care Home
North Greenlaw Way
Newton Mearns
East Renfrewshire
G77 6GZ
Welcome to Newton House. Our care home in East Renfrewshire offers an outstanding level of care within a luxurious environment - take a virtual tour of Newton House here: 

Luxury residential and nursing care in East Renfrewshire
Part of the award-winning Hamberley Care Home group, Newton House is a luxury residential home with a heart, where older people can enjoy life in a welcoming community.
Our luxurious Newton House care home can be found in the charming town of Newton Mearns, just 7 miles from Glasgow City Centre. Newton House offers first-class residential, nursing and dementia care for the older community.
As you enter our beautiful south Glasgow care home, you'll be welcomed with a warm smile and feel at home immediately. 
Within Newton House we offer a versatile environment with lots of peaceful areas to spend time. Take a seat in our cosy cafe and enjoy a cappuccino and a slice of cake with friends and family.
Relax in our wellbeing and beauty salon which offers hairdressing, manicures, pedicures, and relaxation therapies - a real chance to treat yourself. Newton House's sumptuous cinema is a popular destination for our resident film-lovers, who often put in requests for classic favourites. The luxurious care home also boasts a GP consultation room for residents to meet with visiting doctors in privacy. Our multi-faith room offers a quiet, spiritual place of worship for all religions and faiths.
Upstairs, you'll find bright and spacious bedrooms, each appointed in a range of personalised themes for comfortable and homely living that can be personalised to your tastes, so you'll feel as comfortable here as in your own home.
Our luxury Newton Mearns care home offers an exceptional dining experience for residents who wish to indulge their taste-buds. In our luxurious dining room, you can choose from an exceptional and varied menu. Our chefs use fresh and seasonal ingredients sourced from local Scottish producers to create wonderful, nutritious and carefully planned meals.
Whatever you need to live the life that you want, you'll find it at Newton House.
Get in Touch
Person Centred Care In Our Glasgow Care Home
Our care is person centred, because our resident's needs are as individual as they are. We strive to give every resident as much or as little support as they need to enjoy their life at Newton House.
Our team take the time and care to learn everything they need to know about new residents, their families and their lifestyles, even before moving in day.
Through this, we will fully understand what support our residents require, and make sure that everything is ready by the time they arrive.
Get in Touch
It is absolutely vital to us at Newton House that every resident feels they are at home. A transition into a care home can be challenging at the best of times, so our Homemakers do everything they can to create a warm and friendly environment.
Our Clinical Team is ready if or when our residents' needs change, and will help them and their families through any short or long-term challenges.
Even better, our Homemakers and Wellbeing & Lifestyle Coaches are always engaging with our residents, and can identify changing needs as and when they might happen.
Part of the community in Newton Mearns 
Home to residents from Giffnock, Whitecraigs, Clarkston and Eaglesham, Newton House can be found in the picturesque town of Newton Mearns, just 7 miles south of Glasgow City Centre, with great access to the M77 and Glasgow Southern Orbital.
Our Newton Mearns care home is close to the Dams to Darnley Country Park and Balgray, Waulkmill Glenn and Ryat Linn reservoirs, as well as attractions including the Kelpies Replica and Duncarnock Fort, so residents and visitors will have plenty of choice on how and where they can spend time with their loved ones. History fans will relish visiting landmarks such as Mearns Castle, a 15th Century tower house, and Pollok Castle, a beautiful building that has over the years been hit by fires, family feuds, and even dynamite. 
There's always things going on in our vibrant, happy care home. We are constantly building links in the local community and making sure there is a variety of events for our residents to enjoy. We strive to encourage intergenerational socialising through work with schools and nurseries, providing information sessions for anyone to attend, and hosting seasonal events such as Summer fayres and Christmas parties.
At Newton House we are very proud of our monthly Macular Support Café (run by The Macular Society). We also host a Dementia Friendly Cinema Club on the first Friday of every month, and our Music 4 the Mind session is on the third Tuesday every month.
It's rare to find care homes around Glasgow who can offer the luxury of Newton House, so it is an absolute honour to host community get-togethers on a regular basis here.
Whatever you need to live the life that you want, you'll find it at Newton House Care Home near Glasgow.
The Homemakers of Hamberley
Yes, our homes are luxurious. Yes, our facilities and services are state-of-the-art. But that's not all that makes Hamberley Care Homes stand out from the rest.
It's our people. Our carers are so much more than just carers - they are Homemakers.
As well as providing the highest quality of care, they focus on the tiny details that make every day special for each resident.
You'll struggle to find another care home around Glasgow who offer the holistic 'The Homemakers of Hamberley', who help with housekeeping, caring and socialising simultaneously.
Our Homemakers and clinical team work closely together, so they appreciate individual needs and can provide a consistent degree of care to each of our residents.
The Homemakers are also companions - they will join in on your activities, have a meal with you, or just sit down with you to watch your favourite TV shows.
Homemakers are also part of the housekeeping team, making sure that rooms are kept maintained and clean - not just during scheduled cleans but at all times. 
Get in Touch
Hamberley's Homemakers make sure that residents stay connected with the local community, regardless of any mobility challenges they may have.
At Newton House, our dedicated team facilitate activities and days out that help our residents enjoy a fulfilled and meaningful life. 
Our Wellbeing & Lifestyle Coaches
Like all Hamberley Care Homes, our East Renfrewshire care home has its own Wellbeing & Lifestyle Coach. 
The main goals of these care experts are helping residents to enjoy their lives no matter their personal circumstances.
Newton House's Wellbeing & Lifestyle Coach gets to know every resident, even before they arrive.
Each resident's life stories, their likes and dislikes, the hobbies and the activities they love are all considered.
From these discussions a Personalised Wellbeing Programme is created, which helps to ensure residents live an enjoyable and satisfied lifestyle of their own choosing.
Newton House's Wellbeing & Lifestyle Coach is committed to make sure residents are mentally stimulated, and have opportunities to be more physically active and be sociable too.
Our Personalised Wellbeing Plans naturally evolve and are reviewed every four weeks, meaning residents can remain comfortable in their abilities and their ever-changing needs are supported.
Working alongside our residents at our care home near Glasgow, the Wellbeing & Lifestyle Coach will encourage personal hobbies, facilitate social sessions and create fun activities.
Elegant Dining In Our Glasgow Care Home
We all love food. Our residents enjoy exquisite dining at our Newton House care home near Glasgow, Scotland.
In our luxurious dining room, you can choose from an exceptional and varied menu. Our chefs use fresh and seasonal ingredients sourced from local Scottish producers to create wonderful, nutritious and carefully planned meals.
Get in Touch
Newton House's creative kitchen staff always encourage residents to continue eating meals they love, and also experience tasty new dishes.
Our menus are full of traditional Scottish favourites, seasonal specials and international cuisines.
Each week Newton House's chefs include new options that have been requested by residents or brought in by our passionate catering team.
We all have preferences when it comes to food - that's why our team doesn't restrict when residents dine. Rather, they can order food and refreshments whenever they like, as our dining team make sure they are kept well-nourished and hydrated.
Exceptional and responsive care in south Glasgow
Regulated by the Care Inspectorate in Scotland, residents and their families can rest assured that the Newton House team is ready as care needs change, helping residents through any short or long term challenges. Our team is always engaged with residents so they can identify changing needs as and when they happen.
Residential care
When you visit Newton House, you'll understand why we are the first choice for residential care homes in the region - providing high quality care and a luxurious environment, inside and out. Whether you are looking for a vibrant retirement home for yourself or seeking the ideal place where your loved one can maintain their independence and interests, residential care at Newton House is an unrivalled choice.
Nursing care
When you are looking for a nursing home in Glasgow, choose peace of mind with nursing care at Newton House. Our nurses develop close relationships with our residents, taking time to understand the needs of the people they care for to provide the best nursing care, 24/7. 
From personal care to medication management, our care needs assessment will ensure people living with us receive the assistance they need. Choose a nursing home in Newton Mearns with nurses experienced in caring for elderly residents with complex health conditions.
Dementia care 
Newton House was developed specifically to allow people living with dementia to continue living full lives in the way they want to live them. We know that families and individuals are seeking a specialist dementia care home in East Renfrewshire that caters to their specific needs, and allows them to feel safe and comfortable.
Respite care & short breaks 
If you're looking for respite care in East Renfrewshire or a short break to experience residential care or nursing care before you decide if living in care homes or nursing homes is right for you, Newton House can offer short breaks at our luxury care home.
End of Life Care
As a specialist nursing home, our nurses and carers are skilled in providing compassionate palliative care, with dignity, respect and support at the heart of our approach. When you're looking for palliative e care in Glasgow, visit Newton House to get advice and support from our helpful team.
Our Team at Newton House Care Home - Newton Mearns, Glasgow
The best way to provide a truly person centred care experience is by carefully putting together a highly skilled team of care professionals.
Our Newton House team are excellent care providers who work together to deliver holistic and magnificent care.
You'll be hard pushed to find a staffing structure like ours in other care homes around Glasgow.
Within Newton House you will also find our Wellbeing & Lifestyle Coach, Clinical Lead, Community Relations Lead and Business Administrator.
Each person makes sure Newton House care home is running smoothly in their exclusive areas.
At Hamberley Care Homes we understand that investing in our people is of utmost importance, and our team are given the best training throughout their employment.
Our staff training is of the highest industry standard, for nurses in particular. We are the only care home in or around Glasgow (and the only UK care group) to ensure that the Queen's Nursing Institute transition to Care Home Nursing is undertaken by our nursing staff on their arrival to the care home.
Testimonials 
"My mother has been one of the first residents at Newton House. I have been in the fortunate position of getting to know the staff prior to the opening date and I cannot praise them enough for their genuine care, compassion, and ensuring mum's needs are catered for 24 hours a day. Each and every one always has a smile, a laugh and time to chat, and you actually feel part of an extended family. For the first time in a long while, mum feels relaxed, and more importantly, content. It is very hard for an older person to give up their home and everything they have known, but I can categorically say we have made the best decision in choosing Newton House"
- Daughter of a Newton House resident
"We looked at several homes before we came upon Newton House. Set in nice surroundings, bright and cheery décor and only newly opened, we liked the look and feel of the place. The cinema, pets and gardens are popular with my husband. After a walk around and speaking with some staff members we believed that they had the necessary skills to deal with my husband's complex conditions. One week's respite was booked and he has settled in very quickly, and they are managing him very well. We can visit and telephone whenever we wish. I was very uneasy at first, but the staff have helped to allay my fears. They have read all his information provided by the family, and taken the time to understand him and his condition. I have now extended his stay for a second week and booked for a further stay in the near future. I hope they can continue to provide their good service going forward and thank them all for their care and consideration." 
- Wife of a Newton House resident 
Experience Newton House and take the next step
We are delighted to welcome you and your family to visit Newton House and see why it's the best out of all the care homes in East Renfrewshire. We understand that a transition into a care home can be challenging, so we do everything we can to cultivate a relaxing, warm environment where everyone can feel comfortable.
Please contact our friendly team to book a personal tour and discuss any questions you may have about finding luxury care homes in East Renfrewshire. 
Get in Touch
QUESTIONS ABOUT CARE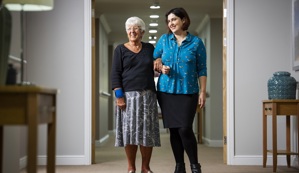 What training do your staff receive?
All members of our team are given the training and support needed to help them provide the highest standards of care. 
In addition to the statutory training that all care workers have to complete, we also ensure our staff receive bespoke Hamberley specific training in areas that we feel will help staff to provide an outstanding care experience.
Can I decorate my room?
This is your home and we want it to feel like just that, so you are free to personalise your ensuite bedroom or private suite. 
If you want to make significant alterations then we may ask for a retained fee to return the room back to its original state once vacated. This is something you can discuss with our Regional Community Relations Lead.