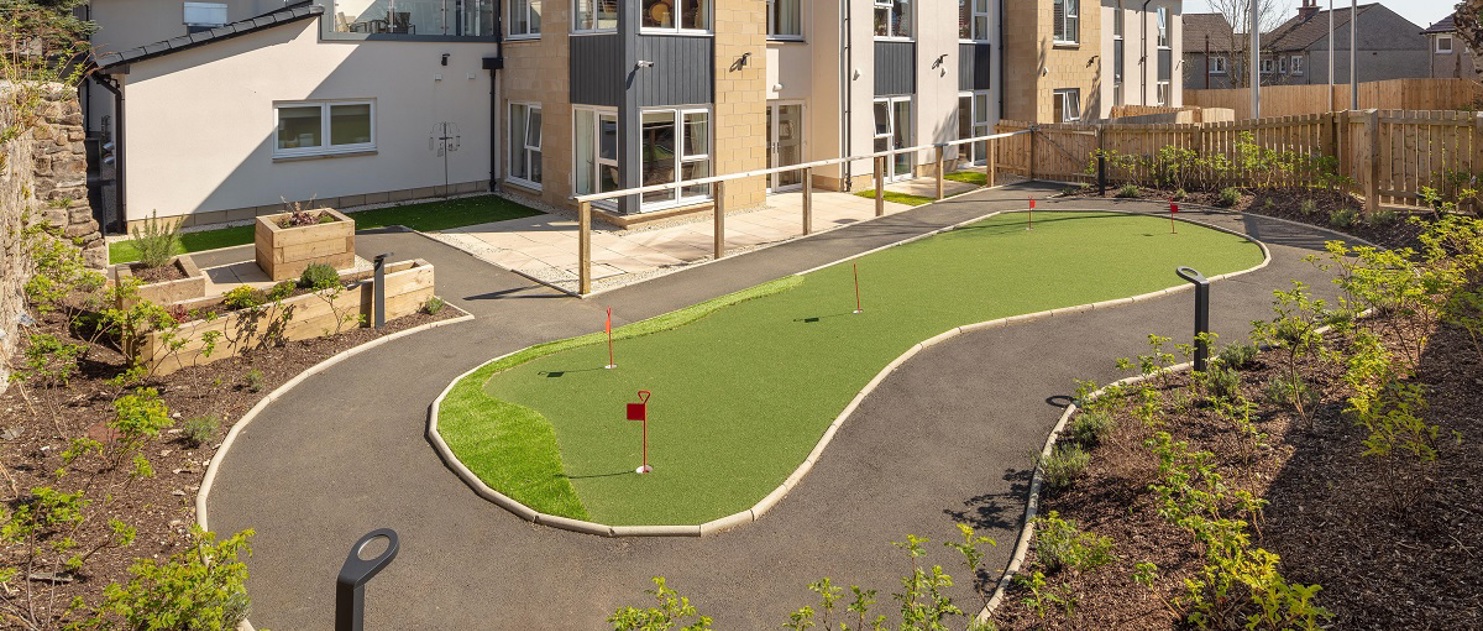 Milngavie Manor Care Home, Milngavie
Our stunning care home in East Dunbartonshire offers luxurious living coupled with the highest standards of care and support, with fee rates starting from £1,250. Our caring team, including our award-winning 'Homemakers', provide first-class person centred residential, nursing and dementia care.
---
Milngavie Manor Care Home
Craigton Road
Milngavie
East Dunbartonshire
G62 7JG
Keeping you safe
Keeping our residents safe, well and connected with their family and friends is our number one priority. The enhanced infection control measures we have in place go above and beyond industry standards, and we are delighted to be able to facilitate face to face family visits within our care home, alongside visits within our exclusive Family & Friends Lounge, as featured by the BBC.
Welcome to Milngavie Manor
Just north west of Glasgow in the striking town of Milngavie, you'll find Milngavie Manor, our luxury care home that offers residential, nursing and dementia care for the older community.
Our stunning care home in East Dunbartonshire offers luxurious living and the highest standards of care and support – contact us today to find out more.
Luxury Living at Milngavie Manor Care Home 
Milngavie Manor Care Home is a spacious and beautiful building with inviting en-suite bedrooms, each appointed in a range of personalised themes for a comfortable and homely lifestyle.
Our exquisitely landscaped gardens come with a putting green and seasonly planted raised flower beds for all to enjoy - even if you just want to admire them all from our rooftop and balcony terraces.
For our green-fingered residents who love to garden, we have a communal greenhouse, where a variety of crops, fruit and vegetables are grown throughout the year.
That's not all, though - Milngavie Manor also boasts a wellbeing and beauty salon designed for pampering in style, which includes hairdressing, a nail bar for manicures and pedicures, and a relaxing space for our unique Hamberley Hand Massage.
Our Milngavie care home offers an exclusive dining experience for residents who wish to indulge their taste-buds, and our deluxe cinema allows residents to enjoy the big screen experience from their own home in a classic style. 
All this and more are included in our Wellbeing & Lifestyle personal programme.
Within our Milngavie care home we offer a variety of living areas and recreational spaces making us the perfect home for hosting family and friends, too.
We have a stunning café where residents can enjoy a quiet coffee by themselves or invite loved ones over to enjoy afternoon tea.
We strive to create a relaxing and comfortable environment for all of our residents. Whether they like to relax with a good book, socialise with friends, or watch the world go by, we can facilitate it all.
Our quiet rooms are particularly popular for residents who prefer their own company, and our vibrant and busy living spaces are great for building friendships.
Milngavie Manor's sumptuous cinema is a popular destination for our resident film-lovers, who often put in requests for classic favourites or the latest releases. 
We also host a Dementia-Friendly Cinema Club where people living with dementia can enjoy the big screen in comfortable and open surroundings.
Thanks to our four different restaurants and private dining suite, it is easier than ever for residents to host their own dinner or tea party. Our kitchen team can prepare everything in advance for you, as well as deliver a menu of your choice.
Milngavie Manor Care Home - Providing Truly Person Centred Care
We celebrate the individuality of each and every one of our residents and the care that we provide is bespoke to their unique needs. 
The Milngavie Manor team take time to become familiar with new residents, their families and their day-to-day habits and lifestyles - even before they move in.
It's crucial for us at Hamberley Care Homes that all of our residents feel like Milngavie Manor is their home. We understand how difficult it can be changing your life and moving home, so our team ensure a smooth transition and create a cosy, friendly living space.
We use our person centred approach to establish how our residents prefer to live their lives, and with this we can help them  live a rewarding and nurturing lifestyle of their own choosing.
At Milngavie Manor our residents build true connections and friendships with each other, and we love to get involved in the local community, organising and hosting events whenever possible.
Independence is incredibly important here at Milngavie Manor, and we like to try and keep our residents involved in all the hobbies and activities they loved before they moved in.
Our team
You'll be hard-pressed to find a care home around Milngavie which offers services as complete as ours. Not only do we have luxurious facilities and services, we are immensely proud of our care team.
Our team provide holistic, all-encompassing care,  focusing on all the little details that are important to our residents.
They are led by Home Manager Catherine Galbraith, who ensures that the home runs smoothly. 
Milngavie Manor's devoted staff will organise special days out, events and activities that enable residents to get involved in the local community around Milngavie. Their ultimate goal is to ensure that our residents can lead a rewarding and meaningful lifestyle - no matter what mobility limitations they might have.
Leisure and Wellbeing at Milngavie Manor
Our Leisure and Wellbeing Lead learns as much as they can about each resident. Their life hallmarks, their interests and hobbies, what they like and what they don't like - all of this is considered even before they arrive.
We attain all this information so we can create a Personalised Wellbeing Programme. This programme allows residents to live a comfortable and happy way of life.
Another key part of the Leisure and Wellbeing Lead role is to keep residents active, mentally and physically, and to provide social opportunities where they can interact and spend time with others, and the Personalised Wellbeing Programmes are reviewed once every four weeks to adapt to any changing needs. 
The Leisure and Wellbeing Lead also encourages residents to continue their favourite hobbies and pastimes, and works alongside the team to come up with regular engaging activities.
At Milngavie Manor Care Home we are proud of our beautiful Wellbeing Salon, where we offer different pampering experiences and treatments. We provide hairdressing services, manicures and pedicures as well as our own one-of-a-kind Hamberley Hand Massage.
Sophisticated Dining In Milngavie Manor Care Home, Milngavie
Food is the sustenance of life. A proper dining experience keeps you well-nourished, lets you try new dishes and enjoy your favourite flavours, and it even helps you socialise around the table.
At Milngavie Manor Care Home, our residents benefit from some of the best dining facilities in and around Milngavie.
Our exquisite range of dining spaces each provide a different dining experience for our residents and their guests. Our kitchen team use fresh and local produce from regional farms and chains, and they offer plenty of variety in their nutritious and meticulously planned dishes.
We always support residents to try new, different meals, as well as the tasty dishes they know and love.
At Milngavie Manor our menus are comprised of seasonal exclusives, national classics and international dishes. Every week our expert chefs come up with new meals, either requests from residents or recommendations from the on-hand catering team.
And to make sure our residents' personal preferences are always looked after, our catering team never restrict when residents eat. We appreciate that everyone's day follows a different pattern so we make sure our residents can order food and drinks whenever is best for them. Our kitchen team are ready whenever they are.
Each of our residents has a nutritional profile completed for them, along with personalised meal plans where necessary. These digital care plans can be updated as you go, and our residents' loved ones can stay informed of the meals we prepare and send in suggestions or comments.
We welcome resident's relatives to come and dine with us whenever they like. Whether in one of our restaurants, or in our private dining suite, for a small extra charge you can dine with us whenever suits you.
We are very proud of our dining facilities and staff here at Milngavie Manor, as we do our best to ensure we are a level above the standard care home in and around Milngavie.
Our thorough recruitment process has ensured we have a highly skilled group of care experts on hand at Milngavie Manor.
Through our diligent training and mentoring, we know our staff can provide a top-class and totally bespoke care experience.
Catherine Galbraith, our Home Manager, is responsible for the team who provide outstanding care.
Each team member helps to keep Milngavie Manor operating smoothly and providing the best care experience possible for our residents.
Throughout their employment at Hamberley Care Homes, our staff receive continuous training and development. We are passionate about investing in our team and we know that an expertly trained team is necessary to provide the highest quality of care for our residents.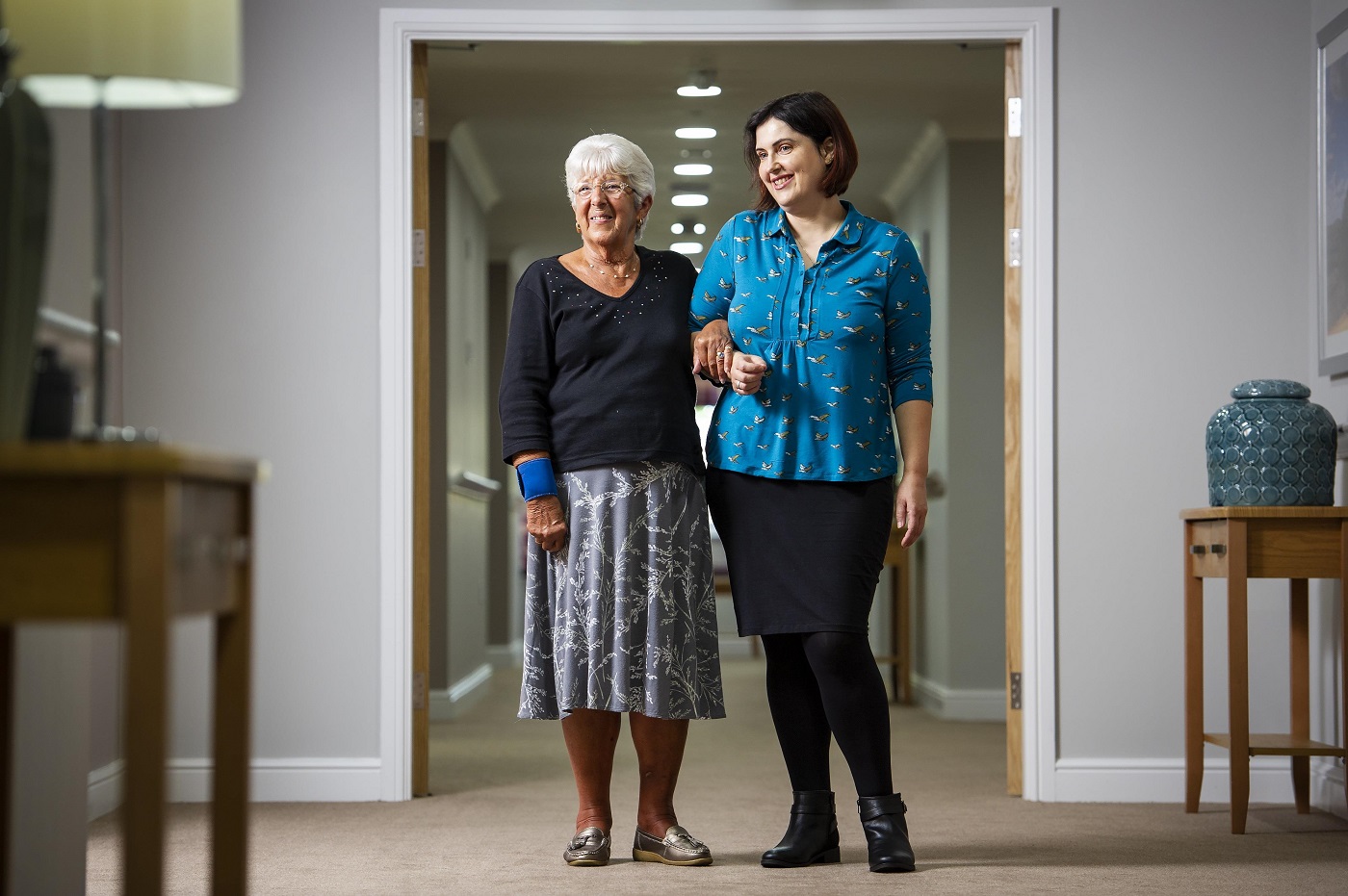 Daily Life At Milngavie Manor Care Home
At Milngavie Manor we always have a variety of events happening, and residents can choose whether they want to take part or not.
We do our best to get involved in the local community, and encourage intergenerational socialising - we often collaborate with nurseries, schools and playgroups, hosting learning sessions as well as seasonal events such as summer fairs and Christmas celebrations.
Milngavie Manor also hosts many weekly and monthly events including Ceartas (Advocacy Advice) Café, the Dementia Friendly Cinema Club, and our weekly Choir session.
Out team pride themselves on consistently finding new activities and events to keep residents content, engaged, and entertained, no matter what their personal preferences are.
The Local Area
Milngavie has a rich and progressive history, evolving from a small country village, to a minor industrial centre for paper mills, to now being considered by some a quiet suburb of northern Glasgow (which is only 6 miles south).
Milngavie is now a popular retirement destination, with a vibrant community of retirees who enjoy busy social lives with an abundance of social clubs and interest groups taking place throughout the week.
There are some quality destinations around Milngavie for a day-break - the Milngavie reservoir (1859) is a beautiful dog-walking and tourist attraction, and is the main supplier of water to Glasgow City. 
You'll find many places of worship around Milngavie, with three twentieth century churches within just 500m of each other. 
If you're a sports fan, you'll be pleased to know that Milngavie is the home of West of Scotland FC, one of the oldest rugby clubs in Scotland, dating back to 1865. Rangers Football Club's training facility is also in the town.
And, of course, Milngavie Manor. 
Milngavie Manor offers 24-hour residential, dementia and nursing care. If you are looking for care for yourself or a loved one please do get in touch - we'd love to have the opportunity to show you around our beautiful home and introduce you to our friendly team. 
Enquiry Form
QUESTIONS ABOUT CARE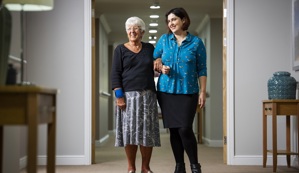 What training do your staff receive?
All members of our team are given the training and support needed to help them provide the highest standards of care. In addition to the statutory training that all care workers have to complete, we also ensure our staff receive bespoke Hamberley specific training in areas that we feel will help staff to provide an outstanding care experience.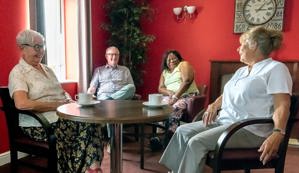 Can resident's rooms be decorated?
Yes. This is your home and we want it to feel like just that. If you want to make significant alterations then we may ask for a retained fee to return the room back to its original state once vacated.