Montague House Care Home, Brampton
Montague House Care Home offers residential, dementia and nursing care for the older community, all from within a luxurious environment with an award-winning model of care. Book your tour today to find out more.
---
Montague House Care Home
Keeling Lane
Brampton, near Huntingdon
Cambridgeshire
PE28 4BS
Welcome to Montague House. Our brand new, state-of-the-art care home in Cambridgeshire offers an exceptional level of care, all from within a luxury environment. Explore our luxury care home today - take a virtual tour:

Luxury Living at Montague House Care Home near Huntingdon, Cambridgeshire 
Montague House provides an outstanding level of care within a stunning environment. Within our care home near Huntingdon you'll find bright and spacious en-suite bedrooms, decorated in a range of contemporary themes.
As you head to the Wellbeing & Beauty Salon you'll find a sanctuary for pampering and relaxation. A range of luxurious treatments are available for our residents to indulge in whenever they wish, including manicures, pedicures, and of course our signature Hamberley hand massage. 
Across from the Wellbeing & Beauty Salon you'll find our elegant café and bar where residents can enjoy a delicious slice of homemade cake, or a chilled glass of wine with new friends from our well stocked bar.
The well thought out design of our luxury care home means that you'll find a vibrant living space on every floor, whether you're looking for somewhere to spend time with others, or just enjoy the quiet - the choice is yours.
Cinema loving residents will be keen to make the most of our deluxe cinema room. Whether you prefer something from Hollywood's Golden Era, or one of the latest releases, they'll be plenty for you to choose from.
In our dining suites, residents can enjoy delicious meals together. Within Montague House you'll find well balanced and wholesome meals made with fresh and locally sourced ingredients.
We look forward to welcoming families into our luxury care home to enjoy a meal in our private dining suite. Residents can host special occasions and celebrations of their own within our luxury suite whenever they wish. Our Head Chef and team will be on hand to create a bespoke menu of your choice for you and your loved ones to enjoy, and our award-winning Homemakers are always on hand to take care of any preparation.
Person Centred Care In Our Cambridgeshire Care Home
Every resident's needs are as individual as they are, which is why our care is person centred. We aim to give each resident as much or as little support as they need to live the life that they want to live. 
It begins before moving in day, as our team take time and care to discover everything they need to know from new residents and their families. 
From there, we can ensure that we fully comprehend what support is required and ensure everything is ready for their arrival.
Montague House Care Home is built to support residents and to make them feel like they are at home. We understand that a transition into a care home can be challenging, so we do everything we can to cultivate a relaxing, warm environment.
Our residents and their families can rest assured that our Clinical Team is ready if their care needs change, helping them through any short or long term challenges.
Better yet, as staff, including Homemakers and Wellbeing & Lifestyle Coaches are always engaged with residents, they can identify changing needs as and when they happen.
The award-winning Homemakers of Hamberley
At Hamberley Care Homes, we've reimagined the traditional role of a carer, so our residents will experience a holistic approach like no other. 
Our award-winning Homemakers are carers, housekeepers and companions, all in one person.
Our Homemakers work very closely with the Clinical Team, so they understand the specific needs of each of our residents, and can provide a continuity of care.
Homemakers are also companions - somebody to share a cup of tea with, you'll join for activities, or simply sit quietly with you.
Housekeeping is also an essential aspect of the Homemakers' role. They'll be there to ensure rooms are tidy and maintained, not just during scheduled cleans but all the time. 
Watch our video to find out more about the award-winning Homemakers of Hamberley:
Our Wellbeing & Lifestyle Coaches
Our Cambridgeshire care home has a dedicated Wellbeing & Lifestyle Coach, as do all Hamberley Care Homes. These creative and inspiring care professionals are committed to helping residents to continue living the life they want to lead. 
Right from their first introductions, Montague House's Wellbeing & Lifestyle Coach will get to know each resident in detail. They pay particular attention to residents' life stories, their likes and dislikes, their passions, and the activities they enjoy.
These conversations become the foundation of a Personalised Wellbeing Programme, a plan for ensuring residents live a happy and fulfilled life.
Elegant Dining in our Cambridgeshire Care Home
Food is one of life's greatest pleasures, and our residents will enjoy exceptional dining at Montague House Care Home.
Residents can choose from a delicious and varied menu. Our chefs use fresh, seasonal ingredients sourced from local producers to create their tasty dishes.
Each dish is carefully planned to be as nutritious and delicious as possible.
Daily Life at Our Luxury Cambridgeshire Care Home
There will be plenty going on in our vibrant, happy home. We are passionate about building strong links in the local community and will always work hard to make sure there's a varied and colourful programme of events.
Like all Hamberley care homes, when restrictions allow, we like to work with nurseries, schools and other local community hubs to encourage intergenerational socialising. We're always eager to host seasonal events such as Christmas parties and Summer Fairs, and regularly hold a number of informational virtual events for the local community.
Once it is safe to do so, we look forward to inviting the local community in to our weekly dementia friendly cinema club events, coffee mornings and pamper days within our luxury salon.
Keeping you safe
Keeping our residents safe, well and connected with their families and friends is always our number one priority.
Our Enhanced Infection Control Pledge means that you can be confident that every Hamberley Care Home is a safe and protected environment - find out more about our Enhanced Infection Control measures here, or take a look at our video:Whatever you need to live the life that you want, you'll find it at Montague House care home, Cambridgeshire.
To book your tour of our new luxury care home in Cambridgeshire, or to find out more, contact us today:
Enquiry Form
QUESTIONS ABOUT CARE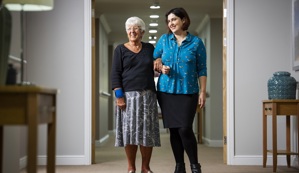 What training do your staff receive?
All members of our team are given the training and support needed to help them provide the highest standards of care. In addition to the statutory training that all care workers have to complete, we also ensure our staff receive bespoke Hamberley specific training in areas that we feel will help staff to provide an outstanding care experience.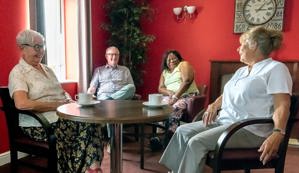 Can resident's rooms be decorated?
Yes. This is your home and we want it to feel like just that. If you want to make significant alterations then we may ask for a retained fee to return the room back to its original state once vacated.