Montague House Care Home, Brampton
The luxurious and purpose built Montague House Care Home situated on the site of the former RAF Brampton in Cambridgeshire provides residential, nursing, dementia care and respite breaks for older people across Cambridgeshire. Montague House is part of Hamberley Care Homes which was named Residential Care Provider of the Year in 2022.
---
Montague House Care Home
Keeling Lane
Brampton, near Huntingdon
Cambridgeshire
PE28 4BS
Welcome to Montague House
Montague House, our luxury care home located in the picturesque village of Brampton near Huntingdon, provides residential care, dementia care, nursing care, and respite care within a warm and friendly environment where residents can enjoy fulfilled lives.
Take a tour of our luxury care home in Brampton
Take a look around our stunning care home - watch our video above, or explore Montague House for yourself through the virtual tour link below for a taster of what our stunning care home in Brampton has to offer:

Luxury residential and nursing care in Cambridgeshire
Within our Brampton care home you will find the stunning features that really set Montague House apart from the standard care homes near Huntingdon.
From the elegant café, where you can enjoy a cappuccino with family and friends, to the well stocked bar and Wellbeing and Beauty Salon, throughout Montague House Care Home you'll find vibrant living spaces where you can relax in quiet comfort or socialises.
Our luxury Huntingdon care home offers superb features that really set Montague House apart from the standard care home, such as the elegant café, where you can enjoy a cup of tea or cappuccino with family and friends, and a Wellbeing and Beauty Salon offering hairdressing and a nail bar for manicures and pedicures. 
Outside, our stunning landscaped gardens feature a large patio area where you can relax with friends with a drink from the well stocked bar. In our dining suites, residents can enjoy delicious meals together, with menus tailored to individual tastes and preferences, and good food guaranteed.
Film lovers are encouraged to make the most of our deluxe cinema, where we can screen the latest releases or classic favourites, and our spacious balconies offer a peaceful place to relax with friends, or simply enjoy the spectacular views across the grounds of Montague House, any time of year.
In addition to our beautifully appointed and spacious en-suite bedrooms, Montague House has a range of contemporary suites, each with a kitchenette, a spacious lounge diner and views overlooking the landscaped grounds.
Get in Touch
In our dining suites, residents can enjoy delicious meals together. Within Montague House you'll find well balanced and wholesome meals made with fresh and locally sourced ingredients.
We look forward to welcoming families into our luxury care home to enjoy a meal in our private dining suite. Residents can host special occasions and celebrations of their own within our luxury suite whenever they wish. Our Head Chef and team will be on hand to create a bespoke menu of your choice for you and your loved ones to enjoy, and our award-winning Homemakers are always on hand to take care of any preparation.
Exceptional and responsive elderly care in Cambridge
Regulated by the Care Quality Commission, residents and their families can rest assured that Montague House can support and adapt as care needs change, helping residents through any short or long term challenges. Our nurses and Homemakers are always engaged with residents so they can identify changing needs as and when they happen.
Residential care
When you visit Montague House, you'll understand why we are the first choice for residential care homes in Huntingdon - providing the highest quality residential care and a luxurious environment, inside and out.
Whether you are looking for a vibrant retirement home for yourself or seeking the ideal place where your loved one can maintain their independence and interests, residential care in Brampton at Montague House is an unrivalled choice.
Nursing care
When you are looking for nursing homes in Huntingdon, choose peace of mind with nursing care at Montague House. Our nurses develop close relationships with our residents, taking time to understand the needs of the people they care for to provide the best support, 24/7. 
From personal care to medication management, our nursing homes' needs assessment will ensure people living with us receive the specialist care and support they need. Choose a nursing home in Brampton with nurses experienced in caring for elderly people with complex health conditions.
Dementia care
Montague House was developed specifically to allow residents living with dementia to continue living full lives in the way they want to live them, within a safe environment. We know that families and individuals are seeking a specialist dementia care home in Huntingdon that caters to their specific needs, and allows them to feel safe and comfortable.
Respite care & short breaks
If you're looking for respite care in Huntingdon or a short stay care placement to decide if residential home living is right for you, Montague House can arrange a short stay at our luxury care home.
End of Life Care
As a specialist nursing home, our compassionate nurses and carers are skilled in providing palliative care, with dignity, respect and support at the heart of our approach. When you're looking for end of life care in Huntingdon, visit Montague House to get advice and support from our helpful team.
Get in Touch
The award-winning Homemakers of Hamberley
At Hamberley Care Homes, we've reimagined the traditional role of a carer, so our residents will experience a holistic approach like no other. 
Our award-winning Homemakers are carers, housekeepers and companions, all in one person.
Our Homemakers work very closely with the Clinical Team, so they understand the specific needs of each of our residents, and can provide a continuity of care.
Homemakers are also companions - somebody to share a cup of tea with, you'll join for activities, or simply sit quietly with you.
Housekeeping is also an essential aspect of the Homemakers' role. They'll be there to ensure rooms are tidy and maintained, not just during scheduled cleans but all the time. 
Watch our video to find out more about the award-winning Homemakers of Hamberley:
Our Wellbeing & Lifestyle Coaches
Our Cambridgeshire care home has a dedicated Wellbeing & Lifestyle Coach, as do all Hamberley Care Homes. These creative and inspiring care professionals are committed to helping residents to continue living the life they want to lead. 
Right from their first introductions, Montague House's Wellbeing & Lifestyle Coach will get to know each resident in detail. They pay particular attention to residents' life stories, their likes and dislikes, their passions, and the activities they enjoy.
These conversations become the foundation of a Personalised Wellbeing Programme, a plan for ensuring residents live a happy and fulfilled life.
Get in Touch
Elegant Dining in our Cambridgeshire Care Home
Food is one of life's greatest pleasures, and our residents will enjoy exceptional dining at Montague House Care Home.
Residents can choose from a delicious and varied menu. Our chefs use fresh, seasonal ingredients sourced from local producers to create their tasty dishes.
Each dish is carefully planned to be as nutritious and delicious as possible.
Get in Touch
Part of the local community in Brampton and Huntingdon
Situated towards the east of Cambridgeshire, with good transport links to the A1 and A14, Montague House is easily accessible to Godmanchester, Ramsey and St Neots. Just two miles south west of Huntington in the welcoming village of Brampton, Montague House is a big part of the local community. 
We hold regular community events within our care home, with all our residents enjoying seasonal activities, barbecues and parties. Based near the former RAF Brampton site, many residents who enjoyed careers in the RAF now call Montague House home. 
We regularly enjoy outings and visits to nearby areas as part of our events and activities programme, as well hosting regular events in our homes, such as guest speakers, live music performances and themed nights.
Once a month at least, we're joined by musical entertainers, including our popular Brat Pack themed performer. In our weekly Armchair Yoga sessions, residents are supported to take part in this holistic exercise which gently builds strength and resistance. Music therapy sessions with NAME and visits from therapy dogs each week are enjoyed by residents, as is the monthly visit from the mobile library. 
Montague House residents enjoy walking to the nearby Notcutts Garden Centre for a slice of cake, and regularly visit St Magdalene Church for coffee mornings. The Memorial Hall in Brampton is a real favourite for activities and events such as the Dementia Choir and Love To Move sessions, accessible gymnastics exercises you can do while sitting or standing.
For those who prefer the hustle and bustle of a busy market town centre, Huntington's range of dining, shopping and culture shouldn't disappoint. There is a range of different restaurants and pubs to choose from, and always something to do in the local town for family visits. 
Experience Montague House Care Home and take the next step
Looking for the right care home for you or your loved one? Choose the high quality care provided at Brampton's Montague House.
We are delighted to welcome you and your family to visit Montague House and see why it's the best care home in Cambridgeshire.
We understand that a transition into a care home can be challenging, so we do everything we can to cultivate a relaxing, warm environment and get to know each of our new residents. It's about supporting a person's future by learning all about their past.
Please contact our friendly team to book a personal tour, request further information and discuss any questions you may have about Cambridgeshire care homes and finding care in Brampton, Huntingdon and Cambridgeshire.
Get in Touch
QUESTIONS ABOUT CARE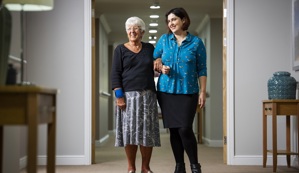 What training do your staff receive?
All members of our team are given the training and support needed to help them provide the highest standards of care. 
In addition to the statutory training that all care workers have to complete, we also ensure our staff receive bespoke Hamberley specific training in areas that we feel will help staff to provide an outstanding care experience.
Can I decorate my room?
This is your home and we want it to feel like just that, so you are free to personalise your ensuite bedroom or private suite. 
If you want to make significant alterations then we may ask for a retained fee to return the room back to its original state once vacated. This is something you can discuss with our Regional Community Relations Lead.