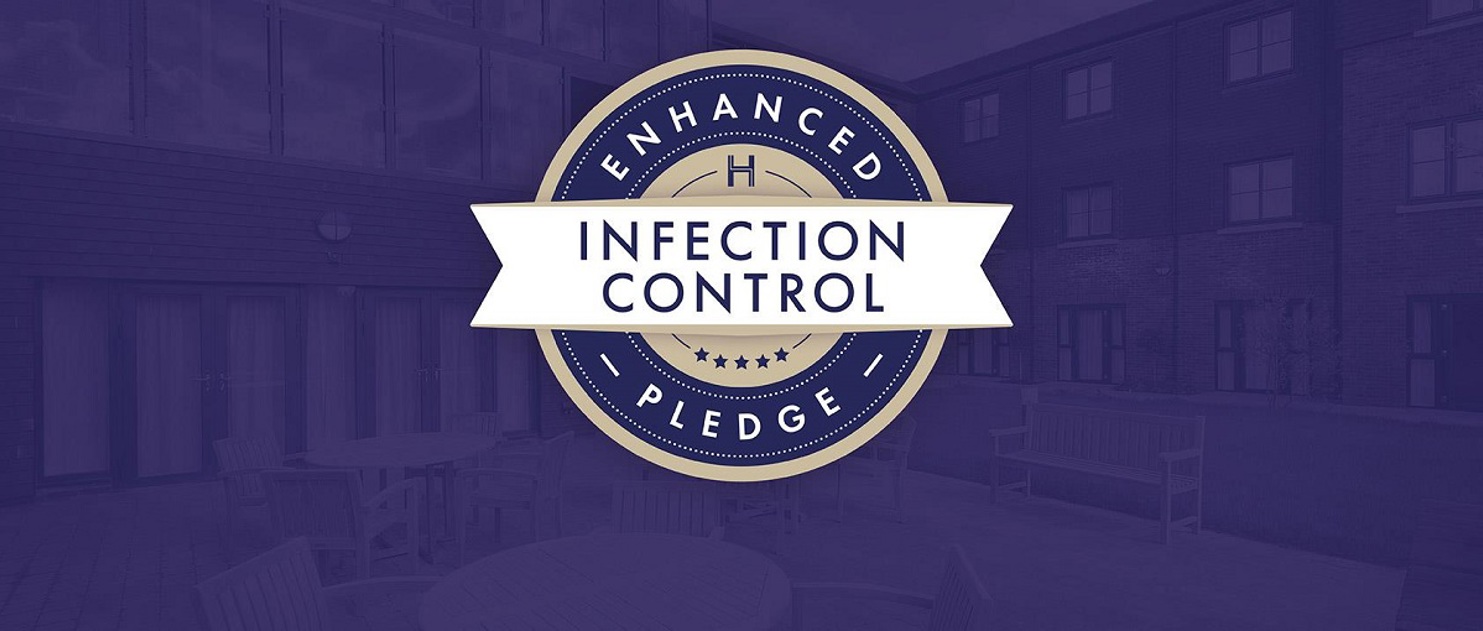 Enhanced Infection Control Pledge
We're proud to introduce our Enhanced Infection Control Pledge that outlines our continuing commitment to infection prevention and control and the additional steps that we've taken to protect our residents.
The safety and wellbeing of our residents has always been our number one priority. Our Enhanced Infection Control Pledge means you can be confident that every Hamberley Care Home is a safe and protected environment that provides outstanding care for you or your loved one.
We have always followed best practice when it comes to infection control and we are proud that our homes have consistently operated above industry standards right from their opening.
However in light of the ongoing risk that COVID-19 poses to older people, we have taken additional extra precautionary steps to protect our residents.
Every resident and visitor in our homes can expect a safe, clean and hygienic environment, that protects their health and supports their wellbeing.
Nothing is more important to us. Our Enhanced Infection Control Pledge means that you can relax knowing that we are working hard to keep you or your loved safe and protected no matter what happens.
Our Enhanced Infection Control Pledge means that we promise to go beyond industry standards for hygiene and infection control in all our homes so that our residents can live in the safest and most protected environment possible.
In addition to everything that you would normally expect from a Hamberley Care Home such as:
A minimum of thorough daily cleans of all bedrooms, bathrooms and living spaces
Additional cleans at resident's request, as and when required by Homemakers or after activities
Frequent cleaning of surfaces such as door handles, coffee tables, and bar areas
Use of industry standard antibacterial sprays and sanitising products that disinfect and prevent infection transmission
We have introduced additional measures that protect our residents and ensure our homes are safe and protected.
Here are just a few of our enhanced infection control measures:
We have increased the frequency of our infection control audits and our handwashing audits, where we spot check that all of our procedures are being followed correctly and ensuring that we exceed the industry standard for infection control
We've introduced UV Lightboxes on receptions and PPE stations throughout our homes
We have a detailed visitation policy that protects our homes against any external infection threat
All team members have revisited their infection control training and received additional training where necessary to ensure their knowledge is above industry standards
Introduced regular team prompts and checks also ensure that all team members are continually reminded of our infection control policy and the importance of good hygiene throughout the home
If you'd like further information about the specific details of our Pledge then please read our Enhanced Infection Control Pledge FAQ page.
"Coronavirus disease (COVID-19) has highlighted the importance of robust infection control within care homes more than ever before, and that's why we knew it was imperative that we communicate our ongoing commitment more widely. Our Enhanced Infection Control Pledge outlines the additional steps that we have put in place to protect our homes. We promise to ensure that our infection control measures are above industry standards and that we always follow best practice and the latest Government advice.  Residents and their families can relax in a Hamberley Care Home and be confident that they are living in a safe and hygienic environment."
Michelle Kudhail, Clinical Director, Hamberley Care Homes
If you'd like to read more of Michelle's thoughts on what we've learnt by responding to the coronavirus pandemic then check out her recent interview here.
What Our Team Say
"The training and support that we received as part of the Enhanced Infection Control Pledge meant that I felt truly confident that Nesbit House was a safe and protected environment for our residents. When the coronavirus outbreak happened and lockdown was enforced I moved into Nesbit House so I could be with the residents and make sure that daily life continued as normal for them. I had complete trust in our infection control measures and I knew that we could relax and continue to enjoy life. We were in safe hands."
Dean Champion, Wellbeing & Lifestyle Coach, Nesbit House
"The additional training that we received at the start of the COVID-19 outbreak earlier this year was fantastic. I felt prepared and supported to ensure that no matter what happened we would be able to keep our residents safe and well."
Angela, Homemaker, Chawley Grove Care Home
QUESTIONS ABOUT CARE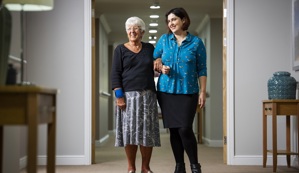 What training do your staff receive?
All members of our team are given the training and support needed to help them provide the highest standards of care. 
In addition to the statutory training that all care workers have to complete, we also ensure our staff receive bespoke Hamberley specific training in areas that we feel will help staff to provide an outstanding care experience.