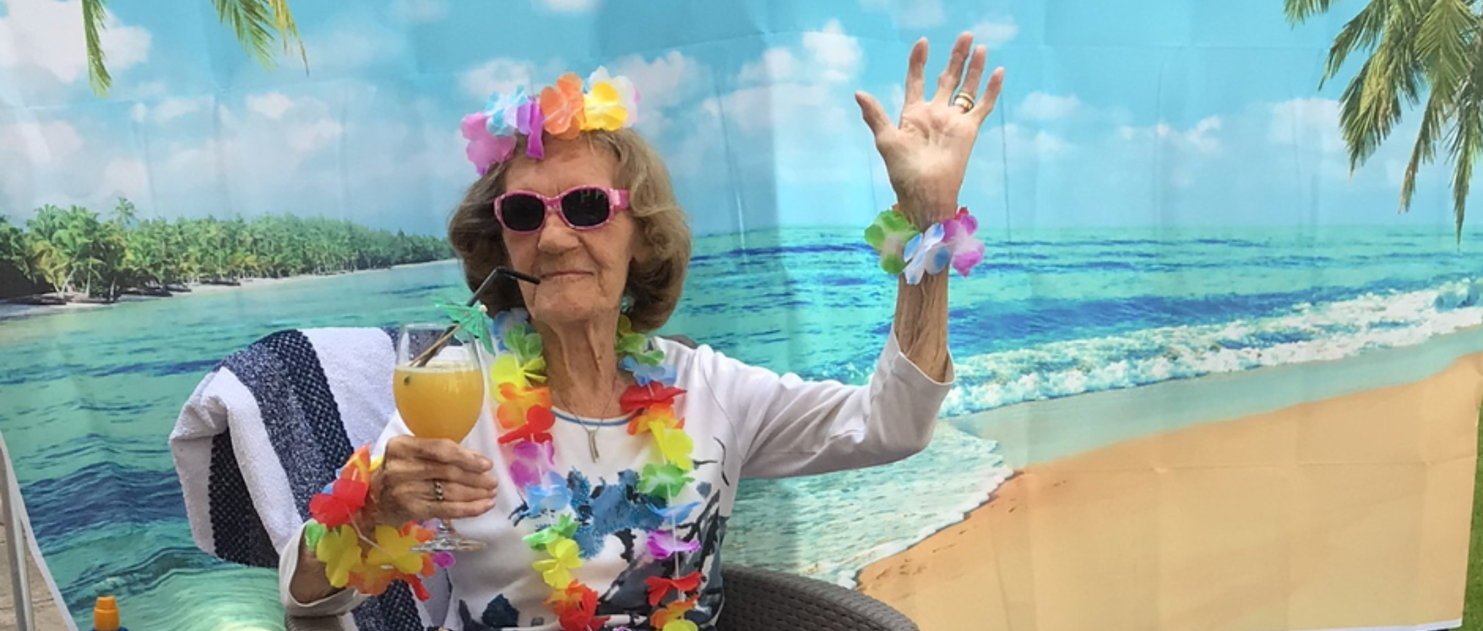 Hamberley Care Homes Beat The Heat With Pop-Up Beaches!
Residents at Hamberley Care Homes across the UK have found the perfect way to cool off from the current heat – in-home pop-up beaches!
The sunshine has inspired Home teams to create bespoke sea and sand in their grounds, giving residents the chance to enjoy a day at the 'seaside'.
At Rosewood House Care Home, residents had a chance to feel the soft sand between their toes without even having to step outside their garden.
Ninety-five-year-old resident Doris 'Dolly' Goddard said: "It feels just like I am on the beach like the good old days with all of my friends, all that is missing is the seagulls trying to steal my fish and chips!"
In Dorset at Verwood House, Wellbeing and Lifestyle Coach Emilia Turner said residents were delighted when they saw that a touch of the seaside had ended up on their doorstep. And it created some great seaside memories.
She said: "It's not always easy to travel, and sometimes it is certainly hard to stay cool. So, we have made a special effort here to turn this heatwave into something that can be enjoyed thanks to a lot of water, cool sand, not to mention some hydrating mocktails!"
In Scotland, Milngavie Manor's residents enjoyed reclining in deckchairs with their mocktails in hand.
Wellbeing and Lifestyle Coach Morag Scott said residents were delighted with the setup, and it didn't take long before everyone started reminiscing about holidays past.
She said: "We have had some lovely summer days, and it's so nice to be able to bring a touch of the seaside to our back garden.
"Most of us have had a holiday or two, and we have all enjoyed sharing our memories."
Resident Dorothy Floyd said: "It reminded me of my school days at the seaside with my family swimming and building sandcastles, which was fun."
Over at Caddington Care Home in Dunstable, Residents have been enjoying a summer of virtual cruises, mocktails, music as well as tropical menus inspired by the vibrant beach scene beautifully created at their home.
Wellbeing and Lifestyle Coach Claire O'Neill said residents were delighted when they saw it.
She said: "There is nothing like the sunshine and sand to make you feel like you're on holiday, and don't we all like to be beside the seaside?"
At Upton Manor in Poole, Resident Lawrence Turner said of the beach: "I think it's absolutely fantastic!
"This has brought back such happy memories for me of visits to the beach in Sandbanks – it was so lovely to feel the sand between my toes again!"
Charrington Manor residents got competitive when they did duck dipping at their pop-up beach at the West Byfleet Home.
Regional Client Liaison Lead Leslie Loizou said residents had a great time on the 'beach'.
She said: "It has been pretty hot recently, and none of us wants to be too active, and we're really focused on keeping cool and well hydrated. However, the chance to dip our toes in the water and have some traditional seaside fun was too good to resist."
Finally, Nottingham's Edwalton Manor residents and colleagues made the most of their pop-up beach and the happy memories it inspired.
Regional Community Relations Lead Matthew Brown said: "We have had a wonderful time here at Edwalton, and when the sand came out, so did the memories.
"And like all good beach holidays, this was simple fun. We have enjoyed cool drinks and mocktails to add an extra holiday feel. The garden gives us plenty of cool shady spots to enjoy. What more could you want?"