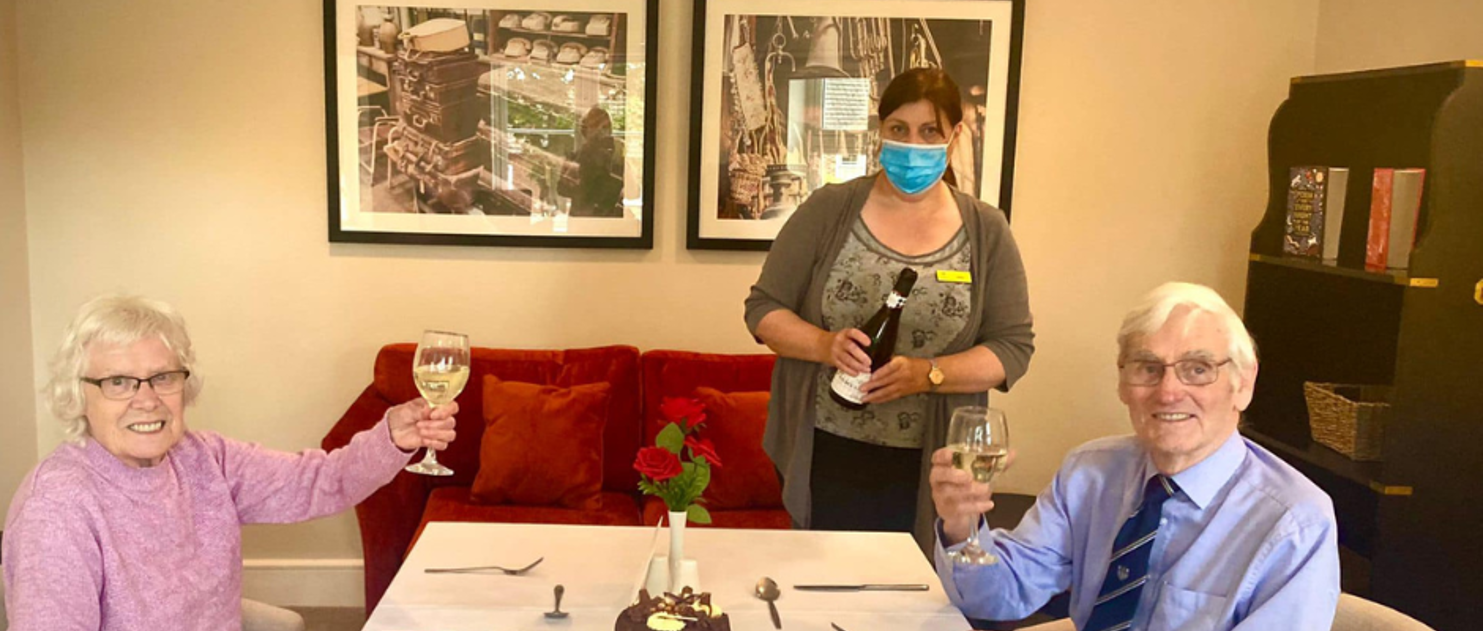 Beryl and Laurie toast their 63rd anniversary at Richmond
Devoted couple Beryl and Laurie enjoyed a romantic meal for two this summer as they celebrated 63 years of marriage.
The couple, both residents at Richmond Manor, were spoilt with Champagne, fine food and a celebratory cake.
Wellbeing & Lifestyle Coach Claire waited their table, which was laid beautifully in their honour.
Chef had cooked them minted vegetable couscous for starters, pork in a cider and sage sauce with roasted vegetables for their main and Eton Mess for dessert.
As they reflected on their lives together, Beryl and Laurie told Regional Community Relations Manager Jacqueline Brown the secret of lasting love.
Jacqueline said: "Beryl and Laurie are an incredible couple and totally devoted to each other.
"They met at a pub in Ipswich when Laurie asked Beryl for a dance – later, they particularly enjoyed doing the waltz and quick step together.
"They married when Laurie was 24 and Beryl was just 18, before moving to Essex and then Swansea for his work.
"They've got two sons who live near Richmond Manor, so they are glad to have the boys close by."
During their working lives, Laurie was a civil servant, and Beryl was a typist for a firm of solicitors.
However, they made sure to have plenty of adventures along the way as they travelled all over the world.
Jacqueline added: "They told me they'd been to Australia, India, the North and South Poles and many other far-flung destinations.
"When Laurie retired from the civil service, his gift to them both was a motorhome, in which they travelled all over the UK for three years!
"Beryl told me that her secret to a long and happy marriage is not to give up and keep at it. Although she told me they've been very lucky and haven't had much mud to get stuck in.
"Laurie's answer was heart-warming too. He advises people to stay faithful and told me that he hasn't had eyes for anybody else since he met Beryl because he has all he wants in his lovely wife.
"Everyone here feels so privileged to have helped them celebrate such a special day together."