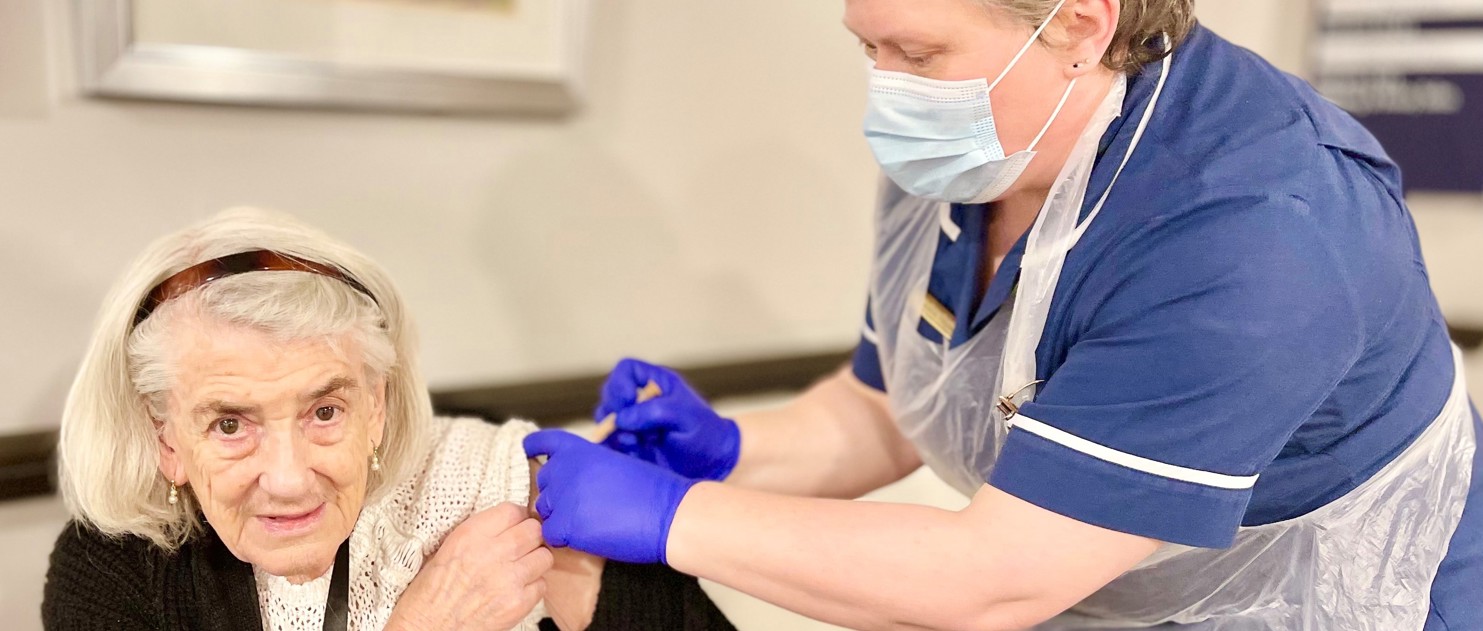 Vaccinations Rolled Out to Every Hamberley Care Home Across the UK
We are thrilled to announce that COVID-19 vaccinations have now been rolled out to every Hamberley Care Home across the UK.
This is wonderful news, and Hamberley would like to take this opportunity to thank each and every one of the dedicated NHS teams who have visited our homes over the last few weeks, and who will of course be making further immunisation visits in the months ahead.
The two vaccines currently being administered by the NHS include the Pfizer/BioNTech vaccine and the Oxford/AstraZeneca vaccine with a third, the Moderna jab, expected to be available this spring.
Final vaccinations took place at Richmond Manor Care Home, Ampthill, where the vaccination team received a warm welcome from residents and care home staff.  Great grandmother, 86-year-old Barbara Aggett was one of the first residents in the queue at Richmond Manor to receive the jab.
Barbara said: "It's such a huge relief. This is something we have all been waiting for." 
Fellow resident Joyce Randal, 75, agreed and was delighted to receive her jab. She said: "Yes, what a relief and it didn't really hurt at all. A wonderful start to the year and hopefully we can all be getting on with our lives soon."
Whilst the NHS is currently prioritising the COVID-19 vaccine to people most at risk from coronavirus including residents and staff in care homes, the government aims to offer jabs to 15 million people - the over-70s, healthcare workers and those required to shield - by mid-February as well as millions more of the over-50s and other priority groups by spring.
Richmond Manor Homemaker Sharon Murphy also received her jab and she said everyone was thrilled to welcome the vaccine team into the Ampthill care home.
She said: "We are delighted that our residents have had the chance to receive this vaccine. 
"As I member of staff, receiving the vaccination gives me more confidence to be able to do the job I love so much, which is caring for some of the most vulnerable people in our society.
"The jab not only protects myself, but also the wonderful people I care for, my colleagues as well as my family and the wider community.
"There was certainly a collective sigh of relief when we started to see the vaccinations being given to residents and that was quite emotional."
Find out more about Richmond Manor, our luxury care home in Ampthill here: