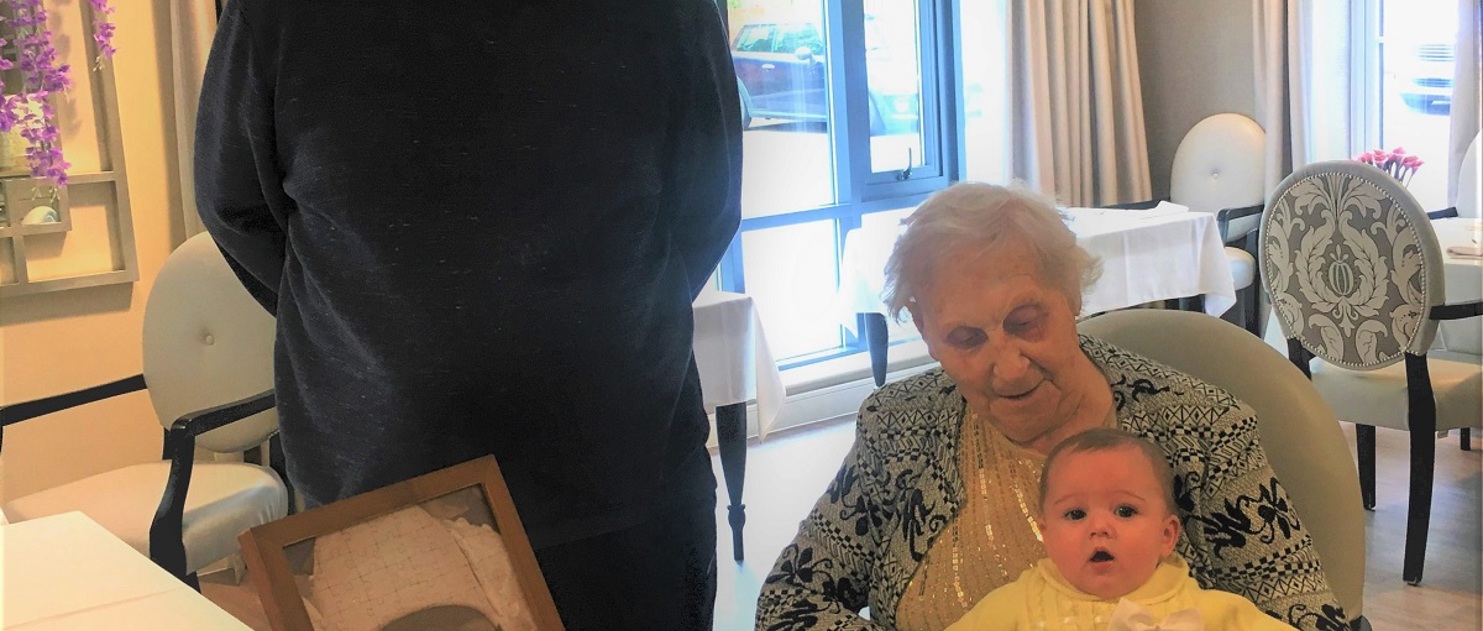 Jigsaw Puzzle Paves the Way for a Special Guest at Nesbit House!
A thoughtful gift brings two generations together at our care home in Sevenoaks
There is a puzzle craze unfolding at Nesbit House! Residents Clive and Edna spend a lot of time together working through puzzles – a hobby they both thoroughly enjoy.
Wellbeing & Lifestyle Coach Maria, who organises this for our Sevenoaks residents, celebrated the birth of her granddaughter last year, and to mark this special occasion, Home Manager Charles gave Maria a beautiful picture puzzle of Iris, which she completed with the help of Clive and Edna.
Our residents could not wait to meet Iris in person, and as lockdown restrictions loosened, Maria decided to surprise Edna and Clive with a visit from the little lady herself!
Iris, now 6 months old, was full of smiles and loved the attention she received from all the residents. Edna said: "Seeing Iris really made my day – when is she coming back?"
Maria was so pleased to see residents doting over her granddaughter. She said: "As we get older, we start to recognise the beauty of being young. Iris has the world at her feet and the positive energy she brought with her was palpable – everyone who held her had a big smile on their face!"
Home Manager Charles Knowles said about the wonderful day: "Our Wellbeing & Lifestyle Coach Maria welcomed her granddaughter late last year and we surprised her with a beautiful picture puzzle of baby Iris for Christmas. Maria later surprised us all by getting the residents involved in putting the puzzle together."
"We all considered it a special treat when Clive and Edna got to meet the baby, our newest addition to the Nesbit family. They were so pleased to meet her – she has become a bit of a celebrity here!"
Everyone at Nesbit House can't wait for the newest member of their team to return again – thanks Maria for letting Iris come to visit!
For more information about our Sevenoaks care home: