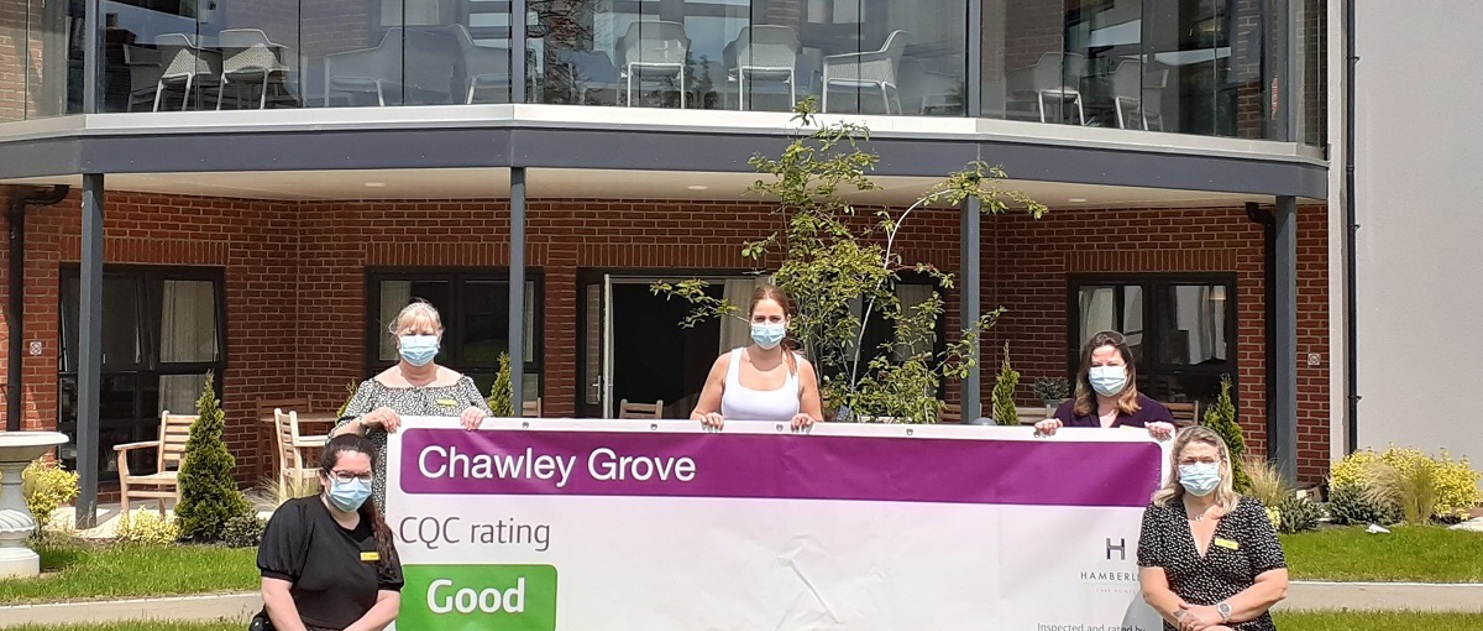 Celebrations at our Oxfordshire care home following glowing report from the CQC!
Chawley Grove, our luxury care home in Oxford, has been given a glowing report by the Care Quality Commission (CQC).
The report, which rated Chawley Grove Care Home as 'Good' across its five inspection criteria – is the service safe, effective, caring, responsive and well-led? – praised our home for its kind and compassionate staff.
Chawley Grove, in Cumnor Hill, Oxford, offers exceptional residential, nursing, dementia and respite care within a luxury environment.
The unannounced inspection, which took place at the end of April, was conducted by one CQC inspector and an 'expert by experience' – this is a person using or caring for someone who uses this type of care service.
The inspection team spoke with residents, staff members, including the Home Manager, and two healthcare professionals.
The report highlighted the excellent care provided by the team and said 'relatives told us staff were caring and provided compassionate care'.
One relative, quoted in the report, said: "The staff are friendly and caring towards the residents. Being able to trust a care home to care for my Mum like she were their own mother is invaluable and offers peace of mind that she is safe."
Another said: "I have been very impressed with all aspects of (my family member's) care. Every effort has been made to make her feel safe and welcome."
Home Manager Theresa Whitford was also praised by relatives who told inspectors: "In my opinion it is well managed. Staff seem to enjoy working there and are happy and polite to both people and family members which indicates that they have received good training and management."
Home Manager, Theresa, said she was delighted that the home had received such a positive report from the CQC.
She said: "We're thrilled to have received this glowing report. Every day our dedicated care teams do everything they can to provide truly personalised and compassionate care for the people who live here at Chawley Grove.
"The pandemic made it an incredibly challenging year, and yet despite these pressures the whole team has worked hard to provide the very best care to our wonderful residents in our beautiful home."
Chawley Grove Care Home offers Hamberley's unique Homemaker model of care which was also acknowledged by the CQC for its positive impact on residents. Homemakers are care professionals who are a carer, housekeeper and companion all in one person.
Homemakers work in collaboration with the clinical team, understanding the needs of each resident, providing a continuity of care.
Theresa added: "It's wonderful that the Homemakers have been recognised for the positive difference that they make to the lives of our residents.
"I am so proud of the whole team and I want to thank them for all of their hard work and dedication. This inspection report is a real achievement."
Chawley Grove is now open to admissions – please call 01865 957650 for more details or email us: