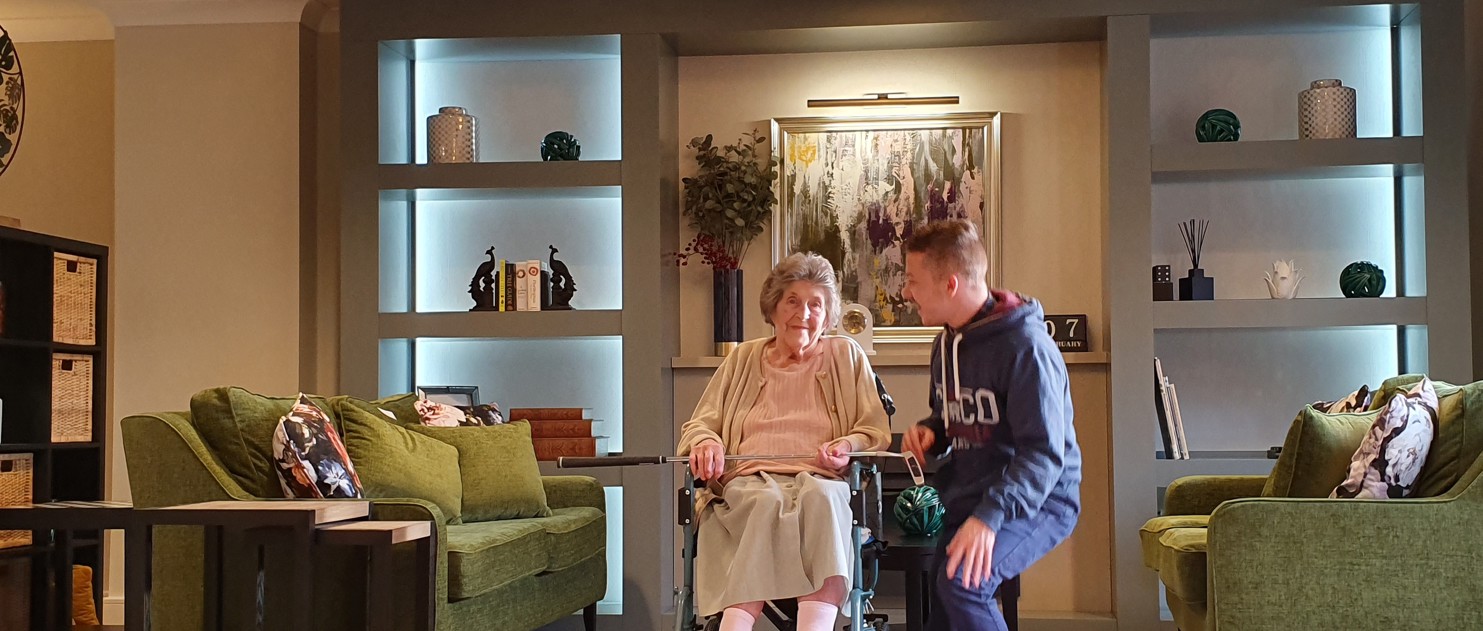 Joyce gets into the swing of things at Nesbit House
You are never too old to try something new, but it can feel challenging to push yourself out of your comfort zone.
So, when resident Joyce Smith was asked to take part in an indoor golf game in our lounge, she was hesitant to say 'yes'. Joyce, 95, was worried that she wouldn't be able to participate because she has mobility challenges and uses a wheelchair. However, with encouragement from staff, Joyce was persuaded to give the game a go.
"I have never played golf in my life and I never thought I would," explains Joyce. "I assumed that being in a chair would make it too difficult. But everyone promised that I could be part of it if I were willing to try something different. I'm so glad I trusted them."
The golf match was played in one of Nesbit House's beautiful lounges, where staff are encouraging residents to compete in different games. They've installed a dartboard and stocked up on jigsaws and board games, so residents now have a range of fun activities to do while relaxing there.
The indoor golf has proved to be a hit with many residents, including keen golfer Bert James who continues to play at a local club with his son-in-law from time-to-time. The other golfers have encouraged Joyce to join in, and the staff helped her to find the best angle to putt from a seated position.
"I told my daughter that I'd been golfing and she didn't believe me at first!" laughs Joyce. "It's been great to push myself a little bit and I appreciate how helpful the staff have been. I've also been getting involved in the baking club and sharing my scone knowledge with the others. I'm having lots of fun."
Some residents, like Joyce, need a little gentle persuasion to start taking part in group activities. But all our staff are trained to find opportunities to boost their wellbeing and to build their confidence. The Personalised Wellbeing Plans created by our Wellbeing & Lifestyle Coach Dean Champion help residents continue with the hobbies and activities they enjoy, but also encourages them to try new things too.
Joyce has made incredible progress during her time with us. We're excited to see what she – and the rest of the residents – get involved in next.