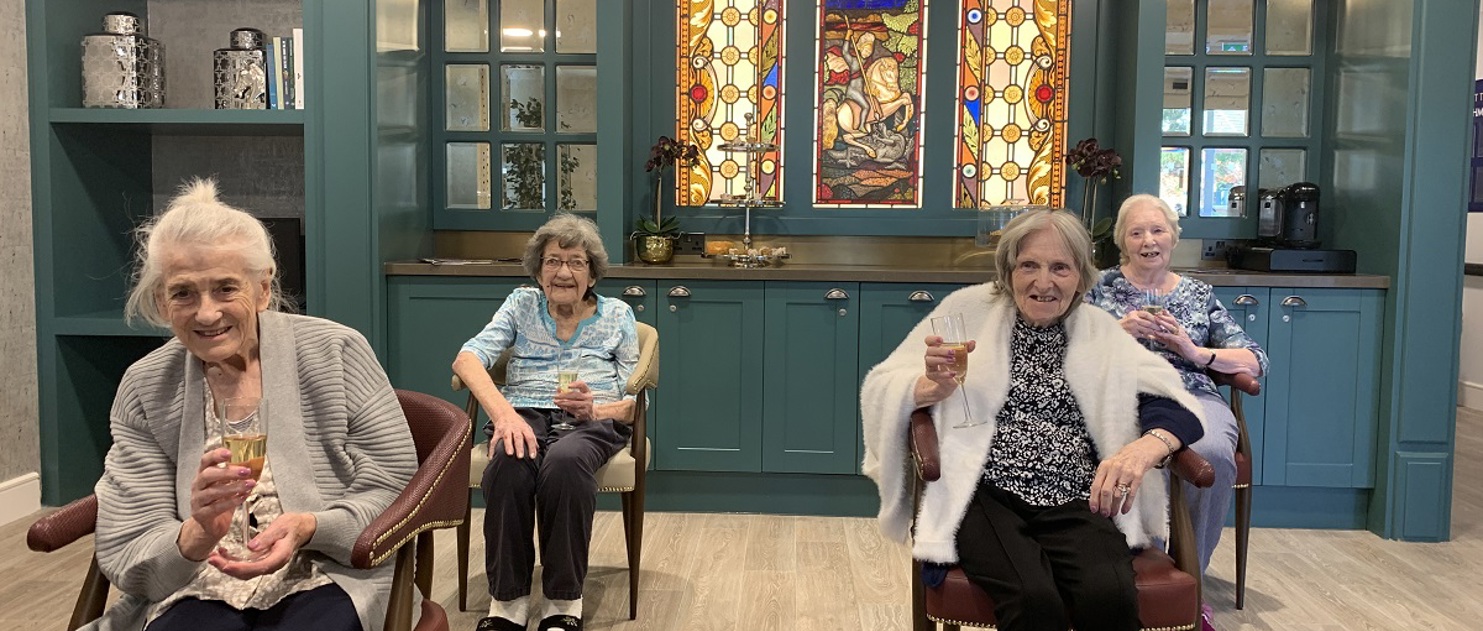 Ampthill 'Golden Girls' Among First Residents of New Care Home
Four local ladies have been crowned Ampthill's 'Golden Girls' after becoming firm friends since moving into Richmond Manor care home together.
Joyce Randall, 74, Barbara Aggett, 86, Wendy Cox, 86, and Vera Sutcliffe, 93, were among the first residents to move into the new care home on Dunstable Street after it opened in August.
The fun-loving foursome were unable to meet in person initially, so got to know each other by writing cards and letters to introduce themselves.
From there, the Golden Girls started corridor chit-chat sessions and even enjoyed doorway discos before they were able to begin spending proper time together.
Now they are enjoying regular afternoon teas, lively singing sessions and film afternoons in Richmond Manor's in-home cinema.
According to Joyce, meeting Barbara, Wendy and Vera has been a treat and she's having a wonderful time getting to know them.
Joyce said: "We are having so much fun together, we never stop chatting and laughing.
"It didn't take long to feel as though I'd known the other girls for years. They are lovely company and we enjoy doing a lot of the same things.
"When they asked what film we wanted to watch first, we unanimously decided on 'The Full Monty'. It appealed to our cheeky sense of humour."
Just like the original TV Golden Girls, Richmond Manor's ladies also like to lead full, busy lives. Barbara says that they've been enjoying doing activities together.
Barbara said: "We're very lucky because there's so much for us to do together, which is part of what friendship is about.
"We've done seated exercise sessions, we've been taught how to make aromatherapy bags with herbs from the garden, done plant potting for our patios, all sorts.
"It's good to be with a group of people who are also interested in different things and don't take life too seriously. I've had a very happy time getting to know the other girls, and I'm looking forward to all the things we're going to be doing together in the next few months."
Meanwhile, Home Manager Fiona Smith said that her team were delighted to see the Golden Girls settle in so well.
Fiona said: "It's been wonderful to watch these ladies strike up friendships and take such pleasure in each other's company.
"Richmond Manor feels like a home now they're here and they've created a fantastic atmosphere.
"The staff love them and now we're welcoming more residents, we're looking forward to seeing more friendships blossom."
With an emphasis on a holistic, personalised service, each of Hamberley's care homes are defined by their warm, welcoming ambience, and innovative approach to care.
For more information on Richmond Manor, please email [email protected] or call 01525 308000