QUESTIONS ABOUT CARE
How do I arrange care for myself or a family member or friend?
To arrange a meeting to discuss your care and visit your chosen Hamberley Care Home, contact our Regional Community Relations Lead by completing an enquiry form on our website, by emailing or by calling the home directly. You can also pop in to our homes to pick up a brochure and arrange a meeting at your convenience. 
When we receive your initial enquiry via email or phone, we will be in touch within 24 hours to progress your enquiry.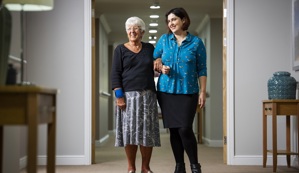 What training do your staff receive?
All members of our team are given the training and support needed to help them provide the highest standards of care. 
In addition to the statutory training that all care workers have to complete, we also ensure our staff receive bespoke Hamberley specific training in areas that we feel will help staff to provide an outstanding care experience.
What is a Homemaker?
A Homemaker is a 'universal worker' role which means our Homemakers are carers, housekeepers and companions all in one. Hamberley's Homemakers get to know each and every resident, so they understand precisely how to make their lives more content based on their unique wants and needs.
Homemakers provide care and support for our residents, including administering medicine under the guidance of our clinical team

Homemakers take care of the general day to day housework

Homemakers offer companionship and take an interest in the lives of our residents, supporting them with their choice of lifestyle and wellbeing
Our Homemaker model makes the experience for residents a lot more like living in their own home. Within a family environment typically everyone shares responsibility for looking after each other and this creates a really nurturing, caring space. In many care homes, this feeling or attitude is lost - in Hamberley homes, we have genuine home-like communities where people want to live and work.
This model of  care also means that residents have the best chance of experiencing truly person centred care – support that is tailored to their individual needs.