The Well Bread Bakery
Baking Together, Enhancing Wellbeing
Our new breadmaking initiative - The Well Bread Bakery - is a chance for residents and their loved ones to connect through a social and therapeutic experience. 
Residents can take part in online masterclasses with our chefs and Master Bakers alongside their loved ones, who'll tune in from home.
The sessions will involve creativity, mindfulness and shared experiences. The therapeutic benefits of bread making are well-documented, so it's a wonderful chance for families to spend quality time learning new skills and feel wellbeing benefits too.
 Launching the Well Bread Bakery
We hit upon the idea after breadmaking became all the rage for the population during the lockdown. Baking brought people together in their homes and helped create a positive, nurturing experience during a challenging time.
In our homes, many of our residents have had a great time taking part in baking sessions, which boosted their wellbeing.
So, when we started looking for additional ways to help residents and their loved ones share meaningful experiences over video calls, we realised breadmaking was the perfect fit.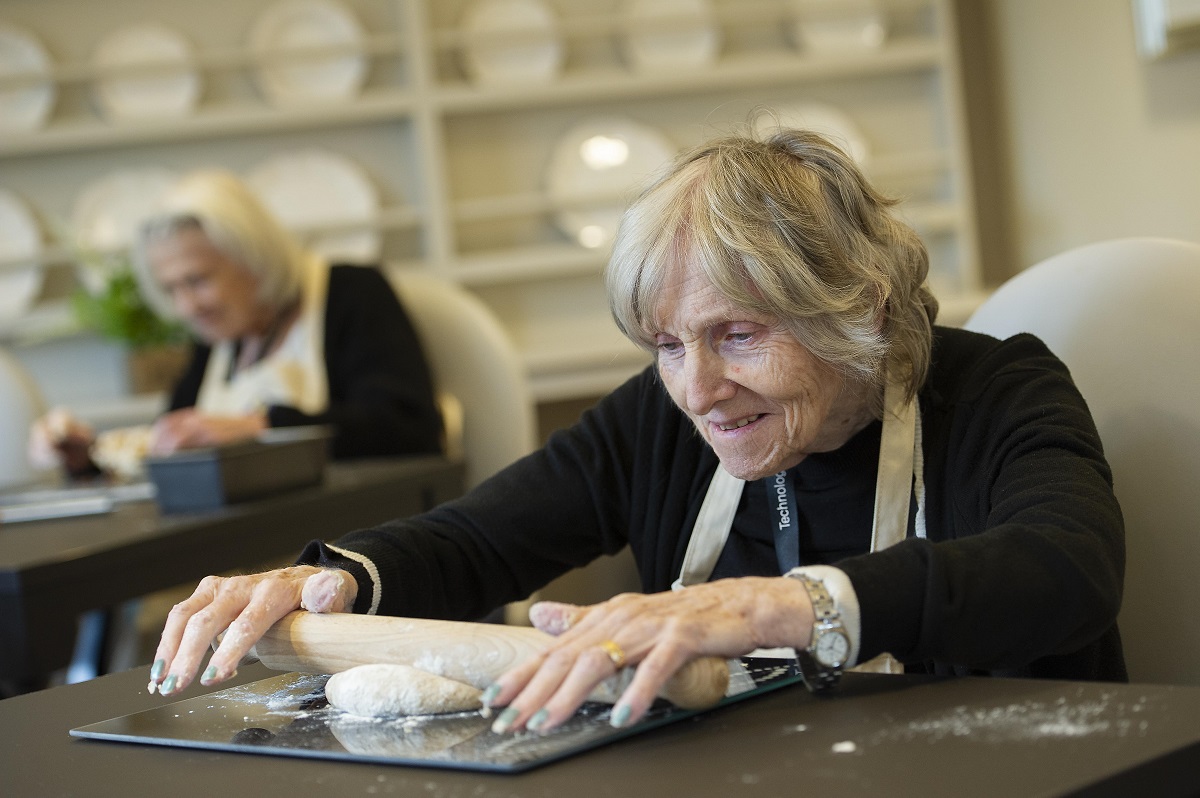 Learn from bread making experts
During the regular sessions, Hamberley Wellbeing & Lifestyle Coaches will be joined by experts, including our in-house Chefs and local artisan Master Bakers, to lead bread baking masterclasses, sharing popular recipes from residents but also more unusual, artisan breads.
There'll be sessions which explore 'mindful baking' where participants can relax and learn basic mindfulness techniques and how to be present.
We'll be running dementia-friendly sessions too, as the sensory stimulation of bread making can evoke recollections and facilitate social interaction for people living with dementia. Research shows that the textures and aromas can stimulate the memory as well as the senses.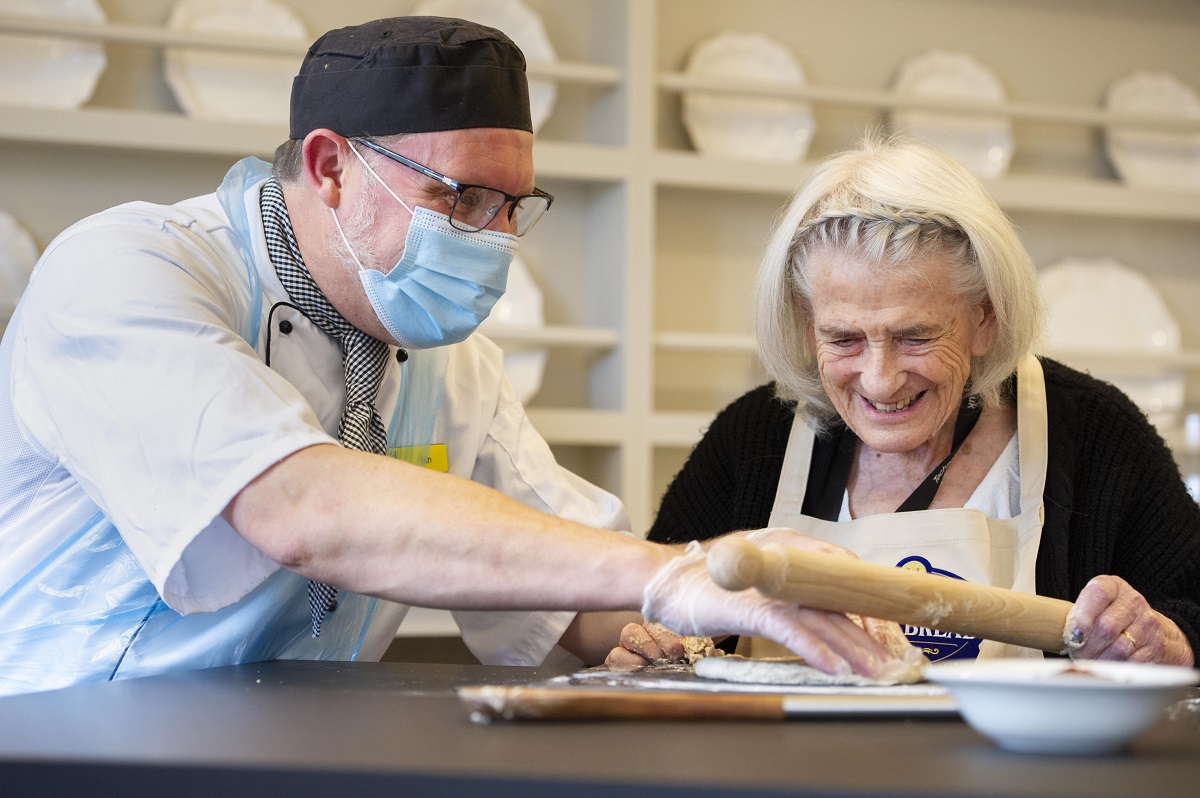 Signature bakes from Hamberley bakers
The Well Bread Bakery is launching with favourite bread recipes chosen by our residents and staff.
For Chawley Grove resident Francoise Jarman, choosing a bake for The Well Bread Bakery choice was easy. As a former chef, her favourite recipe is a brioche with camembert.
"I was a chef for many years, and I've worked in different kitchens, but baking bread is that activity that always brings back some of my fondest memories," explains Francoise. "It reminds me of my childhood, with my mother baking in our family kitchen, together with our family.
"My hands don't work quite as well as they used to, but baking bread still brings me great happiness and is very relaxing. I hope lots of other residents and their families enjoy baking my brioche recipe."
The Well Bread Bakery bakers will also get the chance to learn the Irish soda bread recipe passed down through Nesbit House resident Annabelle Diver's family.
She grew up on a farm in Donegal, Ireland and the ingredients for the loaf were always to hand. Each day, when the family set off to work on the farm, they would take soda bread for lunch.
Nesbit House Residents have been making Annabelle's soda bread during baking sessions for a while now, and they are looking forward to other bakers learning the secrets of this tasty recipe.
Experience mindful baking
Starting The Well Bread Bakery gives us the chance to bring mindful breadmaking into our care homes and the kitchens of our residents' loved ones.
"There is something about the meditative process of bread making that enables me to lift my mood and take control."
John Whaite, winner of the Great British Bake Off 2012.
We're hoping to involve local artisan producers, learn about different cultural bakes and discover new taste sensations along the way.
Baking bread is so connected with our pasts, and we're going to make it a big part of our future too. The team can't wait to see where this baking journey will take us. Who knows, one of our amateur bakers might end up in Paul Hollywood's infamous GBBO tent!
Making memories - and sharing them
One of the loveliest things about developing the Well Bread Bakery sessions with our talented in-home Chefs has been learning more about their recollections of baking as children.
For Richmond Manor Chef Ian Woods, a delicious Eastern European sultana and walnut loaf represents a precious piece of family history and brings back moving memories.
"My grandfather Colin spent time in Eastern Europe during the war and fell in love with this recipe," shares Ian. "When he returned home, he gave my Gran Gran Ethel (as we called her) the recipe so she could recreate it for him.
"Every Sunday, we'd arrive and be desperate for the bread to cool down enough for us to devour it. That wonderful aroma takes me right back to her Manchester kitchen!"
Through The Well Bread Bakery sessions, we hope to create more lovely memories for residents and their families. They'll get the chance to learn baking skills together, share experiences and enjoy a new way to connect.
We know how important family time is for our residents, so we're always looking for new ways to facilitate joyful and meaningful moments. Even if we can't be in the same kitchen, we can still break bread together.
You will find a Well Bread Bakery in every Hamberley care home across the UK - find your nearest care home here: