Safely Welcoming New Residents
We are open to new admissions – find out more about the Covid-secure procedures we have in place to keep everyone safe and well, and the warm welcome new residents receive during our exclusive cocooning period.
The safety and wellbeing of our residents is our number one priority, and that's why we follow a number of steps to welcome new residents safely.
All new residents must have a negative COVID-19 test before joining us
New residents must not have  any symptoms associated with COVID-19 (a high temperature, new/continuous cough, loss or change to the sense of smell and taste)
In addition to this, we will also complete our own internal quality assurance screening process which includes a review of history and clinical observations, and we will require confirmation that anyone joining us has come from a Covid-free environment
Once these checks have been completed, we can safely welcome new residents into our homes.
A warm welcome - your cocooning period
In accordance with Government guidance, all new care home residents must complete a 14 day cocooning period on arrival, however our team will be on hand 24 hours a day to help you settle in, and there will be plenty to do.
Whether you'd like to stay busy during this time and enjoy a virtual afternoon tea with your friends and family or just relax with your favourite newspaper, our Homemakers are here to make sure you have everything you need and to help you enjoy your first few weeks with us. 
Meet The Team 
It's really important to us that everyone feels at home right from their first day. Our team are always available for our residents and our Home Manager will meet with you via a virtual introductory call to get to know you a little better.
We also like to make sure everything is just right with our menus and our food options, so you can also meet with our Head Chef to discuss your personal preferences and favourite dishes.
To help you settle in and become familiar with your new surroundings, one of our team members will take you on a guided virtual tour of the home. We'll explain all the social activities and events that we have going on and we'll show you the cinema and our beautiful lounges and cafes. Plus you'll have a sneak peak at our luxury spa where you'll be able to enjoy a pamper day of your choice at the end of your cocooning period.
Staying Connected with Family and Friends 
We know how important staying connected with your loved ones is during your cocooning period and we'll do everything that we can so that you can see and speak with them whenever you wish.
A tablet will be made available on arrival so that video calls can be made with your family and friends at your convenience. You don't need to worry about uploading contact details as we'll make sure all its ready to go with your family names and numbers, and has your favourite music and photos already uploaded. If you need any support, one of our Homemakers will always be on hand to help you with calls.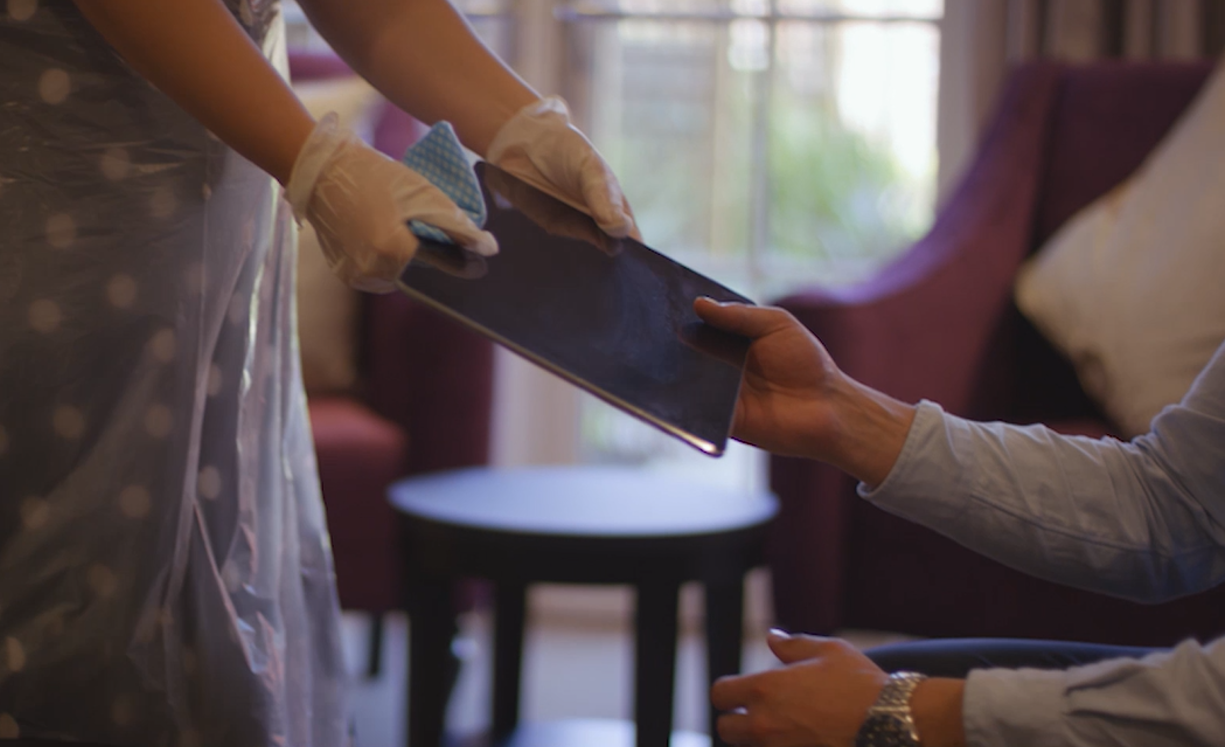 We'll organise a virtual afternoon tea with your family and friends during your cocooning period and we'll make sure our Head Chef bakes you your favourite cakes and sweet treats to enjoy.
If you'd like to connect with fellow residents we can organise video calls with people with shared interests so you make friends and new connections right from the start.
Wellbeing & Lifestyle  
During your cocooning period you'll be supported by our designated Wellbeing & Lifestyle Coach who will help with all your personal wellbeing needs. After an initial virtual introductory call, you'll work together to create a personalised wellbeing programme which will help you to enjoy all your hobbies and social activities, just as you would've within your own home.
We'll support you to stay active and to access virtual wellbeing sessions that include morning stretches, mindfulness, relaxation techniques and other virtual complementary therapies to promote wellbeing. 
Plus you can enjoy daily one to one activities with our Homemakers based on your individual interests and pastimes (where barrier nursing allows). 
Our Homemakers are also available to support your spiritual wellbeing and we'll help you stay connected with your religious community. We'll ensure you stay linked up with your virtual worship programmes and social gatherings.
We'll make sure time flies by and you'll be able to enjoy a prebooked family visit in our Family & Friends Lounge on day 15. 
Find out more about our innovative Family & Friends Lounge visitation suites as featured on BBC South Today here
Cocooning with companionship 
It is really important to us that our residents stay close and connected to their loved ones right from the start, and that's why we've introduced the opportunity to cocoon with a companion. 
During the two week stay with us you'll both enjoy all of the luxuries you'd expect from a Hamberley Care Home, within your own private suite. Our in-house Chef will prepare your meals each day with fresh and locally sourced ingredients enjoyed by all of our residents, and our Wellbeing & Lifestyle Coach will be on hand to support you will your wellbeing needs, ensuring you both have a relaxing and enjoyable stay. 
Each companion will need to follow the same admissions process to ensure we keep everyone safe and well, and remain with their loved one within the suite throughout the duration of the stay. 
Whilst we have put in place all the necessary safety measures, we do, of course, have to follow any local or National guidance at the time which may impact our ability to offer this service. 
We look forward to welcoming you into our dedicated cocooning suites - our award-winning team will provide you with all the care and support that you need, from within a safe and protected environment. 
Whatever you need, we'll help make it happen.
Find your nearest Hamberley Care Home: