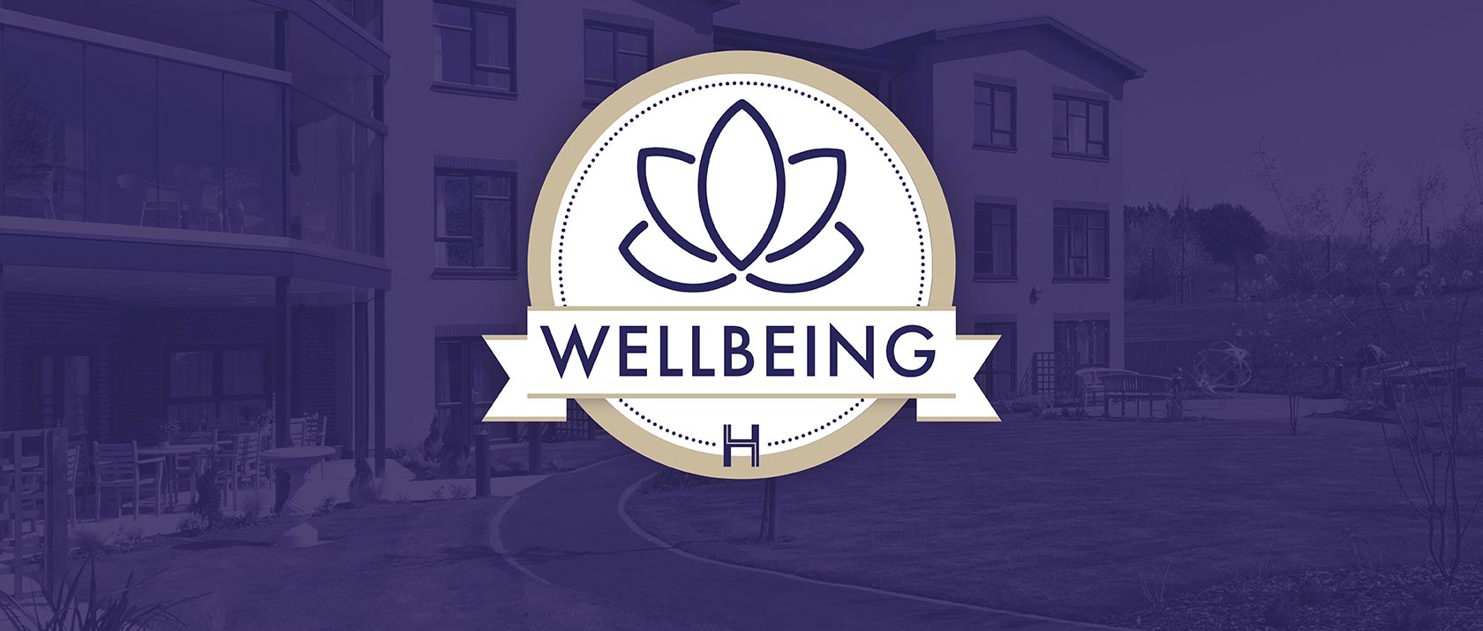 Resident Wellbeing
Our Wellbeing & Lifestyle Coaches support our residents to be physically active, mentally stimulated, and socially connected.
Whilst we pride ourselves on being at the heart of our local communities, we have had to introduce measures to keep our residents safe and well. This has meant that we've had to put a temporary halt on visits from community groups, and the trips out that our residents would normally enjoy. However, our innovative award-winning approach to care means that our residents continue to be supported to stay active, engaged and connected, whatever happens.
Within every Hamberley Care Home you will find a dedicated Wellbeing & Lifestyle Coach who works one-on-one with each resident, ensuring that they receive personalised support to maintain a positive sense of wellbeing.
We focus on three main areas of wellbeing:
Physical wellbeing
We encourage all residents to be physically active as much as possible. Whether that's through Mindful Movement classes, our Green Gyms or just through day to day tasks within our homes, we know that being active is a positive lifestyle choice that boosts wellbeing.
At Nesbit House in Sevenoaks, our residents have been enjoying a regular game of bowls in the beautiful grounds of the care home, while at Newton House residents have been doing a spot of gardening. One of our green-fingered residents, who previously owned his own allotment spent some time with Tom, our Wellbeing & Lifestyle Coach, planting some new flowers within the raised flower beds. Tom said "He taught me a few things about how best to plant the flowers, and some of the other residents were watching on to get some gardening tips! The garden looks beautiful – the cup of tea and biscuit in the café afterwards was well-deserved!"
Social wellbeing
Feeling socially connected and valued plays a vital role in overall wellbeing. We are committed to supporting residents to maintain existing hobbies and interests, as well as social connections through regular video calls and safe family visits.            
At Chawley Grove in Oxfordshire our residents have been enjoying a game or two in the beautiful gardens, taking advantage of the beautiful weather, and at Newton House, the residents can rack 'em up whenever they want to – thanks to their brand-new pool table. The Newton House team came up with the idea of getting a pool table after lockdown stopped one resident enjoying his regular hobby. Alex loved going out on Fridays to play pool locally but had to stop in line with the Government rules. So, as Alex couldn't go to his usual pool table, Team Newton decided to bring the game to him.
Not only has Alex loved the chance to resume his hobby, but Project Manager Pauline Hunter said he's found some willing opponents among the other residents. Home Manager Pauline said: "The table has been a big hit here at the home, there are plenty of games being played already. "We know that hobbies are vital for the wellbeing of our residents, and it was a real shame that Alex couldn't get out to enjoy his usual pool games. By bringing his hobby in-house, we've boosted Alex's spirits and got other residents interested in playing."
Emotional Wellbeing
Experiencing positive emotional wellbeing is a key component to living a happy, healthy and well-balanced life. We work one-to-one with our residents to ensure that all of their likes and dislikes, personal preferences are catered for.
Hamberley residents across the country have been creating scrapbooks and 'COVID Time Capsules'. Scrapbooking is something we've all done in our lives – event tickets, pressed flowers, newspaper clippings, all kinds of things from our past can go in the scrapbooks.
Glenda, resident at Nesbit House, has been adding to her old photo album. Dean, Wellbeing and Lifestyle Coach at Nesbit House loves speaking with her about her life and her passions. He said "Isolation is hard for anyone, and everyone is now familiar with social distancing, so they'll understand why mental wellbeing is so critical. One simple way to improve the wellbeing of our residents is to evoke feelings of nostalgia through discussing life stories and memories from days gone by."
Wellbeing also includes self-esteem and self-care. Within each of our luxury care homes you will find a wellbeing & beauty salon where our residents would normally be able to enjoy a salon treatment.
Caddington Grove made sure their residents continued to look fabulous during lockdown by doing spa visits right outside their bedrooms. The pamper sessions were conducted in the home's corridors, so residents could maintain social distancing but still get their favourite treatments. Whether they needed a lovely manicure or a mini pedi, staff were on hand to make sure that lockdown didn't mean standards slipped among our elegant residents. Community Relations Lead Kelly Cox said that these little touches were popular with residents who enjoy their usual spa days. Kelly said: "Most of us love getting pampered, so we wanted to make sure our residents could still enjoy some spa action. "Luckily, we've got plenty of staff here who are a dab hand with an emery board and some polish, so there were no chipped nail emergencies."
When we are confident that it is safe to do so, we'll be able to reopen our spas so that residents can drop into their inhouse spa to get their hair done, nails painted or have another beauty treatment, as and when they wish to.
We believe that when each of these three main areas of wellbeing are supported and in balance, our residents enjoy a positive feeling of overall wellbeing.
Get in touch with us to find out more about your nearest Hamberley Care Home, and the comprehensive wellbeing programmes within our luxury care homes: