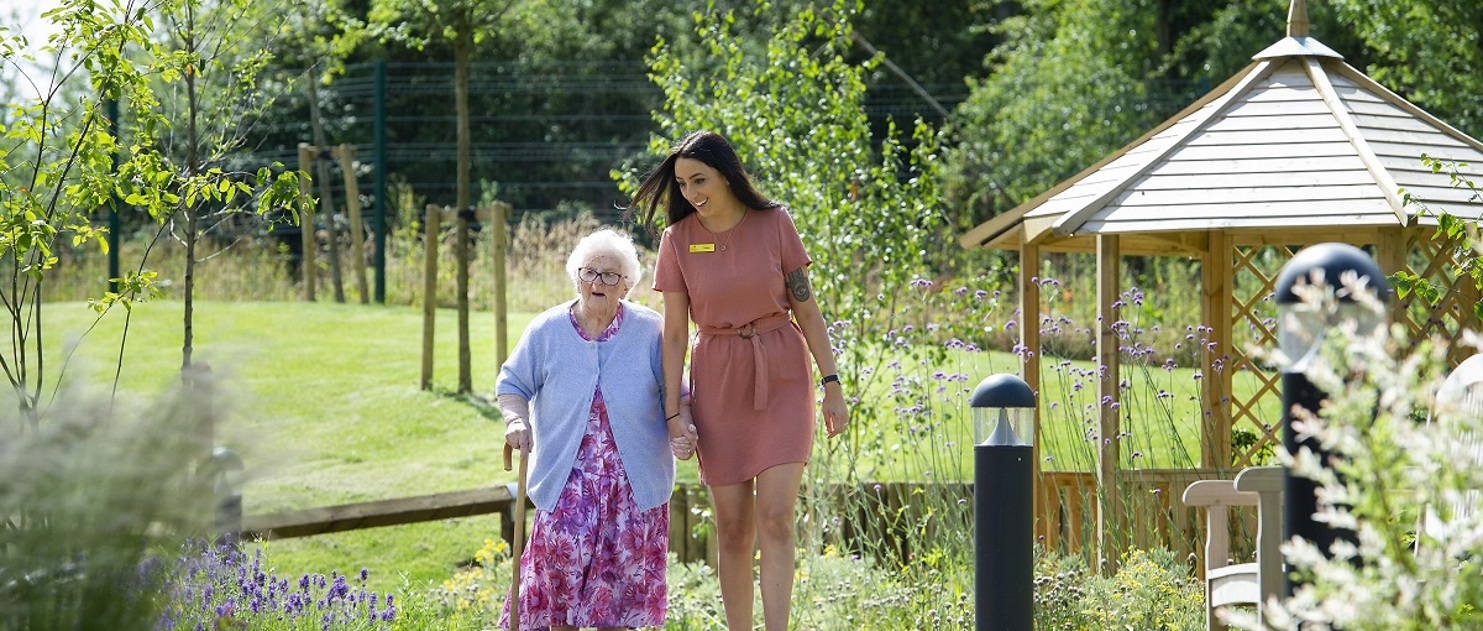 What is a Homemaker? Your questions answered
Homemakers are carers, housekeepers and companions all in one. In this interview Paul Hill, CEO of Hamberley Care Homes, explains the award-winning model of care and his vision for truly person-centred care.
Paul Hill, the CEO of Hamberley Care Homes, has a vision to radically improve resident outcomes through reorganising  the traditional approach to delivery of care seen across much of the UK.
His inspiration comes from 30+ years of working in the care sector and seeing first-hand the benefit for individuals when they receive holistic, gap-free care within a genuine home-like community.
We sit down with Paul to discuss the award-winning Homemakers of Hamberley model and find out what inspired his innovative approach to care.
The Homemakers of Hamberley
What is a Homemaker?
A Homemaker is a self-directed carer, housekeeper and companion all in one person. So instead of having separate roles for each of these three areas, we've combined them and one team member, a Homemaker, holds responsibility for them.
This means that if a resident wants to organise a trip to the shops, a Homemaker can help make that happen. If the resident's room needs a quick tidy, a Homemaker will do it instead of waiting for a scheduled clean, and if a resident needs to take their medicine, a Homemaker is trained to administer it. A truly person centred approach.
Homemaker Benefits
What are the benefits of the model and how does it improve resident's lives?
Well first of all, it makes the experience for the resident a lot more like living in their own home. Within a family environment typically everyone shares responsibility for looking after each other and this creates a really nurturing, caring space.
Sometimes this feeling or attitude is lost in care homes, and that's something that I wanted to ensure doesn't happen in a Hamberley home. I want them to be genuine home-like communities where people want to live and work.
This model of  care also means that our residents have the best chance of experiencing truly person centred care – support that is really tailored to their individual needs.
If you split the holistic care role up into different departments you're reliant on different teams updating each other to make sure tasks are completed. Often this results in delays or things not happening, for example, I thought that was 'X's' job.
You can, of course, have a positive culture where information sharing works well but the Homemaker model, by design, is structured to make this the way things happen anyway!
I think we have to focus on what the individual needs and wants first and foremost.
I'm a firm believer that we must put the people that we support at the heart of what we do, and, the only way I think that can be done, is to train and empower our care givers so that they have everything they need to do just that.
If a resident wants to do some baking why do they need to wait until it is on the activities schedule? Or if sitting and listening to relaxation CDs is part of a resident's evening routine then they must be supported to do that at a time they want. It's often the small things, the mini-engagements, that we find creates the most satisfaction.
It's these tiny details that can make a huge difference to quality of life and the Homemaker model is a great way to ensure these details are recognised and acted upon.
Doing Things Differently 
What inspired you to create the Homemaker model? What are you doing things so differently?
I've worked in care for the past 30 years. I first started as a care worker in 1989 (a long time ago now!) I'm a qualified nurse and I've held various positions, both delivering hands-on care and holding senior management positions within care companies. So I've seen first-hand the benefits to individuals, residents, staff and relatives alike, when the care experience is good. And conversely what happens when it isn't up to scratch.
When I gained my post graduate qualification in Gerontology, which had a mental health focus, I started to explore how the person's experience of care was then in turn reflected in their personal health.
So by that I mean I started to ask, how does the care we receive impact our general wellbeing? Are we being treated well as people, are we maintaining a positive sense of wellbeing? And then how does this feeling affect our health. 
I guess what I'm trying to explain is that when running a care home, yes, we are treating illnesses and the conditions that come with old age, but ultimately we are caring for people. We are looking after someone's mum or dad, brother or sister, someone's grandma or grandad.
Sometimes in care systems, the focus is on the condition or the limitations and the person gets forgotten. And that's generally not the fault of the individuals providing the care, they are trying their best. I believe it's the fault of how the home is being operated, the structures that are in place to organise the care.
So that's what inspired the Homemaker model, the wish to always remember the person, the individual that we are caring for.
Homemakers and Nurses
How do nurses fit in to the homemaker model? Are they still needed?
Yes, absolutely they are. Nurses are vital within the homes to provide clinical guidance and oversee the medical care provided.
Typically nurses (in care homes) spend the majority of their time administering medication or attending to low level care needs. Now that the Homemakers are doing these tasks as well, it frees the nurses to use their knowledge and experience to identify the changing care needs of residents before they become an issue.
As nurses we are required to follow our professional code, the 'Professional Standards of Practice and Behaviour' to be registered -  all of which is perfectly aligned to the homemaker model.
Most notably, there is a standard that states nurses should provide leadership to make sure people's wellbeing is protected and to improve their experiences of the health and care system
It means we can spot when residents may need extra care or new medication and this helps reduce hospital admissions. We can also guide Homemakers to look out for the same issues and empower the team to be more proactive. Enabling residents to continue living in the home rather than being on a hospital ward, means they are more comfortable and there's less disruption to their daily lives.
Family Feedback
You've now won and also been shortlisted for a number of different awards for the Homemakers of Hamberley. We know the judges love the concept but what has the feedback been like from residents and their families?
I've been really pleased so far with feedback from our residents and their families. It's very rewarding to know that an idea that you came up with is having a positive impact on people's lives.
I always say that Hamberley homes should be great places for people to live and work – and I feel the Homemaker model allows residents and our staff to connect properly and enjoy living and working together.
The model is about the people and one of the best things for me has been the engagement from the teams themselves and the pride they have in fulfilling the role.
I'm a bit of a perfectionist though. I know we can always do better and there's lots of ways to improve what we are currently doing. I'm not sure I'll ever be satisfied, because the people that we care for are too important. I just want the best for them.