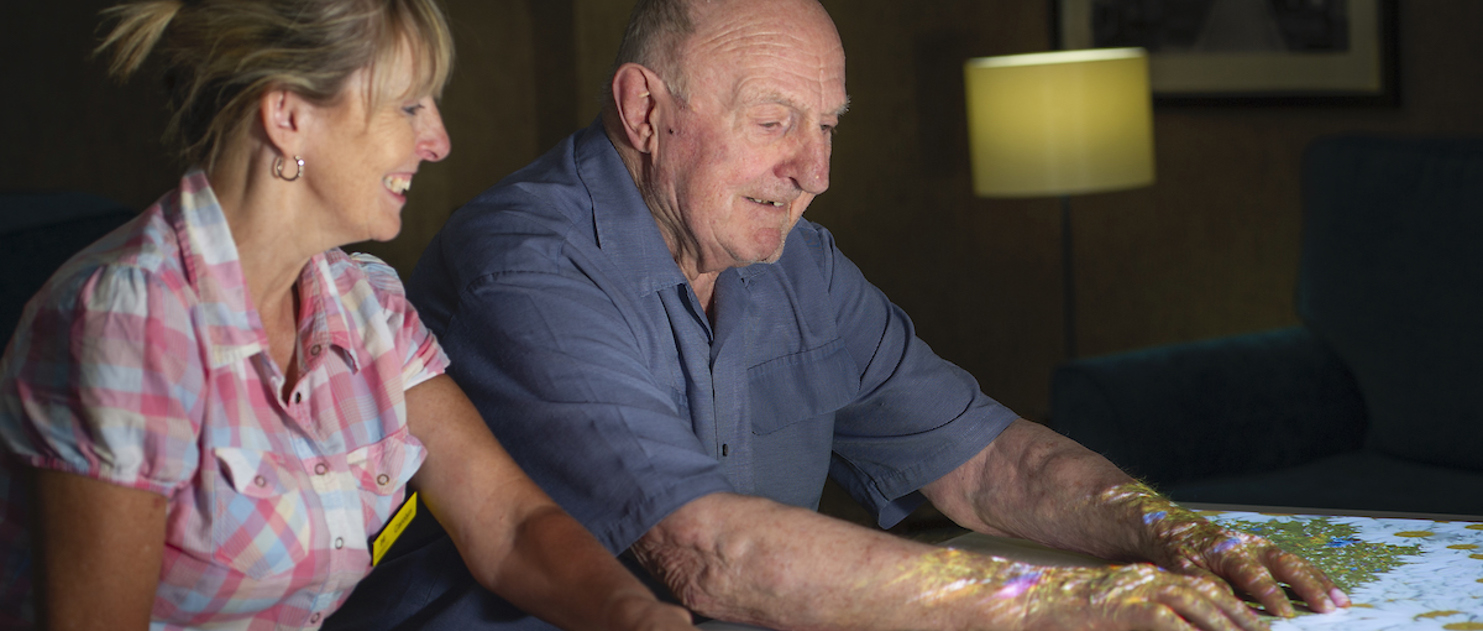 The 'Magic Table' for Dementia
We take a look at how an award-winning 'Magic Table' is being used to help people living with dementia stay connected to the world around them.
In the lounge of Caddington Grove care home, a group of residents are gathered around a table, moving their hands across its surface.
In front of them is a projection of an old fashioned breakfast table, complete with sugar, bacon, jam, tea and a ration book. Eggs move across the screen and as the residents touch them, they crack open.
In the background, the song 'If I knew you were coming, I'd have baked a cake' merrily plays. When the last egg is successfully 'cracked' an image of a fully-baked cake appears – some of the group cheer.
This activity is one of the simple, but incredibly effective, activities provided by the Mobii table aka 'Magic Table', an award-winning design used to help people living with dementia to stay connected to the world around them.
Designed by multi-sensory tech pioneers OMI, the Mobii projector is an interactive tool that uses a myriad of games, music, visuals and other content to engage and stimulate the people who use it.

How it works
The Mobii table is a portable projector that can be height-adjusted for use in different spaces.
This design – which won OMI the 2018 National Dementia Care Outstanding Product Award – means that care homes can use it in communal areas, with residents who are bed-bound or in any space that has a suitable surface.
The activities and games stretch people living with dementia and challenge them to think, helping to connect them to memories through touch, sight and sound. The projections are also calming and help people to unwind and relax, improving their mood and emotional stability.
This combination of powerful visual and aural stimulation helps care homes provide meaningful person-centred activities for residents to enjoy.
Although it is known colloquially as a 'Magic Table', the Mobii projector can be used on the floor too. This versatility encourages a wider range of movement for the people using it, and also allows care teams to stage larger games for those with good mobility
Benefits of the Magic Table
Research shows that the table helps people living with dementia in many different ways, particularly in getting them to participate, instead of just watching others. This boosts their mood and gets them moving more – and that's vitally important to their mental and physical health.
Here are just some of the benefits enjoyed by residents:
Greater socialisation, willingness to communicate
More flexibility and upper body movement/coordination
Sustained moments of lucidity and brightness
Improved relationships and raised well-being levels and improved emotional stability
More motivation to stand up, stretch and physically participate
Greater opportunities to share personal stories
Families enjoy joint activities without the pressure of finding words
Can be a calming or stimulating activity with a wide choice of moods
Flexibility of floor, table and bedside use making it fully inclusive

Using the table within our homes
Caddington Grove care home held a launch event to showcase their Mobii table and invited Dunstable Mayor Sidney Abbott to come and see residents using it for the first time.
The Mayor was pleased to hear that the home will hold weekly community sessions where local people living with dementia can come in and use the table too. "I really enjoyed being part of the session – the interactive table is so innovative and such a great way to engage and stimulate," says Mayor Abbot. "I encourage more people in the local community to come along and get involved."
The benefit from the Mobii table works across all elements of wellbeing. The activities work on many different levels and can be personalised to create games using individual photos. When residents start connecting with the games, it encourages interaction and communication, it promotes movement and also helps boost mental activity because they become very engaged in what they are doing.
Get in Touch