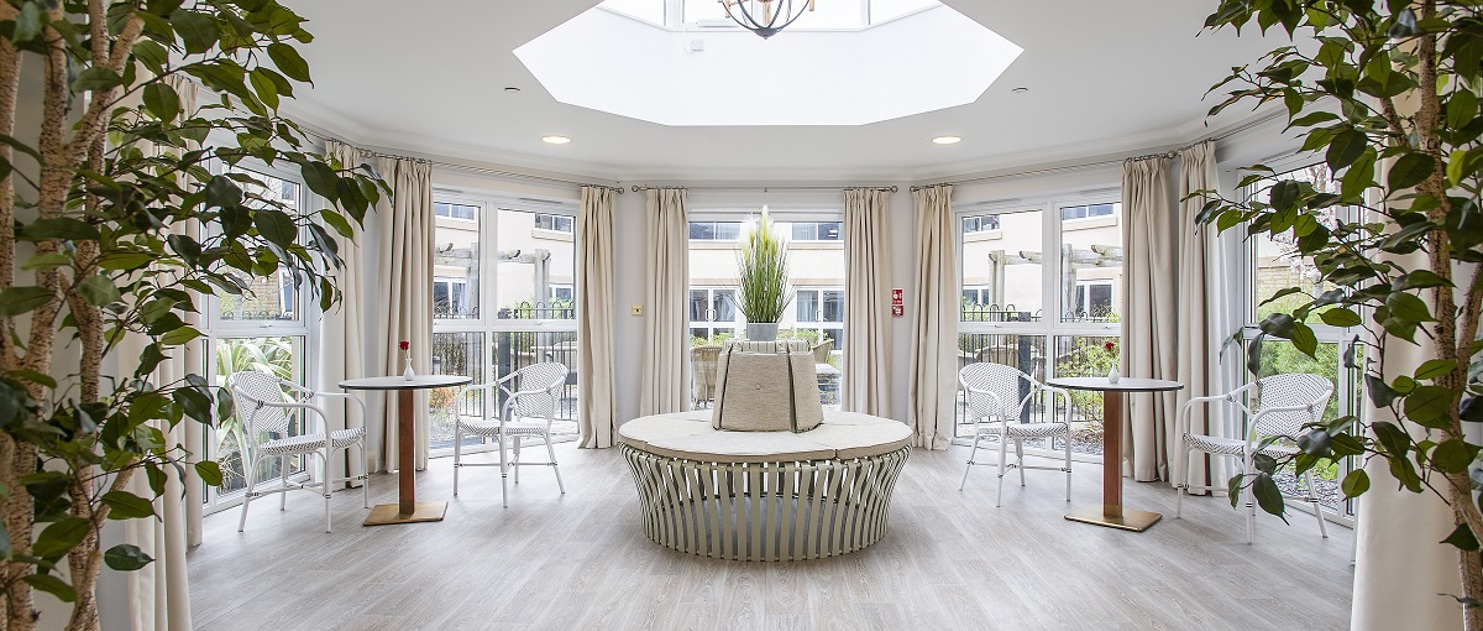 Ernstell House Care Home
Based in the heart of the scenic port city of Plymouth, Ernstell House offers specialist dementia care for the older community, including short breaks, all from within a luxury environment.
---
Ernstell House Care Home
Ernesettle Lane
Plymouth
Devon
PL5 2EY
Welcome to Ernstell House. Our stunning care home in the heart of Plymouth offers an outstanding level of care from within a luxurious environment - take a virtual tour of Ernstell House here:

Keeping you safe
Keeping our residents safe, well and connected with their family and friends is our number one priority. The enhanced infection control measures we have in place go above and beyond industry standards, and we are delighted to be able to facilitate face to face family visits within our care home, alongside visits within our exclusive Family & Friends Lounge, as featured by the BBC.
Luxury Living at Ernstell House Care Home, Plymouth
Ernstell House offers spacious, en-suite bedrooms all appointed in a range of contemporary themes for comfortable and stylish living.
Within our luxury care home in Plymouth you'll find the superb features which set our care home apart from the standard care home, such as our wellbeing & beauty salon which offers hairdressing, manicures, pedicures and other luxurious treatments as part of our Wellbeing & Lifestyle personal programme.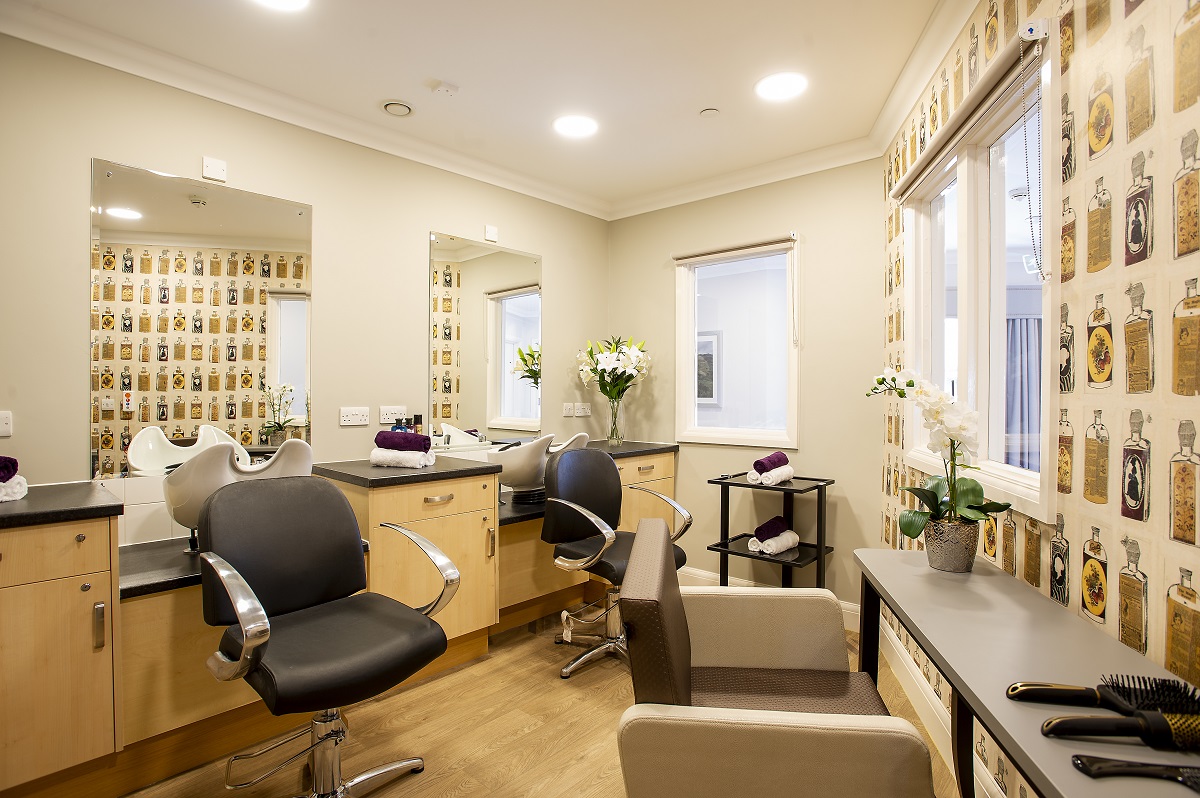 Our home has so many delightful and distinct areas to relax in - whether you prefer to socialise with fellow residents, or engross yourself into your favourite novel, you're sure to find the perfect spot.
Ernstell House benefits from an elegant café where residents can sit down and enjoy a cappuccino any time.
We have a number of light and airy living spaces on every floor - places to relax in comfort or enjoy a conversation with others - the choice is yours.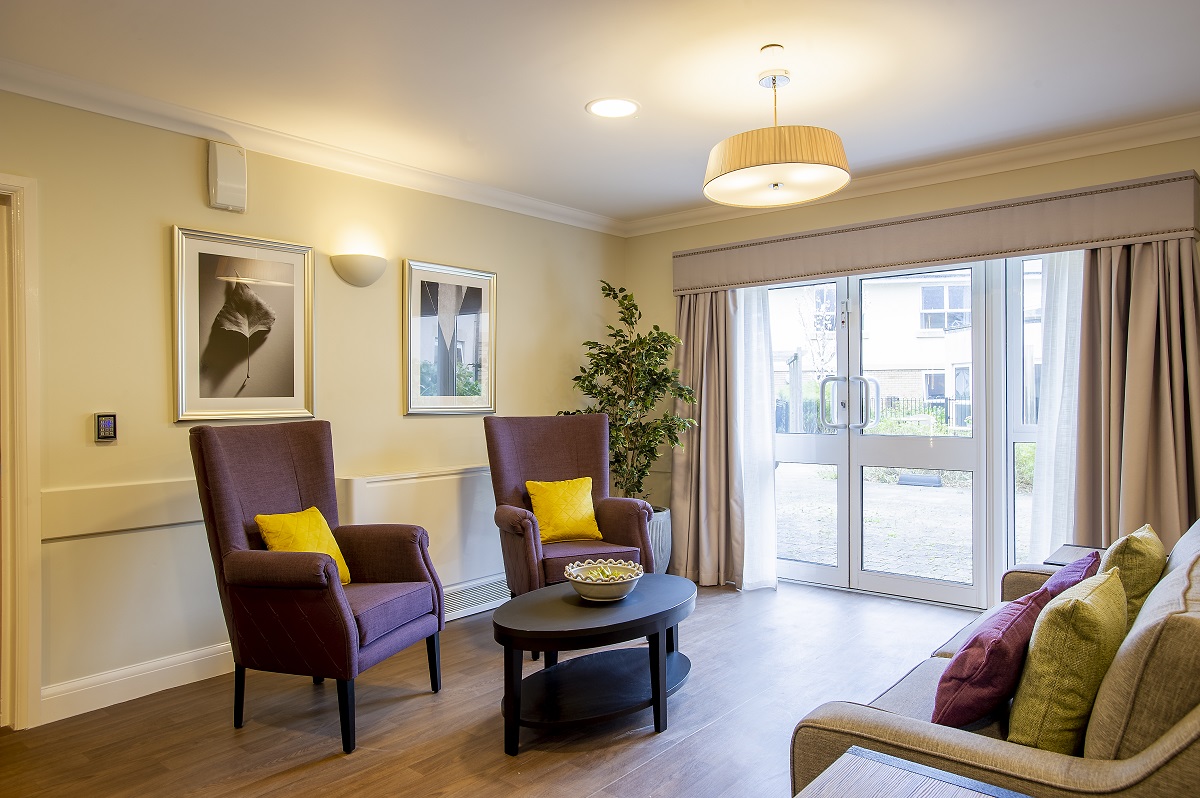 If you enjoy a good film, you'll be encouraged to take advantage of our deluxe cinema. We have a large library of films to choose from, from classic favourites to the latest hits.
Head down to our dining areas to see the kitchen team, who are always available to deliver menus of your choice. You can sit back and relax as our Chef and Sous Chef take care of all the preparation, so residents can experience all kinds of gourmet meals together.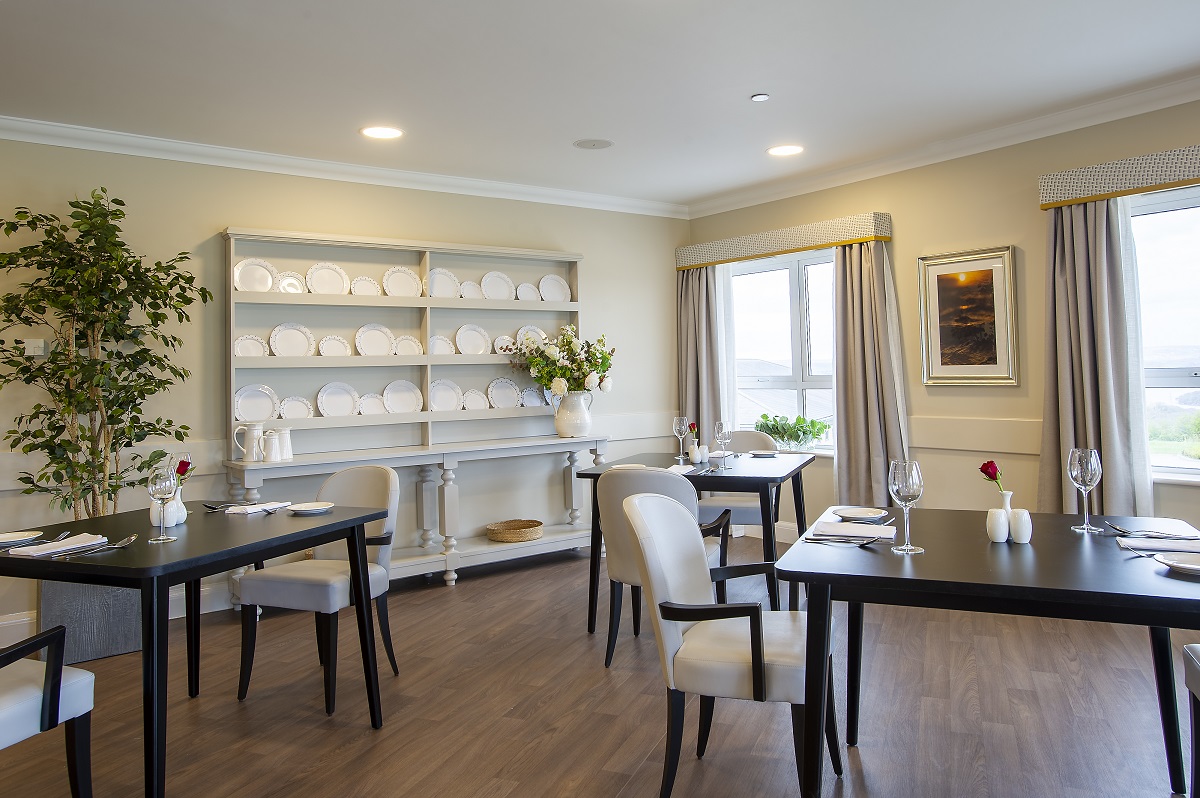 Person Centred Care In Our Plymouth Care Home
All of our residents are treated as the individuals they are, and naturally, each individual has different needs. Our approach to care is bespoke and person centred. We strive to provide each resident with as much or as little support as they need.
Our all-encompassing care approach starts before residents even move into Ernstell House - our leadership team will take great care to find out everything they need to know from our new residents and their families.
From this stage, we can make sure that we completely understand what level of support is required, and can make it so everything is ready upon our new resident's arrival.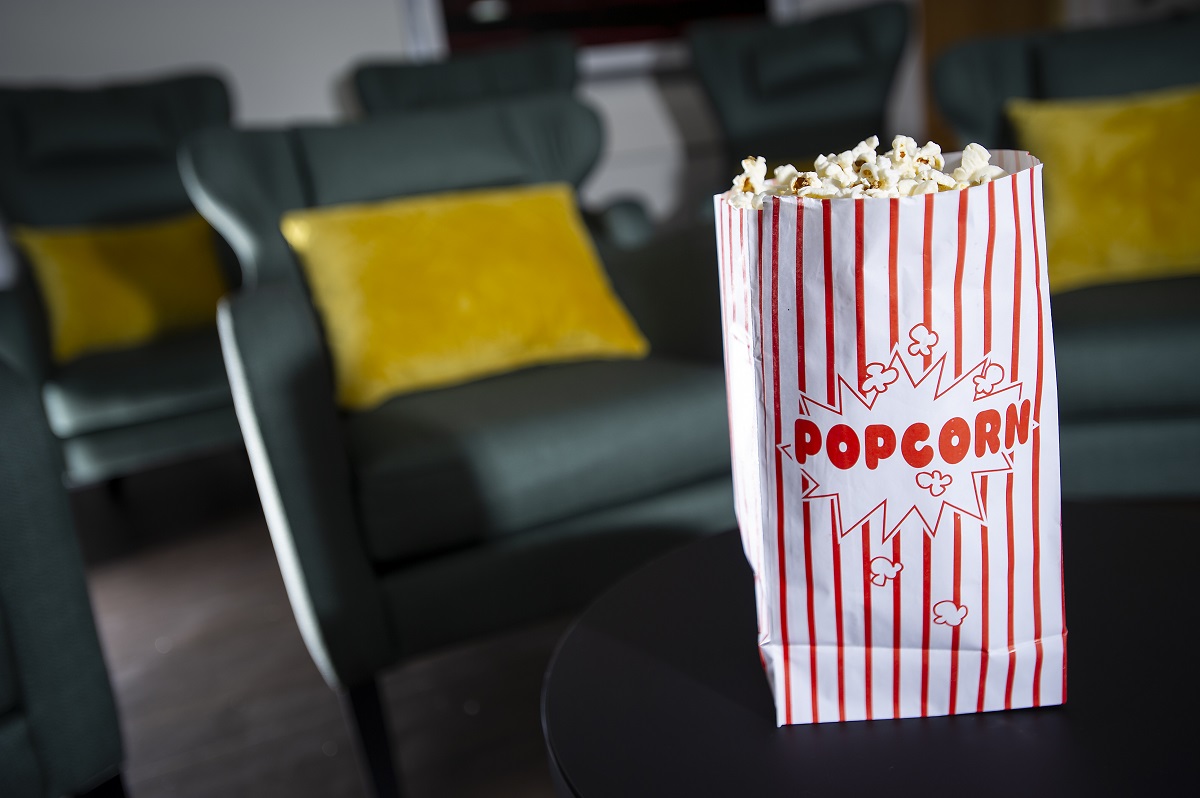 At Ernstell House, it is crucial to us that every resident feels they are at home here. We understand how challenging a transition into a care home can be, so we do everything we can to cultivate a comfortable and relaxing environment.
Our Clinical Team are always ready for if resident's care needs start changing, and residents and their families can rest easy knowing that the team will help them through any short or long-term challenges.
Better yet, our frontline staff, including our award-winning Homemakers and fantastic Wellbeing & Lifestyle Coach, are always speaking to and engaging with residents. This means that they can identify changing care needs as and when they might occur.
We aim to be the best care home in Devon, and have spent a long time creating a community of residents here who have real, genuine connections with each other, as well as their neighbours in the local vicinity.
Through our unique person centred care approach, we are able to identify how residents want to spend their time. This way we know what they're interested in, and can help them to keep enjoying all the special things in their lives that make them happy.
Ernstell House is a place where residents are encouraged to be as independent as possible - to enjoy their favourite hobbies and pastimes, discover all kinds of new interests, and continue socialising and building meaningful friendships.
Person centred care works because it is bespoke, genuine and builds on our primal instincts of caring for our fellow person. Our philosophy empowers our residents to create a life they truly enjoy, with our support.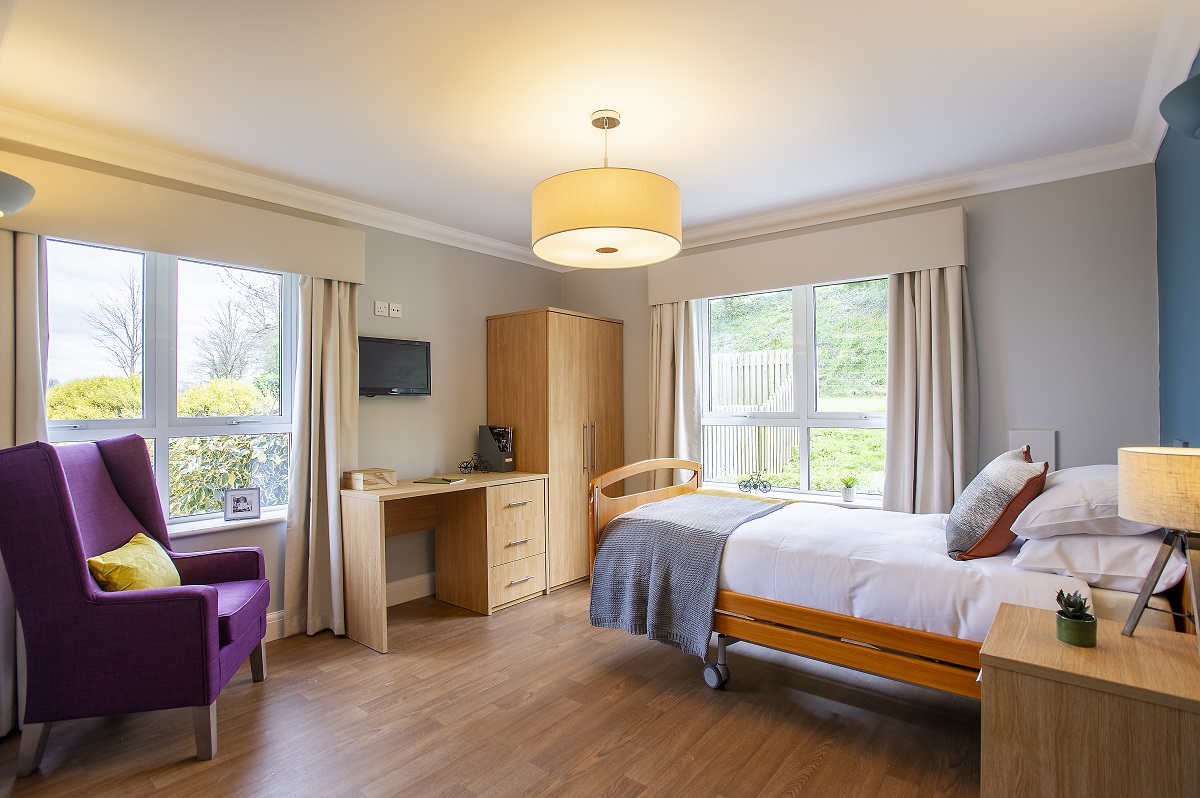 The Homemakers of Hamberley
In all Hamberley care homes, we've reimagined the traditional role of a carer, so our residents will experience a holistic approach like no other.
You won't find another care home in or around Plymouth offering 'The Homemakers of Hamberley' – these care professionals are carers, housekeepers and companions, all in one person. Watch the video below to find out more about our award-winning model of care:
Please note, this footage was taken before the COVID-19 pandemic.
Our Homemakers work closely with our clinical team so they understand the needs of each resident, and can help to provide continuity of care.
Our Homemakers aren't just carers - they're also companions. They are somebody to share a cup of tea with, someone to join you for your daily exercise, or someone to discuss your favourite book with.
Another essential part of the Homemaker role is housekeeping. Our award-winning Homemakers will be there to ensure all rooms are maintained and kept spotless above and beyond scheduled cleans.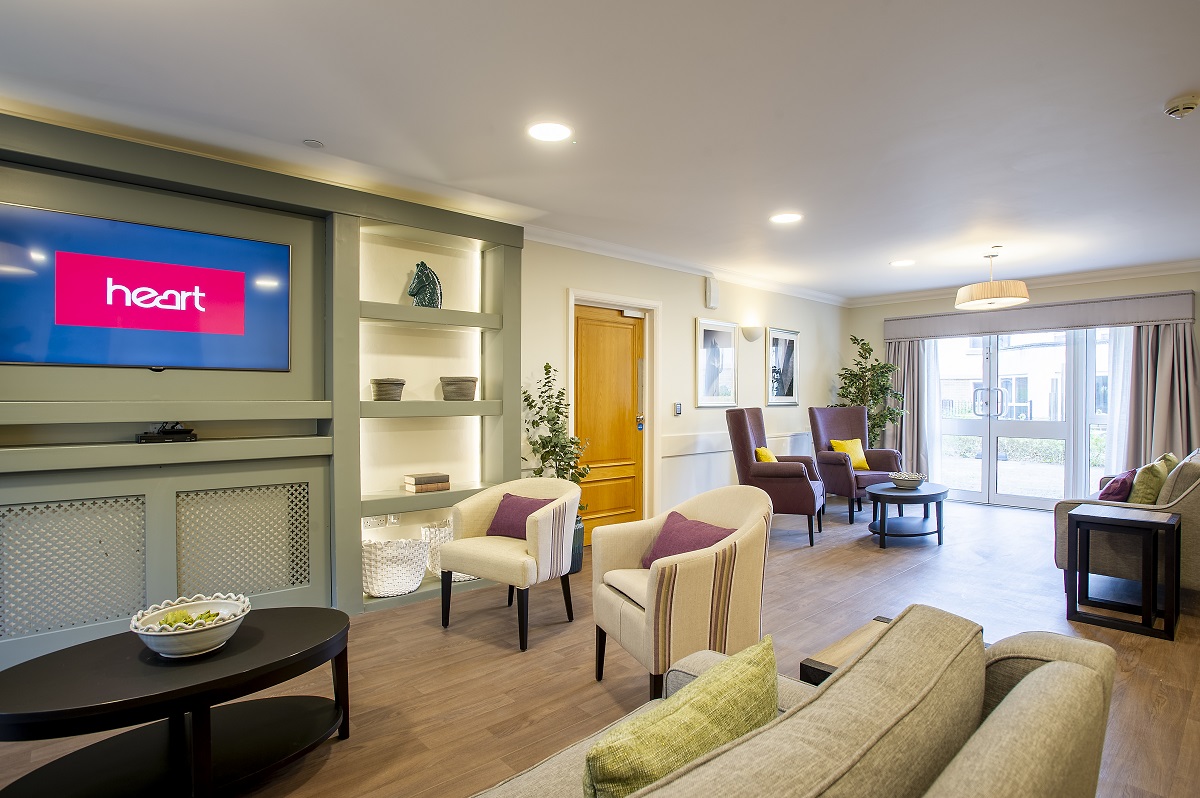 Our award-winning Homemakers support residents in their chosen lifestyles, and encourage them to try new things too. 
Our fantastic team will go out of their way to organise enrichment activities that help residents to embrace life, whatever they like to do.
Our Wellbeing & Lifestyle Coaches
Within our Devon care home you will also find our Wellbeing & Lifestyle Coach Our Wellbeing & Lifestyle Coaches are qualified and inspirational professionals who are dedicated to helping residents continue to live the life they want to lead, in the home and beyond.
Ernstell House's Wellbeing & Lifestyle Coach will get acquainted with each resident and learn as much about them, from their first conversation onwards. They pay special attention to residents' likes, dislikes and life stories, and the activities they enjoy and the pastimes they are passionate about.
The conversations are our first steps towards building a Personalised Wellbeing Programme - our plan for ensuring residents live a fulfilled, meaningful and happy life.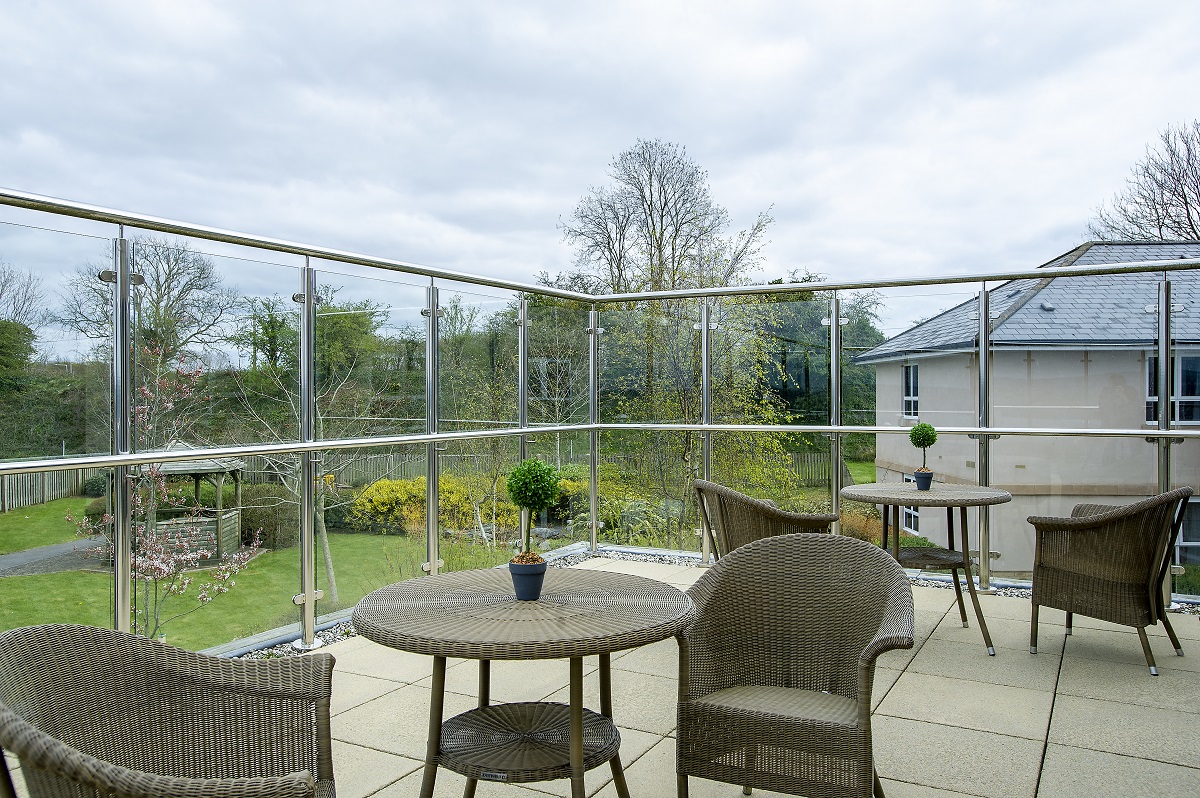 Our Wellbeing & Lifestyle Coach will build activity plans based on residents' interests, and encourage them to be more physically active, mentally stimulated and socially connected.
The Personalised Wellbeing Plans evolve with reviews every month to make sure that any necessary changes in the care plan are supported, and to make sure residents can continue to be confident in their mobility and abilities.
In our Wellbeing and Beauty Salon we have all kinds of treatments available to promote relaxation. Hairdressing, manicures and pedicures are just some of the salon treatments available on offer, giving residents a real chance to treat themselves.
Our Plymouth care team are trained in the Hamberley Hand Massage - a non-intrusive treatment that helps calm stress and tension. Take a seat and unwind as the gentle therapy helps you to take a moment to be truly present, and let go of any anxiety as you relax.
Elegant Dining In Our Devon Care Home
Food, glorious food is one of life's greatest pleasures and our residents enjoy an exceptional dining experience at Ernstell House care home, Devon.
Residents can choose from a delicious and varied gourmet menu to enjoy in our bright and airy dining spaces. 
Our chefs use fresh, seasonal ingredients sourced from local producers to create nutritious, tasty dishes for our residents to enjoy.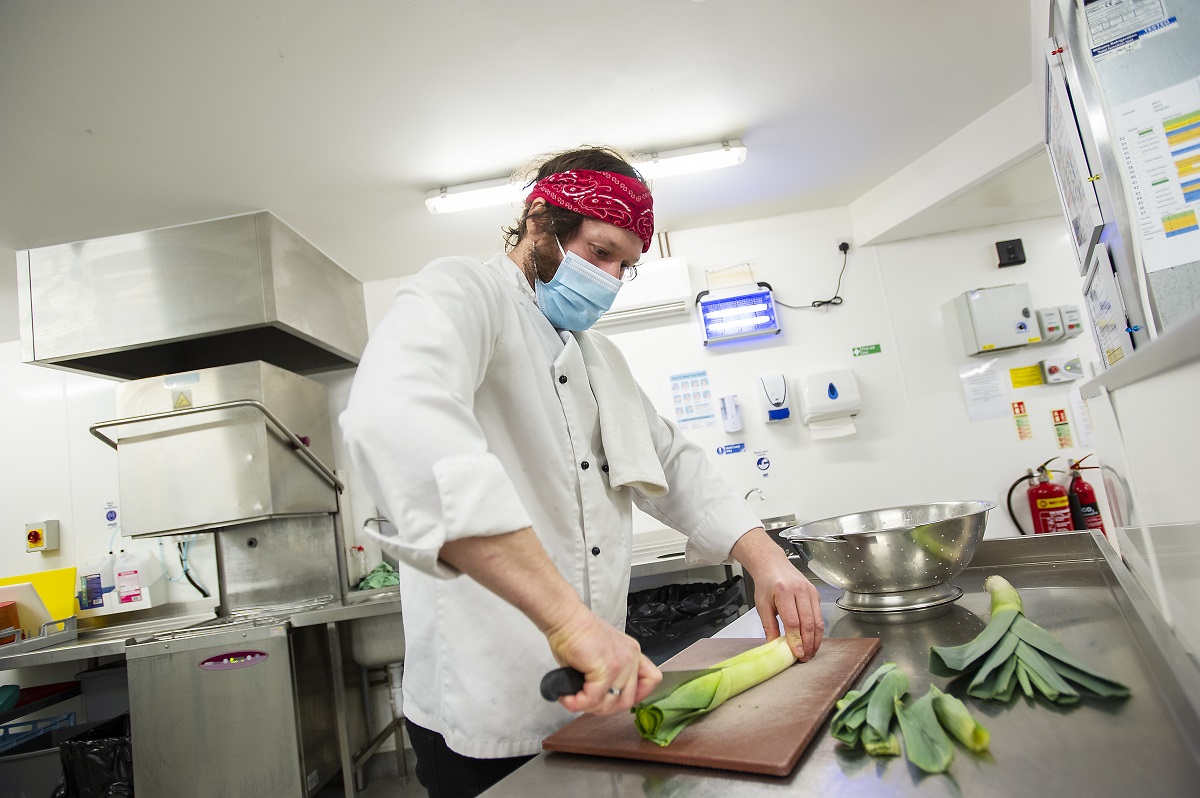 Residents are encouraged to eat the meals they love, and to experience new taste sensations from our creative kitchen team.
On our ever-changing menus, you'll find a mixture of traditional favourites, seasonal specials and international cuisines.
Every week you'll find different options that have been introduced by the experts in our catering team, or specially requested by residents.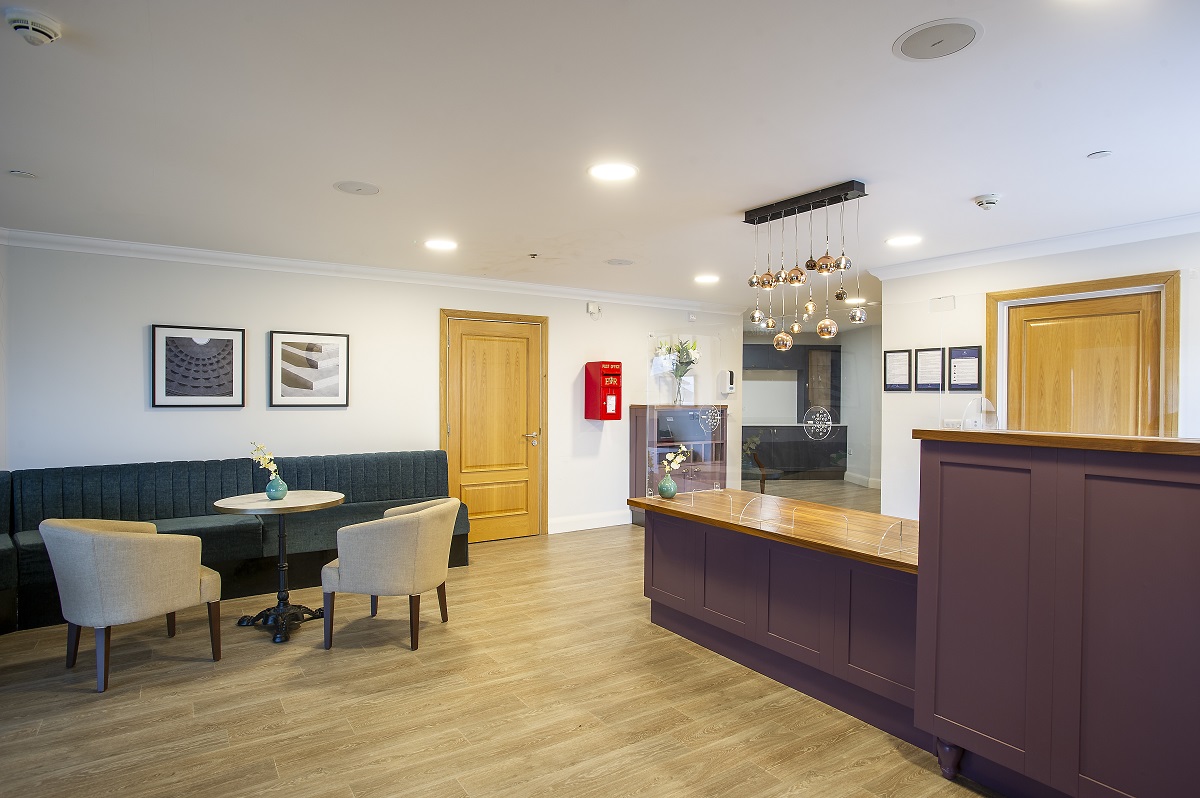 We also create a bespoke nutritional profile and meal planning for each resident, as part of the care package.
If you're a relative who would like to keep track of your loved one's meals, you would be welcome to have access to our electronic care plans, which are updated in real-time.
We strive to ensure that dining at Ernstell House is a level above other care homes in Devon.
Our Team at Ernstell House Care Home, Devon
To provide the exceptional level of care that our residents deserve we employ a team of highly skilled care professionals. The team at Ernstell House are exceptional collaborators and caregivers who work together to provide holistic, first-class care for our residents.
You won't find our unique team structure in other Devon care homes. Home Manager Sam is part of a leadership hub that oversees the work with our Homemakers and nurses.
Working alongside the Home Manager is our Clinical Lead, Business Administrator, Community Relations Lead and Wellbeing & Lifestyle Coach. In their dedicated areas, each person ensures the smooth-running of the home.
We believe that investing in people is vital so our team are given training throughout their employment, and you'll find that our staff training is of the highest standard.
Specialist Neurological Care Services – Ernstell House
A dedicated neurocare suite within Ernstell House provides care and support for adults of all ages who live with a neurological diagnosis.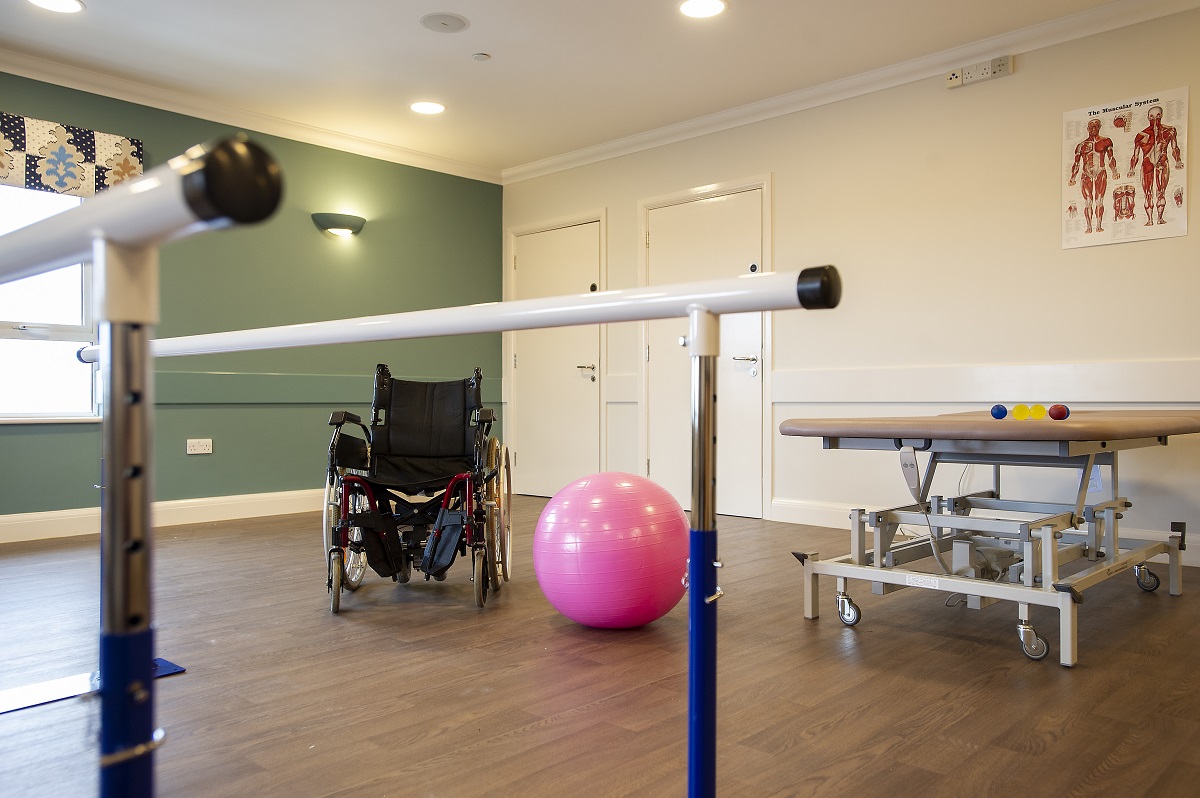 Providing specialised care with a focus on reablement and independence, Ernstell House Neurocare elegantly combines style and function to create an environment of comfort, possibility and potential.
The 16-bed neurocare suite has been developed to meet the unique needs of residents with neurological conditions. Team members include Registered General Nurses, Mental Health Nurses and specialist carers, with therapeutic provision provided by physiotherapists and occupational therapists.
A neurological diagnosis can cover a wide range of specific conditions with an even wider range of symptoms. Our dedicated neurocare suite at Ernsell House provides specialist care and therapeutic treatments for people affected by neurological disorders, including:
Neurodegenerative (Progressive) Conditions, including Motor Neurone Disease, Multiple Sclerosis, Huntington's Disease, brain tumours and Parkinson's disease.
Sudden Onset Conditions, including traumatic brain injury and acquired brain injury. These injuries can be sustained through trauma, lack of oxygen to the brain, stroke, tumours, viruses or infections.
Early-onset Dementias, including Pick's disease, Frontotemporal Dementia and Korsakoff's Syndrome.
Neuro-palliative / End of Life Care for people with a neurological diagnosis.
You can download a copy of our brochure with all the details about Ernstell House Neurocare here: 
A detailed overview of Hamberley's specialist neurocare provision can be found here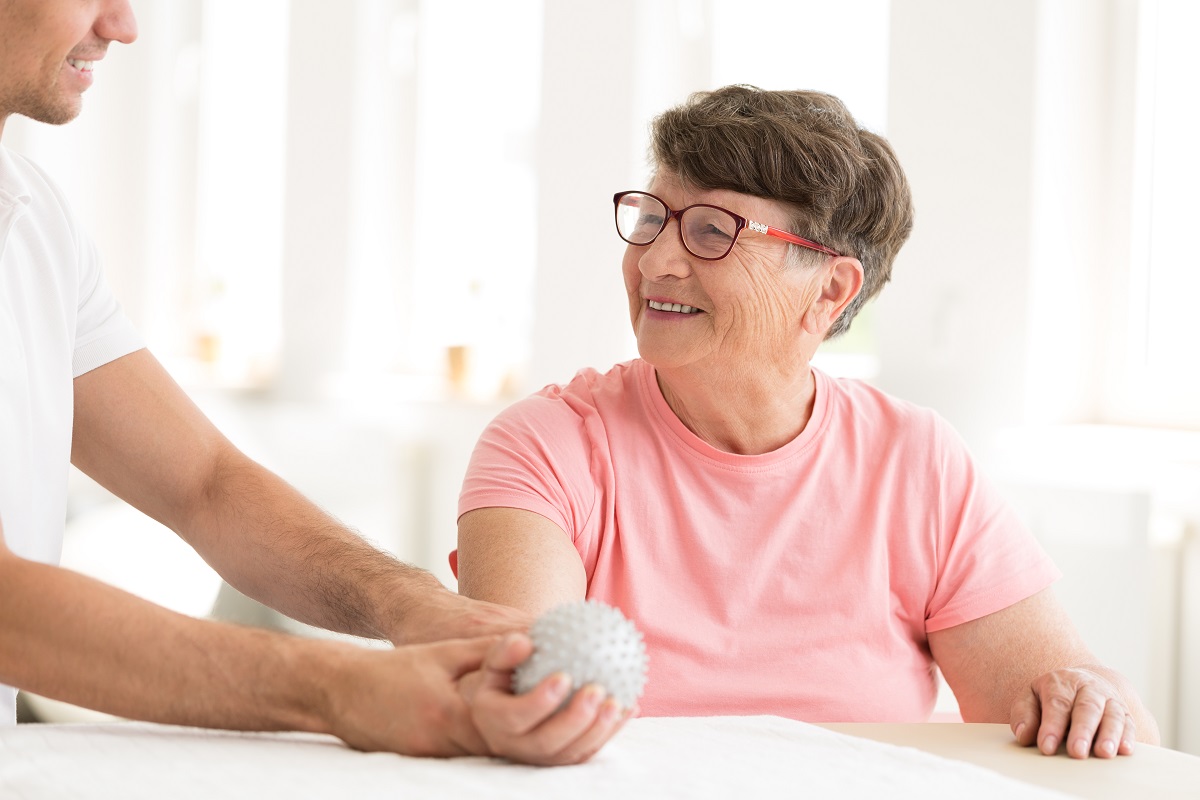 Dementia Care In Plymouth
At Ernstell House, we provide dedicated care and support for people living with dementia. 
We focus on the unique needs and life histories of our residents so that they continue to enjoy the quality of life that they are used to. Our team are trained in supporting all our residents as individuals, responding to their unique needs. Our Wellbeing & Lifestyle Coach creates a stimulating environment with a range of reminiscence activities which promote social interaction and prompt conversation, such as an afternoon watching a classic film. Our luxury environment has been carefully designed with well thought out features to support our residents living with dementia to live as independently as possible, with lots of bright living spaces with good natural light, and dementia friendly signage to support with wayfinding. 
We support the Alzheimer's Society's Dementia Friends campaign to make our local communities more dementia friendly. Our team hold virtual Dementia Friends information sessions for schools, businesses and community groups and take part in fundraising events to support the cause. If you'd like to attend one of our virtual Dementia Friends information sessions please do get in touch.
The Local Area in Plymouth
Plymouth is a vibrant and welcoming port city on the coast of Devon, with a wonderful history extending all the way to the Bronze Age, when a single settlement emerged at the local Mount Batten.
It's seafront lido and waterfront Barbican district take the main stage for tourism, but if you take a stroll inland you'll find a number of museums, shopping centres and arts venues - making it commonly known as the cultural capital of Devon.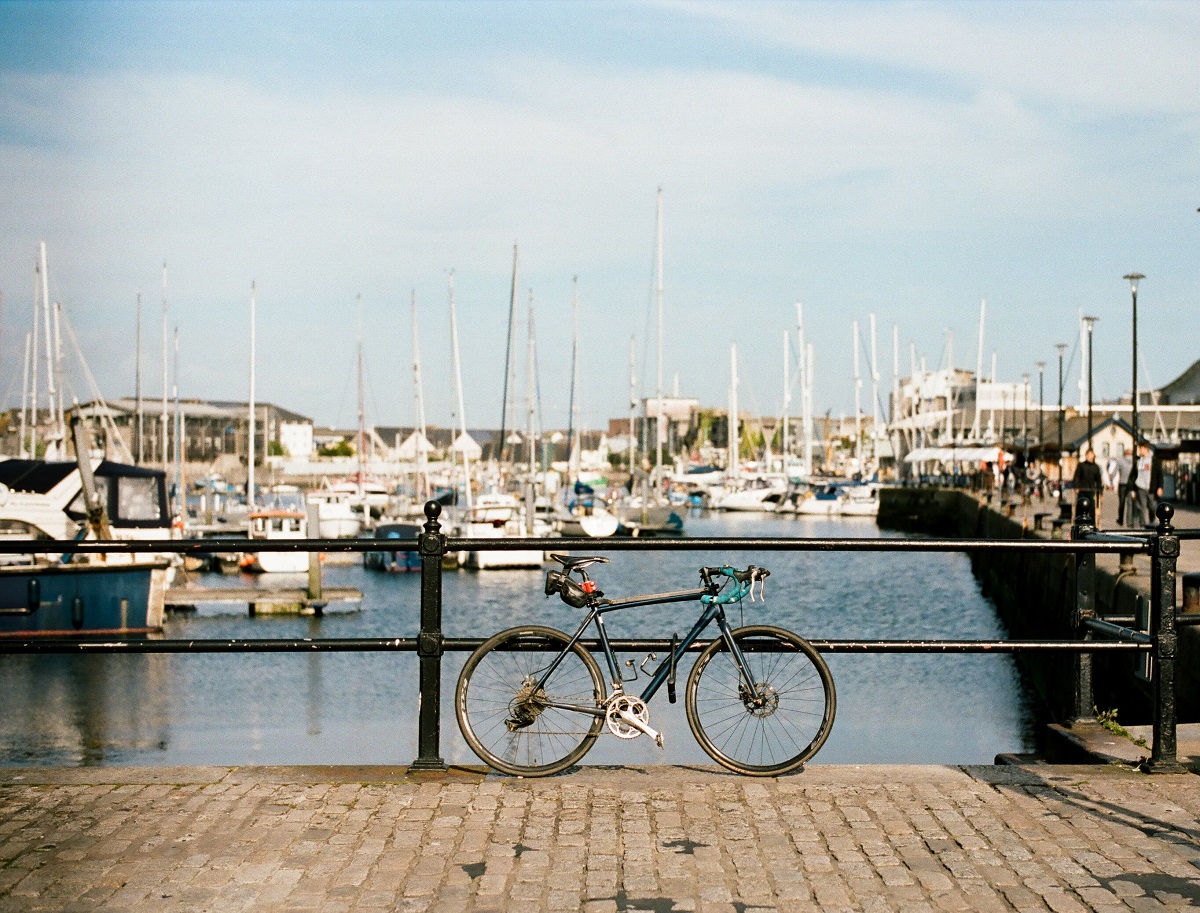 It was a trading post for the Roman Empire, until in the ninth century a more prosperous village grew, eventually evolving into modern day Plymouth.
The city has just under 300,000 residents and a strong sense of community. As a port city, Plymouth's economy is strongly influenced by seafaring and shipbuilding.
Plymouth has many convenient transport links, and you can easily find Ernstell House via car, bus or train.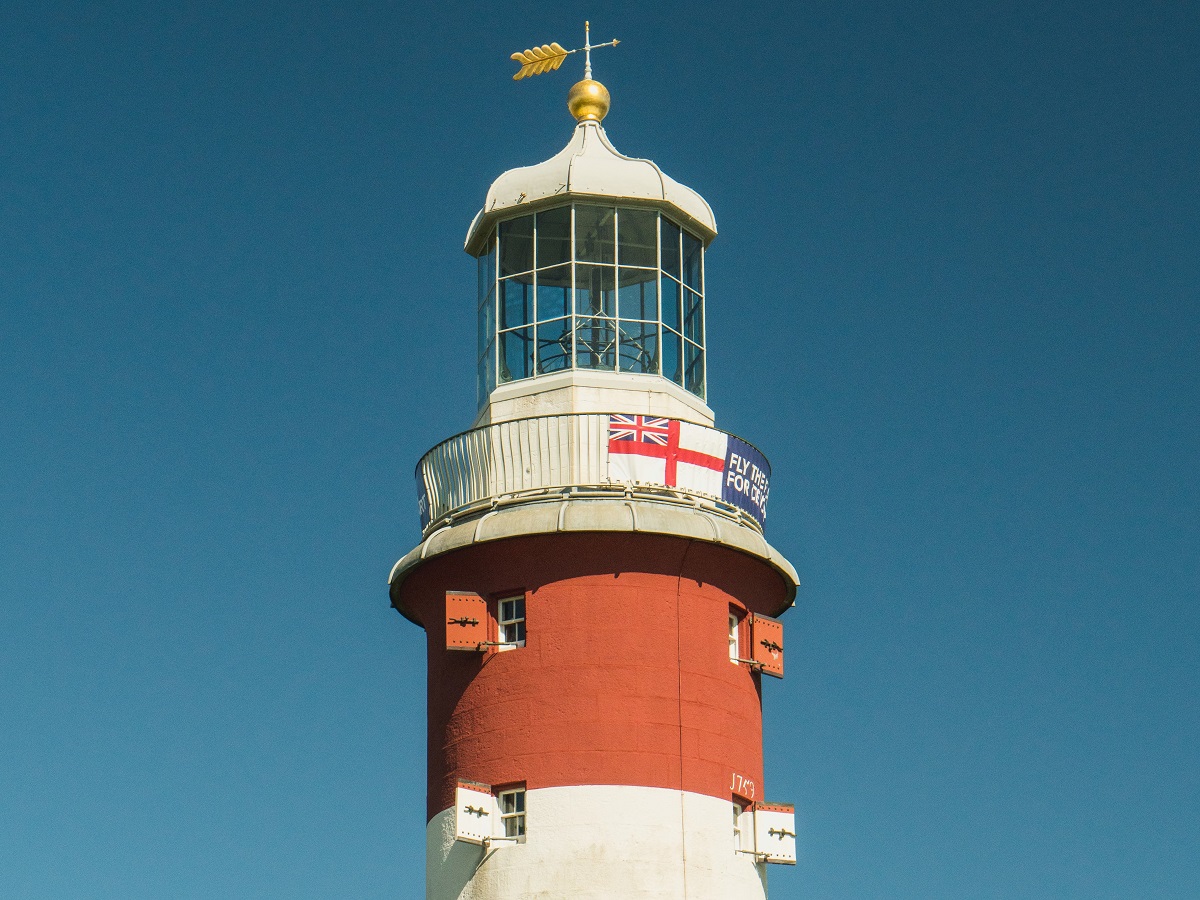 In regards to leisure, Plymouth has a mixture of charming pubs, bars and coffee shops, and some beautiful woodland areas like Plymbridge Woods. Why not spend the evening at the Theatre Royal Plymouth, or perhaps take one of the many boat trips available and experience some absolutely stunning views and crystal clear sea.
Whatever you need to live the life that you want, you'll find it at Ernstell House.
To find out more about our luxury care home in Plymouth, contact us on 01752 360450, or get in touch here:
Enquiry Form